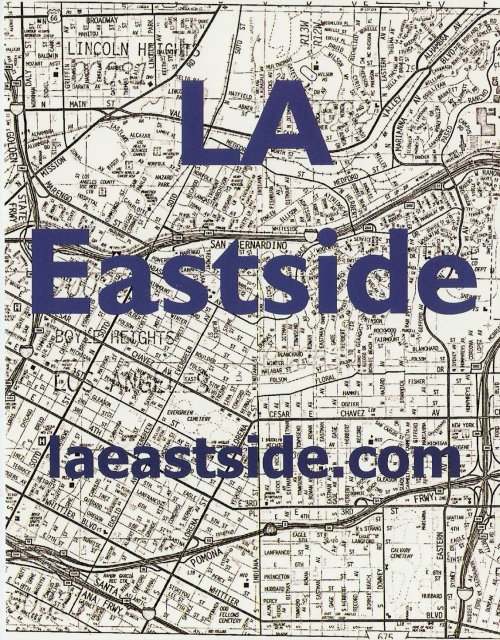 I hereby declare 2009 year of the Eastside!
It was in this past year that there was finally some awareness on both sides of the river that the name the Eastside had been misappropriated by a confused bunch of folks. Thanks to the Los Angeles Times article on the Eastside, the "This is Not the Eastside" stickers pasted by unknown propagandists all over Silver Lake, and to the efforts of Eastside artists, writers, bloggers and the countless others who have publicly reclaimed and reaffirmed Eastside culture and geography, I finally felt like we have turned a corner. Many battles were won and those who ignorantly used the Eastside to refer to those neighborhoods west of the river were put in check.
As promised, here's a look back at some of the more popular posts of 2009. I used the number of comments as a way to gage popular posts only because this blog doesn't have the software to definitively check for hits and links. There were so many great posts written this past year that didn't get a huge amount of comments but were excellent and thought provoking nonetheless. I encourage readers to go back through the archives and check some of the posts you might have missed.
January 2009
Dear Gato 103.1 (72 comments)
What Y'all Know About the Eastside? (54 comments)
Mas Revolucion (41 comments)

February 2009
Awkward Moments in Los Angeles (64 comments)
Why are "you people" so protective and uptight? (40 comments)
Purgatory Pizza (35 comments)

March 2009
Eastside Memories (62 comments)
Walter Moore Hates Spanish Speaking Mexicans (56 comments)
Memories of A Lost Boulevard; Ghosts of the Eastside (47 comments)
April 2009

Bad Neighbors (53 comments)
Glassell Park on TV (33 comments)
How Mexican Are You? (30 comments)
May 2009
LA Times Article About the Eastside (40 comments)
Save The Site of The Golden Gate Theater! (32 comments)
The Fifth (22 comments)

June 2009

Lakers Fans In Eastside Riot! (108 comments)
EXTRA! BREAKING NEWS ON EASTSIDE-WESTSIDE CONTROVERSY! (58 comments)
How It Begins: Renaming a Neighborhood (50 comments)

July 2009
Highland Park in the NY Times (123 comments)
Thee Eastside Theme Song Poll (35 comments)
The Cost of Bagging Groceries (34 comments)
August 2009
Separate but Equal Treatment via Rail Lines in L.A. (123 comments)
August 11-18. RAM LA. Free root canals, glasses, pap smears, minor med procedures (including cataract surgery,) blood lab work and MORE!! (58 comments)
The LA Eastside in the Movies (31 comments)
September 2009
Can You Hear Me Now?: Whine Tasting Is Not My Cup of Tea (30 comments)
LA Eastside Goldline (24 comments)
Jack in the Box Accepting Food Stamps (20 comments)
October 2009

Silver Lake is not the Eastside and consumerism isn't GREEN!! (52 comments)
Target's humorous "illegal alien" costume (42 comments)
Festival de la Gente CANCELLED !!!!!!!!! (33 comments)
November 2009
It didn't take long… (65 comments)
Eastside Gold Line Safety signs in local lingo (52 comments)
Eastside Extension: Now Open! (42 comments)
December 2009

Stop Right There! (62 comments)
Gentrifier Irony (45 comments)
Childhood Games (31 comments)
………………………………………….
Not surprising the posts with the most comments were either about the Eastside, gentrification and other topics that provoked discussions of race and/or class.
Most commented on posts of the year:
Separate but Equal Treatment via Rail Lines in L.A. (123 comments)
Highland Park in the NY Times (123 comments)
Lakers Fans In Eastside Riot! (108 comments)
So readers and contributors, please share with us your favorite posts of 2009. Or let us know some of you favorite comments and/or commenters.
Also, what would you like to see in 2010? Give us some inspiration!
Thanks again for reading and helping along this little project of ours. We appreciate the dialogue.