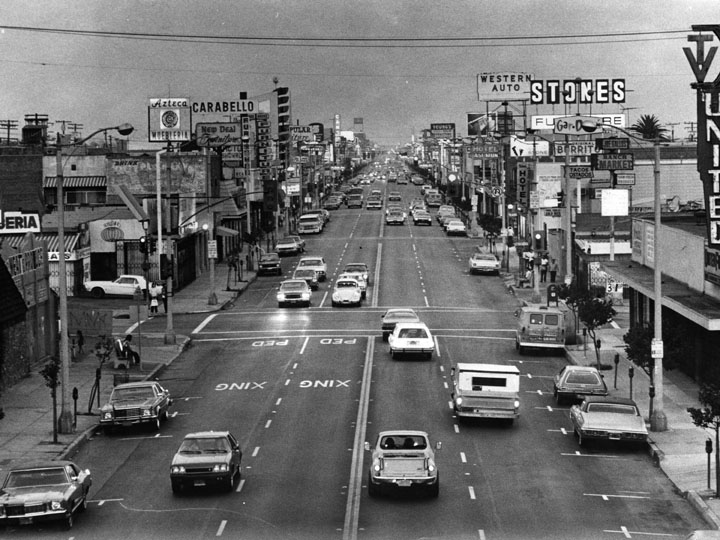 The character of the E.L.A. that I knew growing up is long gone. Everything changes, evolves.
Those who lived there before me surely must have cherished their own "good old days" as much as I do mine. And twenty years from now, others will do the same.
We are beings that exist in that sliver of time between our past and future. Yet, if we were to somehow erase every memory from the past out of our minds, who would we be? The sum of our experiences, the memories of what we have lived before, are essentially the totality of who we are at this moment. So have my experiences and present memories of growing up in E.L.A. formed this person that I am today. E.L.A. is in my DNA.
It now brings me joy to reminisce, because I can relive those times. Many thanks to all of you out there who join me on these little journeys to memoryland. So let's take another trip….
The Commerce Shopping Center has taken many shapes and forms since I can remember it. My earliest memories are of scattered retail stores amidst large parking lots and vacant dirt lots in the 60's. I recall the large street sign for the supermarket "FOOD GIANT" looming over the street. It featured a cartoon logo of a smiling farmer with a cornucopia besides him. Later, I remember this becoming the "FOOD KING" for many years afterward. Sometime later, the market changed names once or twice more. Today it's "EL SUPER".

Recently, I went back there for a visit and made a startling discovery while snooping around inside. I saw many changes in the interior design that made it all unfamiliar to me.
There was a vague, general resemblance to the old supermarket I used to know, but one thing in particular stood out. I sensed that the flooring had remained original after all of these years. Beneath the layers of multiple coats of finish, was the same floor from the 1960's. Wow!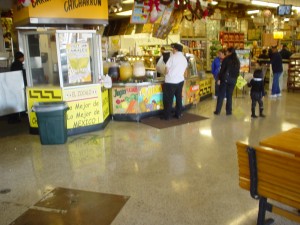 Ignoring the people that were giving me weird looks for walking around staring at the floor of their supermarket, I approached a corner near where I remembered the old snack bar used to be.
I moved a trash bin aside to get a better look and was shocked to find this!
The original logo from the FOOD KING store (FK) still embedded in the flooring tile! The present managers must keep it hidden with this waste can. Amazing.
A few steps east of the market stands the landmark eastside temple of discount shopping:
K-MART. Memories here include; the flashing blue light, the floors sticky with spilled multi-colored ICEE drinks, the submarine sandwiches, popcorn, pudding and jell-o cups. And that floating voice that called out: "Attention K-Mart Shoppers!"…

Since I can remember and to this day, the checkout lines at K-Mart have been the most inefficient and chaotic places in the retail universe. Every item needs to have a "Price Check" called on it, mis-priced items are commonplace, customers attempted to actually haggle with cashiers over prices ("Andele, no sea mala, dejemelo mas barato!") There has always been the screaming kids running amok, smearing sticky hands on the Jaclyn Smith designer dresses, parents setting their little monsters loose to trash the toy section,
Annoying teenagers turning up the volume on the stereo systems, the old viejitos parking their carcasses on the patio furniture all day, and the occasional spectacle of the shoplifter being walked out in handcuffs (I once witnessed a thief run from security through the store and attempt to escape by crashing through the front glass window like in the movies. It didn't turn out like in the movies.) By the way, I have to say that I was never too keen on K-MART's decision to  bring in the Little Caesar's Pizza franchises into their stores, I've found that it made the place stink of bad pizza.
Next door to K-MART, I remember was a Marinello School of Beauty, an alternative to Community College for many young ladies in the neighborhood. I dated a girl who went to beauty school there, She'd show up hung over in the mornings for class after partying all night at CLUB 47 and Audio Climax parties and fuck up clients hair for them. But she was cute, and made good tips.
Over to the west of K-MART and the Supermarket was a retail building that took on many names over the years.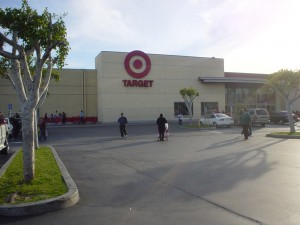 Unimart
Disco

Fedmart
Tu-Guys
Target (today)
As a kid, this was one of my favorite places for buying Hot Wheels toy cars and 7" vinyl singles of the latest hit records. I still own those 45's by artists like:
•    The Beatles
•    Stevie Wonder
•    The Partridge Family
•    The Carpenters
•    The Jackson 5
•    Cat Stevens
•    Blood, Sweat & Tears
Further west of Target, I recall a Thrifty's Drug Store and then a big vacant lot bordering Goodrich Ave. that stood empty for years, much to our delight, as this empty lot became the stopping place for numerous Carnivals and Fairs that came by through the years. That lot eventually became the site of new retail buildings and the infamous Commerce Theater that was new and modern for about 5 minutes.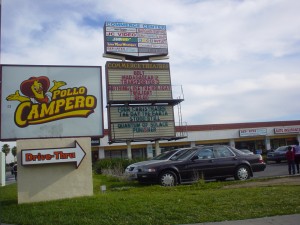 Eventually, large portions of the Commerce Center's parking lot were converted into more retail buildings from Gerhart Avenue to Goodrich Avenue facing Whittier Blvd. to become the mega-shopping mall it is today. Back when it was all parking lots in front, I remember that it was a favorite gathering spot for Car Clubs on weekends. You'd drive by on Whittier Blvd. and see groups of Low Rider cars and all the guys & gals neatly displayed near the sidewalk for everyone to check out. They'd hang out all day long till the sun went down. Then it was time to Cruise!
Behind the center was, and still is I believe, a large cannery packing/storage plant. Going south to Olympic Boulevard is the building that once housed the old WHITE FRONT store. We used to shop there when I was a kid and I'd be bored silly. Luckily they had those kiddy rides outside where we could ride a fiberglass pony or clown car in little circles for a dime.
I also remember going to WHITE FRONT's parking lot one particular Saturday for a special event; The host of Channel 9's Horror Show "Fright Night", SEYMOUR himself, was making a personal appearance and we were thrilled to see him.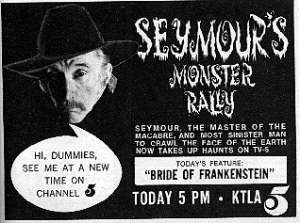 Those were the days……