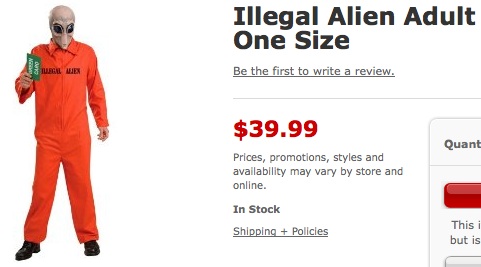 Dear Target,
What's up with this "Illegal Alien" costume?
I don't get why a corporation that boasts about giving back to the community (can't say I didn't thoroughly enjoy the ¡Bienvenido Dudamel! concert a few weeks ago) and celebrates Nuestra Gente would sell such a despicable costume. (I know not all undocumented immigrants are Latino, but we do make up a plurality of the population.)
Is it to make a buck? Is that enough to alienate (no pun intended) undocumented immigrants, their allies and our dollars? Couldn't you make a buck by not selling "humorous costumes" that demean and make light of the situation faced by many undocumented immigrants and advance dehumanizing language?
Is it humorous that thousands die trying to cross the US/Mexico border? Between 1998-2004 1,954 migrants died on the perilous journey north source). Since 2004, the Arizona Star Border Death Database has recorded 1,193 deaths at the border.
Funny, no?
What about exploitation from shady employers? How about the rise in anti-Latino hate crimes?
¡Chistoso!
Last, what about undocumented youth who face an educational glass ceiling as college is out of reach without financial aid and high non-resident fees?
I expected something different from Target. I was wooed by those free days at museums, free concerts and all that red (my favorite color). I thought Target wouldn't be like other vendors who sell racist costumes playing on tired stereotypes and caricatures.
Qué lástima.
Sincerely,
Disgruntled Target Shopper
P.S. Anyone who pays $39.99 (plus shipping and tax) for such a costume is not only racist, but also stupid.
Updated: Target also sells a tequila pop n' dude and Mexican costumes for adults and kids. Nopal not included. Guess they are showing their appreciation for mi gente.