I saw this sign at my local Jack in the Box and instantly though WTF? How come they are taking EBT at a fast food joint? (EBT is the new electronic food stamps, for those not in the know.) Shouldn't they be encouraging healthy eating instead? And this from someone that might have traded a food stamp or two for some Sierra Nevada Porter, back in the day. Apparently this is not some freak thing, this place just participates in the Restaurant Meals Program which actually seems like a good idea. It's intended for the elderly and disabled that have a hard time cooking, and the homeless who might not have access to a kitchen. Most of the places on the list of participating restaurants seem to be fast food places but there's a few that might be a mom and pop type of restaurant. There's tacos, pupusas, burgers, hot dogs, Teriyaki, pollos, pizzas, and dragon locos, BBQ, and even soulfood. It'd be easy to complain about this use of public funds for fast food, but fuck that, poor folk have it hard enough as it is. Better yet, why not call out some of the "healthier" establishments for not participating in this program?
So instead of complaining about fast food joints, maybe we should ask why other restaurants don't make an effort to sign up. Why isn't Phillipe's jumping on this? Or King Taco? Pure Luck? Nickel Diner? Real Food Daily? The Coffee Table? Until some other restaurants step up to the plate to volunteer to feed the homeless and disabled, then I'm going to refrain from criticizing fast food joints for doing their civic duty, even if its just in the pursuit of monetary interest. Are these other places scared of the rabble showing up? Hmm, well yeah, they might. But it's your fellow Angelenos, surely you'd want to help some folks in need. Or does charity only begin away from home? Maybe it's too expensive to get the necessary equipment? If California Donut can do it, then anybody can.
If you are in need, the food stamp program is one you really should consider. It helps to put food on the table while you can save some of your money for other expenses, like the damn rent. I know some people are weird about accepting assistance, but get over it already, nobody cares if you take some public funds to feed your kids. And the question of whether they owe us a living has already been answered: of course they fucking do. I consider this form of social "safety net" no different than the Fire Dept: if it's acceptable for public funds to be used to keep you from getting burned out of your home, is it any different to have some minor help when you're about to get pushed out of your place by the heat of poverty? I say no. Just don't have an unscheduled health problem, cuz then yer fucked.
And though I understand the reason for this program, shouldn't our funds be going to something much more practical, like my La Sopa proposal? Where needy people are paid to grow and cook food for other needy people? Instead, we have this half-measure where the Jack in the Box corporation gets to keep our collective dollars to squirrel away in its personal cubbyhole. It's the nature of the corporation to want to hoard all the wealth. Is it too much to ask that our common wealth be recycled back into the public forum, so that we can all benefit just a little bit? Why is that sort of practicality so quick to be labeled Socialism? Not that there's anything wrong with that.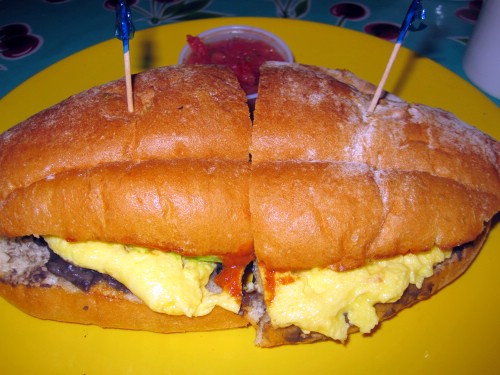 Back when I had the pleasure of being on food stamps I would have loved something like this restaurant meals program, though I don't think I would have qualified. Unless I broke my leg, but I'm not that hardcore. And unlike the current wave of logic-less thinking that adheres to the if-they-have-it-but-I-don't-then-I'm-against-it motto, I feel that if someone else can benefit from it then it's a good thing. Maybe if Auntie Em's would have participated in this meal program, and I had managed to make my case for being a member, then I'd have figured out their $8 breakfast torta, with a side of rancid tomato salsa, was not worth the extra cost. But here I am, like a common chump, paying cold hard cash to find out this very boring fact. Surely they could use some of the homeless foot traffic trade, cuz who else would willingly choose to eat here?
Even if it is just another fat and salt laden fast food meal, at least it's a break from the monotony of Kraft Macaroni & Cheez. EBT eateries are popping up, we might as well take notice. Anyone out there have any experience with this current model of food stamp usage? I certainly would like to know.