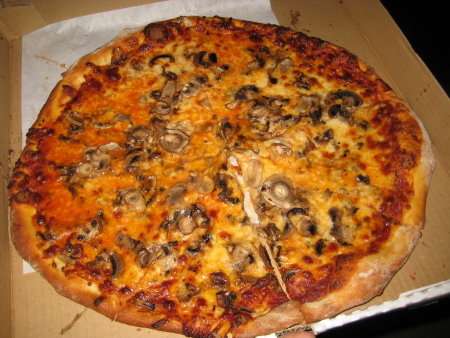 Large cheese and mushroom pizza $14.50
The other day I was talking to my buddies from the Bus Bench and the subject of pizza came up. They seemed like connoisseurs on the subject, so I asked what their favorite pizza was and they both said "Purgatory Pizza!" I'd never heard of it. I imagined it would be in a neighborhood I probably don't visit much and catering to New Yorkers or something but they said the place was in Boyle Heights.
Boyle Heights???
"On First St. near Mariachi Plaza." Hmmm, it's not that I didn't believe them or anything but I had to see for myself. I drive through that area quite often (Boyle Ave between Cesar Chavez and Whittier is one of my favorite streets in Los Angeles) so on my next trip I found the pizza place – right in the heart of Aliso-Pico!
The next week I decided I was ready to give this pizza a try. I called up the place and first asked about their delivery area:
P.P.: Purgatory Pizza
Me:Â  Do you deliver to Lincoln Heights? [it's far I didn't expect them too]
P.P.: No…
Me: Okay, where do you deliver too? [I needed the info for this post, y'know]
P.P.: uh….
Me: Downtown?
P.P.: yeah
[something about this exchange started to feel strange at this point and a little flick of realization made me say...]
Me: Do you deliver to Boyle Heights?
P.P.: Ummm…some parts…
Me: Some parts? [I start laughing] You guys don't like Boyle Heights or something? [I say this jokingly]
P.P.: Haha, that's just what I'm told [I guess he gets these questions often]
Me: Okay
The poor guy sounded like an Eastside local and I could tell he felt uncomfortable so I didn't want to make things hard for him. It's obvious they cater to the downtown neighborhood (their website says "just blocks east of downtown Los Angeles") and probably found a cheap location on the Eastside just over the bridge. I won't imply too much about my exchange, I seem to get in a lot of trouble when I do that. You all are free to think what you will.
(please see response/clarification from owner Kelley below)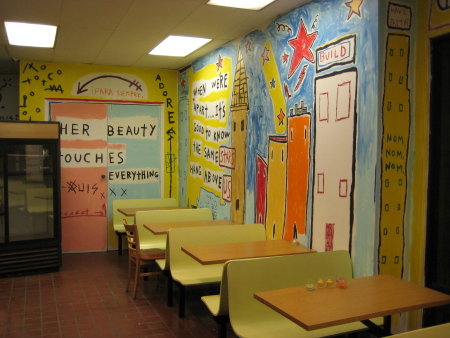 I ordered my cheese pizza with mushrooms and headed over to pick it up. Both the interior and exterior have a Basquiat/New York-y vibe with bright colors and text running up the walls. There are a few tables for dining in, it smells heavenly inside so eating there is a good option. The woman who took my money seemed overly nervous and/or frazzled, perhaps they were very busy. If they were busy, it didn't affect the quality of the pizza because I have to say (and these things are subjective, I know) the pizza was amazing! The Busbenchers were right, absolutely excellent!
The crust was thin and crispy, the sauce super flavorful and just the right amount of cheese. No rubbery mushrooms either. It's much better than Casa Bianca and that New York style pizza place on Colorado. I've been wanting to eat one of these pizzas every night since I first tried it a couple of weeks ago but I've managed to control myself. Maybe it's good they don't deliver to Lincoln Heights!
Purgatory Pizza
1326 East 1st Street
Los Angeles CA 90033
(BOYLE HEIGHTS)
(323) 262-5310
www.eatpurgatorypizza.com
Open everyday 6-11pm
Free Delivery
See Bus Bench Blog's take on Two Boots Pizza in the Metro area of Echo Park.