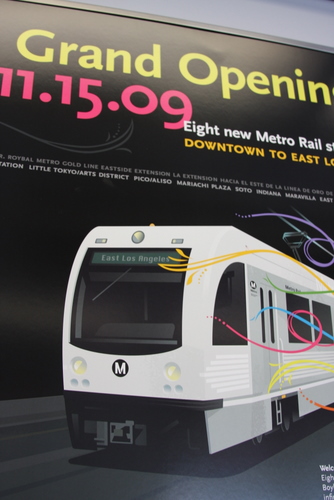 Finally, it's here. Dangerous intersections and all. I took a quick look before the crowds, click ahead to see some pics.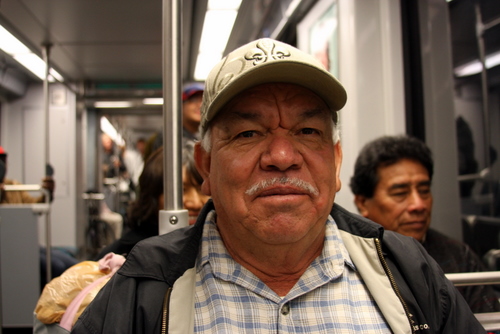 This man was telling us about some of the sights along the way, I think he thought we were new to the neighborhood. We agreed that the Eastside was short changed, that there would be accidents, but that we are still happy the train has arrived. Now there just needs to be pressure to get those safety fixes.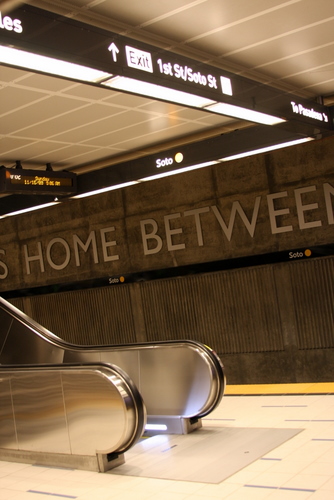 Yup, many people call the Eastside home.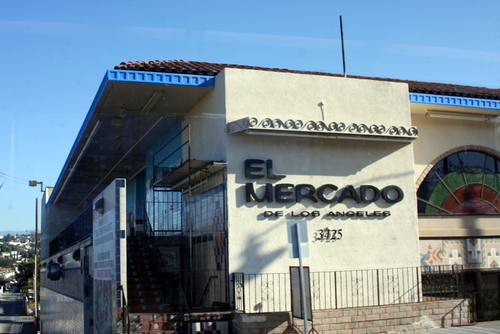 One thing that is missing: a stop between Soto and Indiana. Considering there's one at Atlantic and at the ELA Civic center, which are fairly close by. El Mercadito isn't too far from the Indiana stop.
This is going to be dangerous. And that's a school over on the left. No barriers here? Messed up.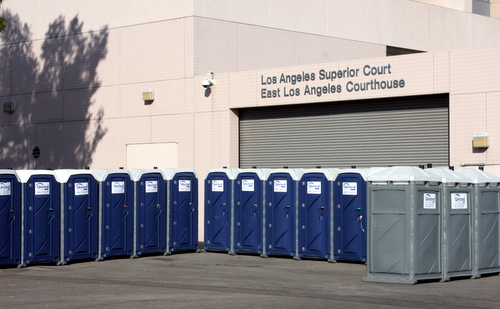 Headed straight for the Civic center, where the toilets were still clean and available.
Useful map of the park and facilities. No mention of the Chicano Resource Center, but its in the library.
Balloons of East LA. Careful, they're dangerous.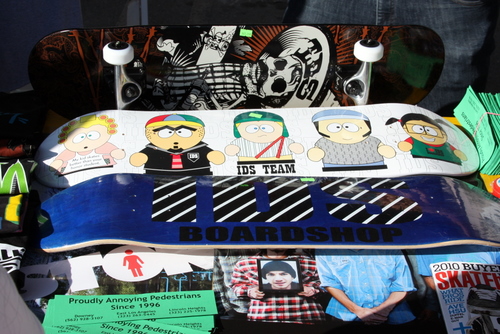 The Farmers Market was moved from Saturday to Sunday just for the Gold Line opening. Here we see a skateboard I can get into. Eso, eso, eso!
Hmm.
Safety on a budget. Crayons…
..brochures..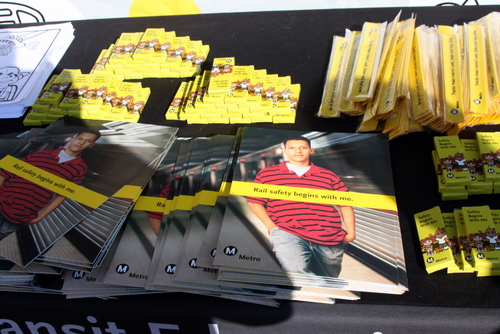 ..and ads. Oh yeah, and some "Tracks mean trains! Look, listen and stay alive" wrist bands. Haha, that's just awesome. If you get killed kids, well then its your own damn fault! Shoulda kept wearing that wrist band instead of forgetting it in the junk drawer. Let's see how long it takes for the first victim. Boo, hiss!
Check out this review of the safety of the stations.
More Chavo merch.
Done by this guy, CT's favorite cartoonist! Ha ha!
This card was pretty cool, it opens to read "and you are, congratulations!"
And some merch for the grandma set. There's an underground economy in these doll dresses, it needs to be stopped!
The requisite Aztec dancers to kick off an event. I don't get tired of it though.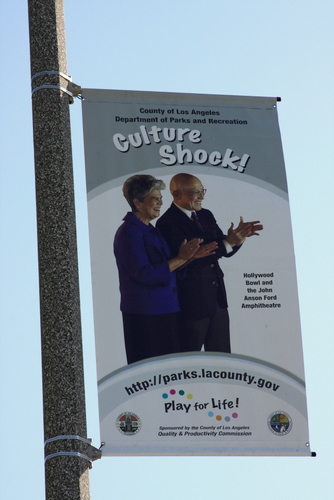 Ha, ha! Indeed. They mean the Hollywood Bowl but I think East Los is a culture shock for many.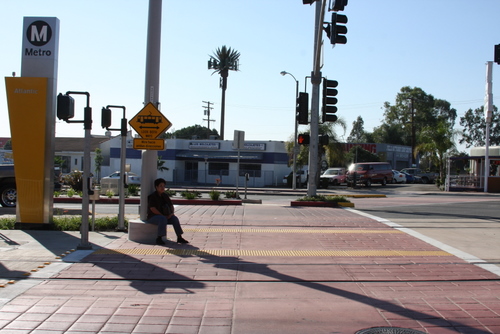 In the safe zone between train tracks. Just barely.
Problem solved!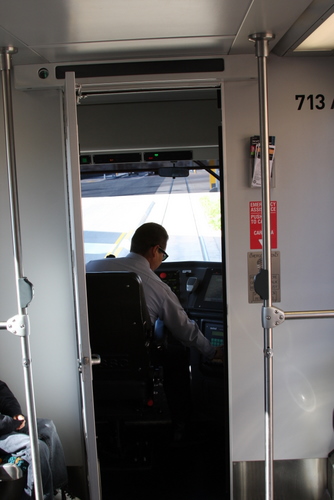 Time to head back to another station. Here we see the driver fiddling with the radio stations. Nah, not really.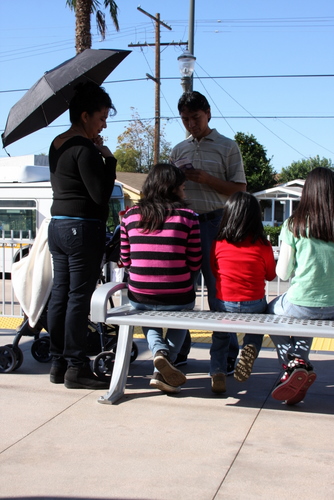 Lots of families were out checking out the train. I even heard one that was headed to Pasadena since they'd never ridden the older part of the Gold Line.
At Mariachi Plaza they already have the fee gates ready.
The lady throwing a baby artwork.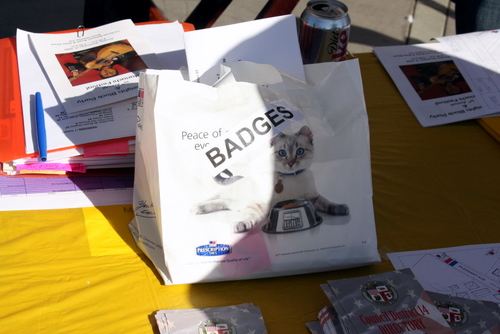 We don't need no stinkin' kitties!
Borrachitos representing.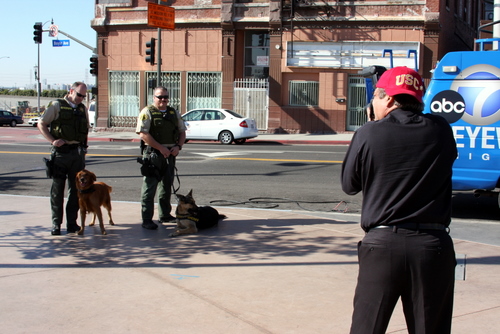 Lots of media and attack dogs at the plaza. They go hand in hand.
Politicians and their photos. Aren't they cute?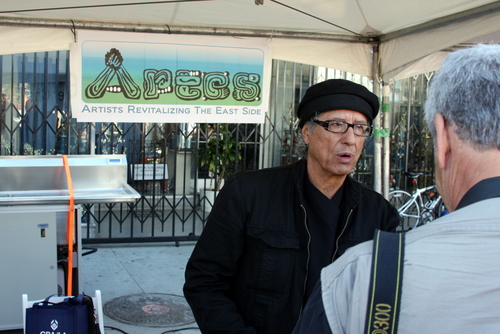 Ruben talking about Artes.
WTF? Don't they know that everyone hates Chivas?
We had plans to eat at La Placita del D.F. but the small eatery was already packed. Drats.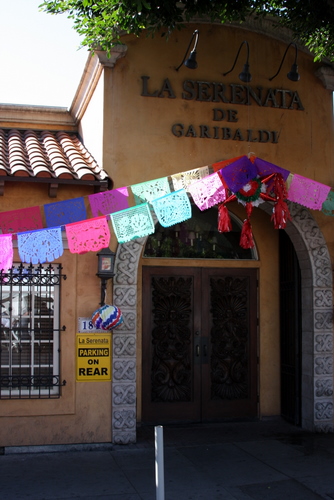 I guess it's La Serenata. I don't like going here, even though the food is decent. One too many bad experiences.
The chips and salsa are good, it even comes with a small quesadilla.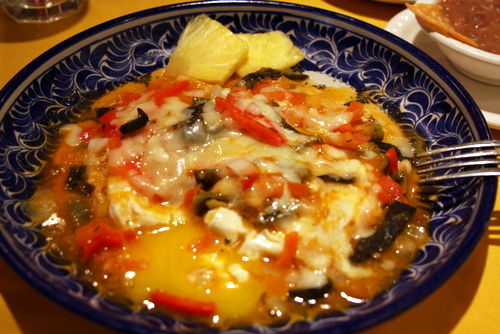 I ordered the Huevos Rancheros, pues claro. Not bad but too busy with fresh tomatoes and strips of chile poblano. And cheese. But it did the job.
Back on the street, it got packed all of a sudden! I guess the crudas wore off.
Having been crammed into the trains in the original Gold Line opening, I learned its better to go early to beat the crowds. But maybe I'll go back in a bit to see some more action at other stations.
People lining up for the chance to win Chivas merchandise. No doubt to burn it.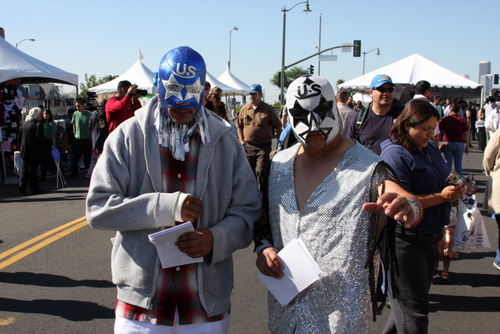 I asked them "que venden?" Hamburgesas was the response.
Get your wrestling hamburgesas at Chavas Cafe, today at 5pm.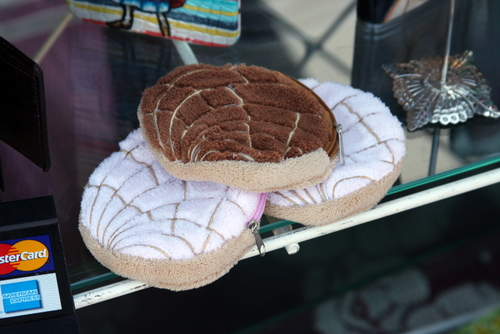 AGC Frank had his booth, including these cool pan dulce bags.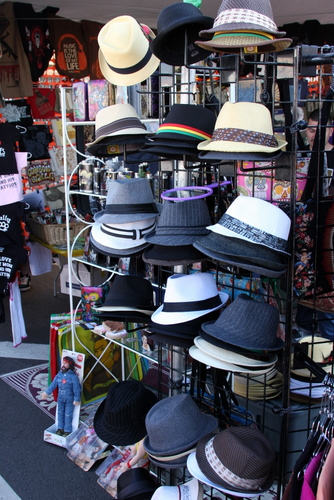 And for the vatos, some hats.
On my way back to Lincoln Heights, it's crazy packed! There's still time to be part of the mitote.