The famous 1954 thriller "THEM" about the giant ants, changed by an atomic bomb blast and who migrated and set up their colonies in the LA storm drain system, filmed in the LA River and Lincoln Hts. I watched them film some of those scenes in the river with actor James Arness before he became Sheriff Dillon in the TV series "Gunsmoke"
As a kid, I also witnessed some filming of the movie "Six Bridges To Cross" starring Tony Curtis and Sal Mineo, done on Sichel St. and around the Main St Bridge in 1955.
In the 1950 film noir classic "DOA" there's a scene shot on the old wooden pedestrian bridge that took you from Elysian Park to Dog Town.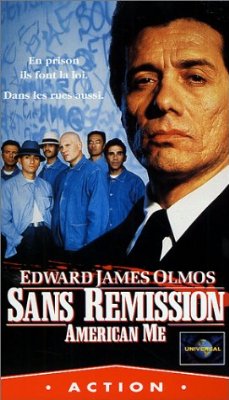 And of course the LA Eastside has had it's share of gang movies such as American Me,  Bound by Honor 1993 with a great screenplay by Jimmie Santiago Baca.

And of course the historic movie depicting the "Sleepy Lagoon Murder Trial" screen play by Luis Valdez.
Edward James Olmos who is from the LA Eastside also did the inspirational "Stand And Deliver" about teacher Jaime Escalante and his incredible students at Garfield High School.

Then there is the classic Grifo film "Up In Smoke" which used as a local the house off N. Figueroa and Ave. 45. Check out the clip below and you'll see the Pasadena Frwy, N. Figueroa and Flat Top and the Baby Jungle in the hills behind Strawberry on his moto.
Quentin Tarantino used locations in Highland Park (the bank robbery at the Bank of America on N. Figueroa and Ave 56), in his classic film Reservoir Dogs. The bloody finale was filmed at the Judson Studios.
Just a few of the many filming locations on the LA Eastside besides the many TV shots that are familiar to us natives.