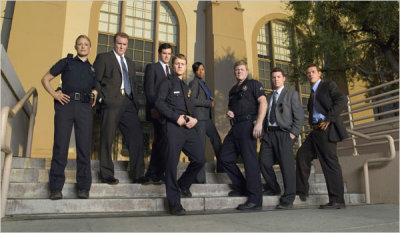 Does that look like the LAPD to you? Cast of Southland
Northeast LA on TV! First scene of NBC's new cop drama* Southland has a gang shoot-out in Glassell Park. This is the kinda promotion that makes homeowners groups and neighborhood councils squirm. It means in some Hollywood writer's eye, Glassell Park is associated with gun toting cholos and shoot-outs. It's hard to shake a reputation like that.
Don't expect a show review here, I don't think I can stand too much more of Southland. I hated the movie Crash and don't have enough time to waste on watching a watered down reprise on TV. Besides, I just got in a few new episodes of The Riches from Netflix.
Glassell Park shouldn't feel too sad though, at least they don't have a whole show named after their neighborhood that has nothing to do with the place they live. For more on the Lincoln Heights TV show debacle, see here.
*If it's a drama, why I am I laughing? Like cholos are really gonna do a drive-by in tricked out ranfla!