The message comes through loud and clear
On the Eastside we're often told our neighborhoods are never good enough. We need revitalization and improvement. And who is to provide us with this fancy new lifestyle? Certain businesses are mentioned in this renewal mantra: bookstores, art galleries, lofts and commercial development. It all sounds nice in theory but check the photos below to see how this plays out in reality.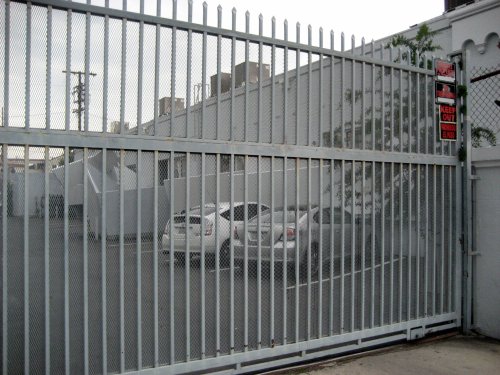 The fortified "Disney Hall" lofts
These new lofts on Daly in Lincoln Heights were designed by an architect with lots of awe inducing credentials and received much accolades from the design community for transforming an old factory into a "Disney Hall-like" living space. I saw the pics up on Craigslist and the apartments didn't look too comfortable to live in but of course that's my subjective opinion. I don't want to live in an Escher painting. Anyways, I'm more interested in the building's relationship to the neighborhood around it because afterall these places are supposed to improve our neighborhood, right? I wonder then, why the first thing they did was to put up these really unwelcoming signs. I don't see how these messages foster any sense of community. I don't see this development and think: "Wow, our neighborhood is really coming up." I feel like it's just another party we're not invited to. Again, we're relegated to watching through the bars.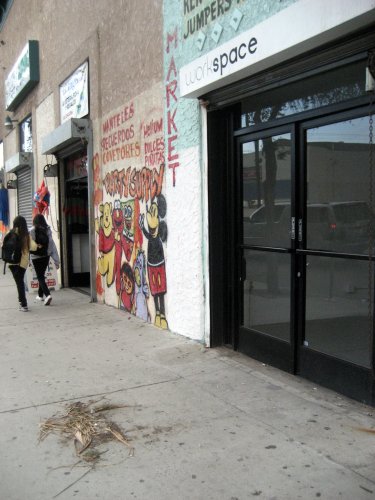 At least sweep into the street!
Lookee here, a highfalutin' art gallery comes to Lincoln Heights! That's surely a sign of progress right? According to the bios, the exhibiting artists have lots of fancy degrees. Hmmm, well it looks like they should have swapped out their mixed media class with a Home Ec course. Perhaps then they would have learned you're supposed to pick the trash up off the street not sweep it to the middle of the sidewalk while kids are walking home from school. To be fair, just in case they were interrupted mid-sweeping, I walked by the gallery a couple of hours later and the trash was still there.

Ugly! (and that awning doesn't help)
How do you take a gorgeous turn of the century brick building with antique light fixtures, a vintage purple glass facade and one the awesomest murals on the Eastside and transform it into the biggest eyesore on North Broadway? Ask the owner of this building, affectionately dubbed "The ugliest building in Lincoln Heights."