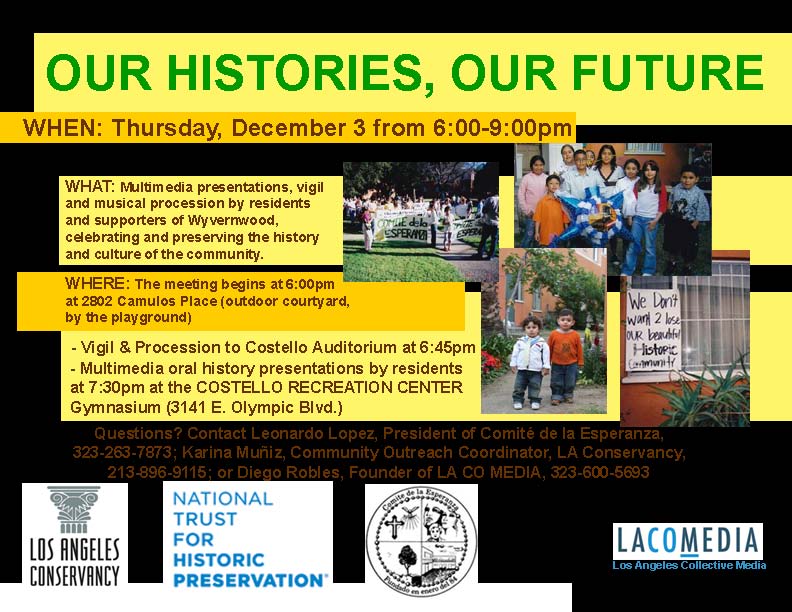 This Thursday, residents from Wyvernwood will be giving visual presentations on the importance of the community there. This looks like it's going to be a great event because as the flier says, this is all from the residents themselves. If you need to catch up with what's going, read Chuy's 90023 blog spot about it. Here's more from their statement:
The Wyvernwood Garden Apartments was developed in 1938-39 and was the first large scale garden apartment complex in Los Angeles. Determined eligible for the National Register of Historic Places, not only is Wyvernwood architecturally significant, but it also reflects the cultural heritage of the neighborhood, where the residents have created a strong sense of place and belonging. The original design intent has been realized, having fostered a close-knit, multi-generational community among its residents, many of whom have stayed for decades, intermarried and started their own families. As in many parts of the city, the apartments were racially segregated for decades, until the first Latina/o family moved in during the 1960s. Today, Wyvernwood is predominantly Latina/o.
However, residents are in danger of losing their homes. In January 2008, owner Fifteen Group announced plans for a $2 billion development that would replace all 1,100 rental apartments and over twenty acres of open space with four times the density, including new condominiums, rentals, retail and commercial space. Come out to show your support of the Wyvernwood community and participate in a unique event where residents will be sharing their own stories and oral histories through multi-media presentations. Comité de la Esperanza (an active resident group of 25 years) will lead a procession/vigil to the event starting at 6pm, which will begin on-site at Wyvernwood at 2802 Camulos Place (near 8th and Soto). The presentations will follow at 7:30pm inside gymnasium at the Costello Recreation Center (3141 E. Olympic Blvd). At 9pm residents will return to Wyvernwood in procession.