Whittier Boulevard in Los Angeles is a street with deep rooted history. In a way it has become the pinnacle of East Los Angeles. Even though I did not grow up in the area, I always heard of Whittier Boulevard. It has often known as the hub for Mexican-Americans on the Eastside. Old Chicano films and music often brought this to light.  You can  still take a drive down Whittier today and feel some of the history seeping from the buildings. I wish I could have seen it during its prime time. However, I can only imagine and listen to stories of the past.
Fellow blogger Al Desmadre is a great Eastside source when it comes to forgotten history of Whittier Boulevard he has written excellent  posts reliving the era.
What caught my curiosity of this street? Well I had been driving down it almost every Sunday meeting friends near Montebello. On the way back instead of taking the freeway I went down Whittier Boulevard. Since the street is pretty popular I never thought about blogging about it before, but hey everybody has their own perspective on a place. I decided to do a short but sweet photo session on the beauty I see on Whittier Boulevard.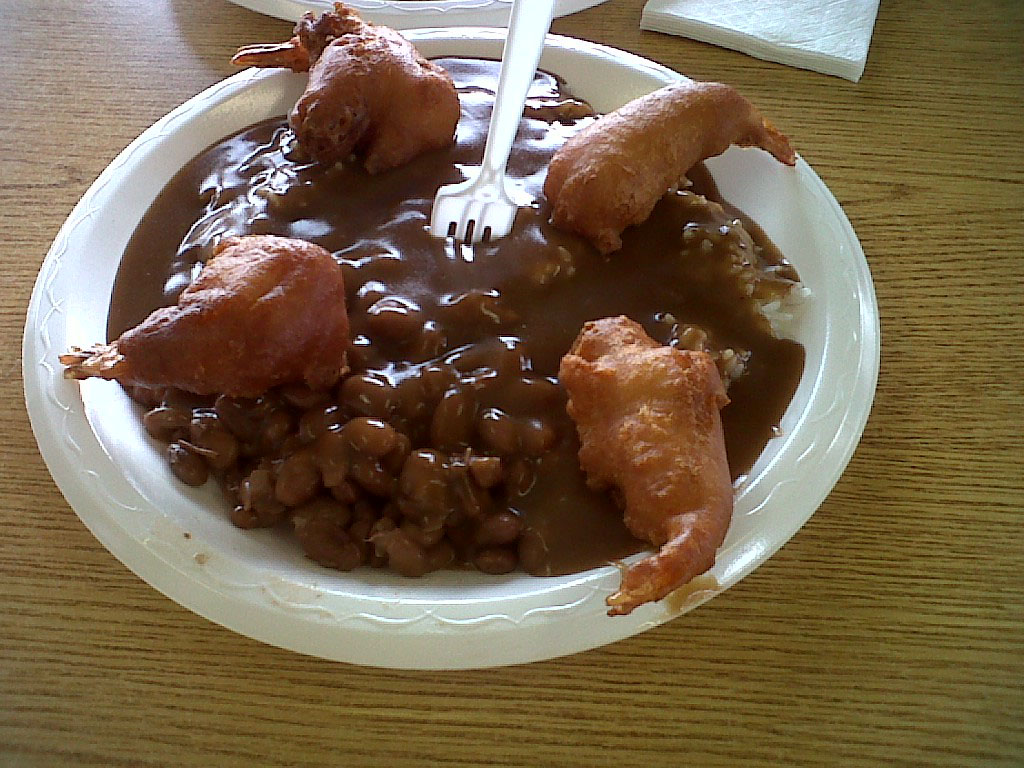 Johnny's Shrimp Boat a classic joint from back-in-the day. This was my first time trying it. I liked the shrimp but the rice gray beans was too much.
Starting near Whittier and Soto, not too far from my favorite LA River bridge 6th Street bridge.
 
Renovated theater above turned church like most of them right??
My friend Tana's boyfriend, Sal , took us to this torta spot a while ago. He raved about the torta de carnitas, and he was oh so right, they were yummy yummy.
Ropa sucia
Carnitas Michoacan #3, now this place is a trip. Its been eccentric ever since I can remember, but I never actually ate at this location.  I can tell the owner has some charm and whit. Zillions served I tell ya.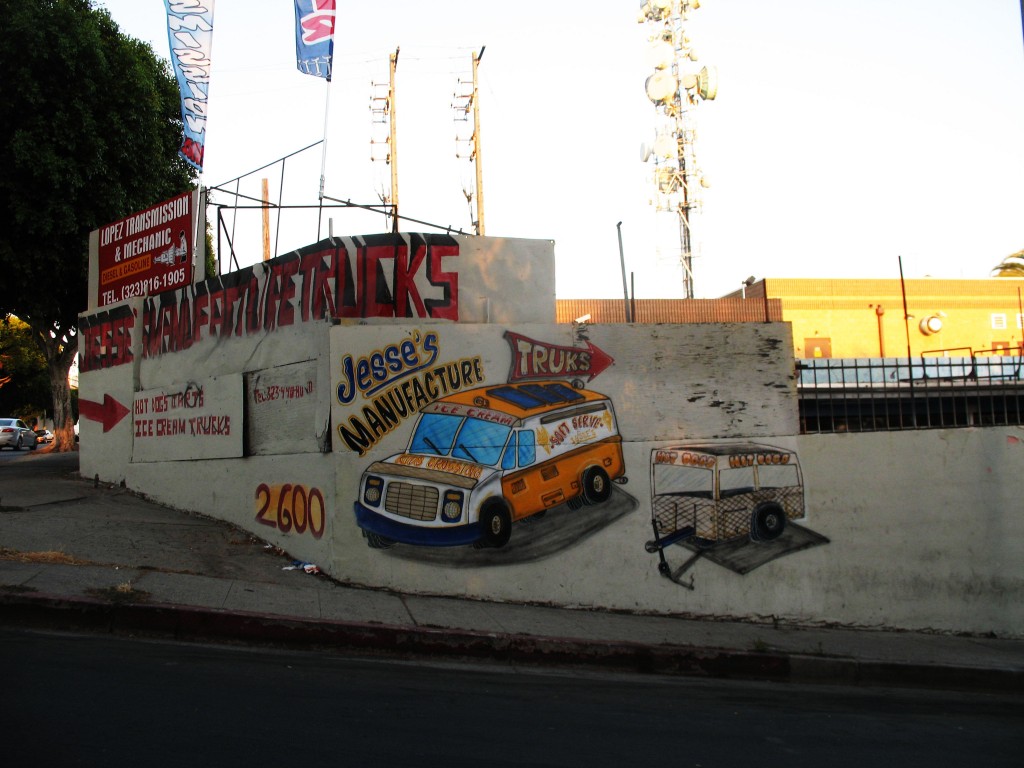 Get your ice cream and taco carritos here.
You will definitely see many virgencitas on Whittier Boulevard.
Get your malted milk shakes here.
Huggy Boy was an icon in the Mexican American community back in the days. Read an article on Huggy Boy here by Gustavo Arellano.
This part of Whittier is pretty much cemetery lane. There are about four cemeteries within a few blocks. Those include Calvary Catholic Cemetery, Home of Peace Cemetery and Mt Zion Cemetery. My friend pointed out an interesting fact about the block with the cemeteries near it. In the same area you were able to buy coffins, grave stones, and flowers. They were all being sold and manufactured by individual business in the area. From my experience I never seen that at any other cemeteries I been to. Organic solidarity maybe??
Wow, I was surprised when I seen this place shut down. El Perrodero aka a very festive muffler shop used to be a attention grabber. The bright colors and decor made you look twice. The owner must know the owner from Carnitas Michoacan I bet. However,  not sure what happened to this place. I remember seeing this place all the time when I was little. I found an interesting blog capturing images and history of East LA and El Perrodero.
She floats.
My favorite building on Whittier Boulevard, the old Golden Gate theater. If you got to read Al's post the building is going to be demolished and turned into an exciting CVS! Thumbs down!!!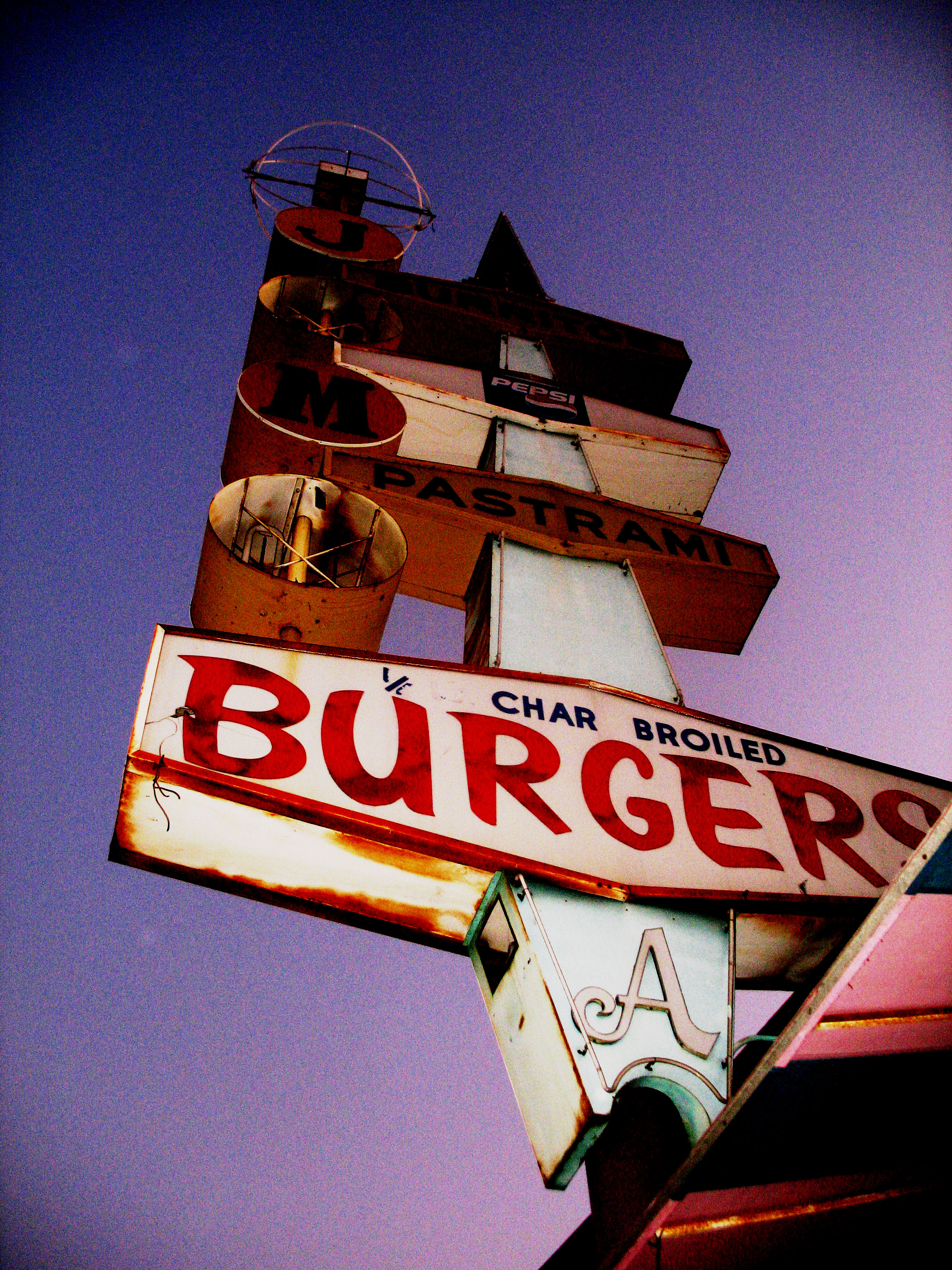 Now, I did take a turn from Whittier and went down Atlantic Ave and fell in love with the abandoned Jim's burgers behind the theater! I don't know if the era is right but for some reason I imagine couples leaving the theater after watching a movie and heading next door to Jim's to get a burger and fries. Why was it abandoned? East LA loves Jim's Burgers? It was very odd, in a way.
As I made my way down Atlantic leaving a snippet of Whittier Boulevard I noticed an old Schwinn bike shop still open. They still had what looked like the original sign.
 Well that is it for my perspective of Whittier Boulevard. It is a charming street full of memories and history. Until the next street!
DJ
P.S
Exuse my blurry pictures.