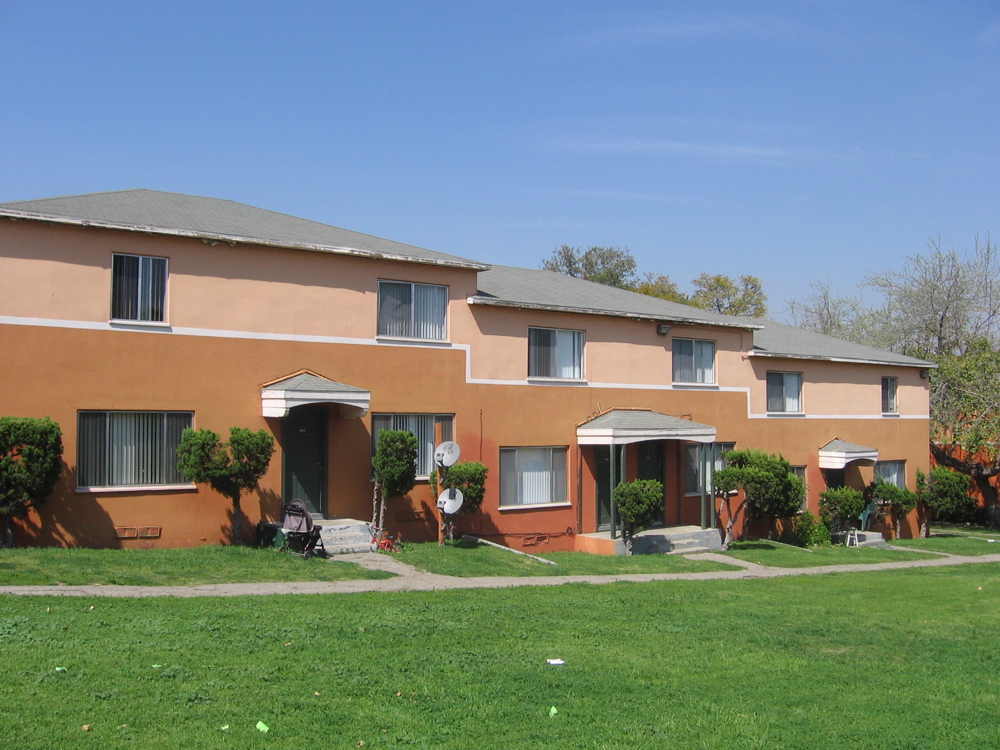 For sure, everyone reading this blog cares about keeping up with local happenings, not just of cultural or artistic significance, but also of social and political—of human-life—consequence, which the commercial media coverso poorly on the Eastside (a problem exacerbated over the years with the disappearance of once-competing newspapers and the continual downsizing of the Los Angeles Times).  So even if the Times doesn't shed much light on the life and times of the people of Boyle Heights/East LA (we really are a single entity, you know, despite the city's borderline at Indiana), I know many of you have heard about the struggle to save our homes at Wyvernwood Garden Apartments (most recently, the marching hundreds on two separate occasions last month) and that you might be hoping to get a little more background on it all.  Here is this piece, which I hope answers some basic questions about what Wyvernwood and this fight are all about.  I hope to write about the actual struggle being waged by tenants in a subsequent posting in the near future.  
The apartment complex tucked in between Olympic Blvd and 8th Street, Grande Vista and Soto streets (yes, like a four-minute walk from the iconic Sears building also being eyed for redevelopment and a little more than a mile south of the future Gold Line route) is made up of 1187 rental units in 153 buildings scattered across seventy acres.  Only a few car-accessible streets wind their way through this unique neighborhood, meaning that the two-story, bright orange structures are separated mostly by green open areas and connected by a network of footpaths.  In a city where parks and public spaces are so scant and out of reach to poor people of color, you can imagine how precious this particular layout (dotted with countless large, beautiful trees) is to the largely bus-dependent, Latino immigrant families settled here.
Wyvernwood was inaugurated in 1939, a product of the "garden city" movement in architecture and urban design that sought to foster a greater sense of community for residents than what seemed possible in the growing industrial cities of the era.  As el Chavo and his younger sister (themselves fellow Wyvernwood natives) once noted in a homemade 'zine they published many summers ago (many, many summers ago), the experiment worked:  The six thousand people who live in this "village," who by and large view the proposed demolition with dread, citeas their top concerns losing their homes, losing their foothold in the city, and having their lives tossed upside down like that, but also seeing a live community disbanded.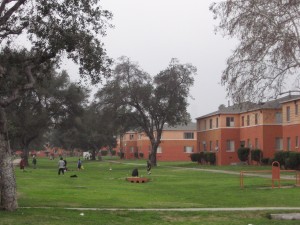 Everyone at Wyvernwood knows this is a special place, even if no one can pronounce the name.  Men and boys playing futbol and boisterous children on bikes or playing hide-and-go-seek mark a typical afternoon here, while every day, at dawn and at dusk, dozens of señorascan be seen determinedly walking their laps in groups, in pairs, or solo.  Neighbors pulling chairs together outside someone's door for a carne asada picnic, or a brief chisme visit, is also a daily sight.  But there's more:  Clans, not just families, make this their home.  If you ask around, you'll learn that while some extended families transplanted intact from some ranchito south of the border over the years, other such bands of kinfolk are homegrown.  One case is that of the Helguera siblings, all eight of whom were raised at Wyvernwood and who are now raising their own children and grandchildren in the same place.  Consider all their other blood relatives also living here, their compadres and comadres they've acquired among the neighbors over the years, then add their kids and grandkids, and you effectively have a clan.  Achild growing up within a short walk to several relatives is common at Wyvernwood—it's a reason people move here.  And this is the kind of place where your neighbors become family.
However, this setup doesn't work for Fifteen Group, the Florida real-estate company that purchased Wyvernwood ten years ago.  Since the multi-family complex stands within LA city limits and was built before October 1, 1978, the Rent Stabilization Ordinance (rent control) provides tenants here with safeguards against unfair evictions and excessive rent increases.  But given that the market-rate price of housing in LA has soared over the last several years, it shouldn't surprise anyone that a profit-seeking landlord (whose tenants are covered by rent control) would be driven to look for loopholes in the law—like the clause that allows an owner to evict his tenants when he wishes to convert the rentals into condominiums or demolish altogether.  Encouraged further by many city officials' pro-development mood these days and the Community Redevelopment Agency's eagerness to add elegance and exclusivity to downtown and the surrounding older districts, Fifteen Group is now betting that it could make big profits bytearing down Wyvernwood and building luxurious new homes east of the river (that's right, east of the river!!).
Folks at Wyvernwood may not always speak good English, but you can't call them naïve either.  Over the summer of 2006, Fifteen Group's new development specialist and main man in LA, Steven Fink, organized outdoor gatherings with tenants in about a half-dozen sections of the complex.  The purported aim of the meetings was to find out from the community what improvements the landlord/developer should make to Wyvernwood. "Don't worry about whether it's possible or not," we were told by Fink's team of architects and landscape designers, "just tell us what you would like to have, if you could have it." Although a few inevitably dreamed big, as was encouraged, people mostly stuck to basic, common-sense longings, such as overdue repairs in their apartments, replacement of tattered old carpets that were awfully cheap to begin with, better grounds maintenance, a new coat of paint in the units, or, if nothing else…  changing the color of the buildings to something more palatable.  Not quite satisfied with the responses, Fink's people specifically asked if we'd also like swimming pools, underground parking or bigger units with A/C.  But participants were reluctant about these suggestions, sensing that such amenities would come with new price tags they wouldn't be able to afford ("si ya no quieren ni cortar el zacate de vez en cuando, ¿a poco nos van a dar tanto lujo sin cobrar más caro?"). 
In January 2008, Fink—whose resume highlights his previous work with G.H. Palmer, the developer responsible for downtown's Orsini, Medici, and other high-end "Italian" apartment towers—publicly unveiled his most faithful interpretation of the people's wishes: a lavish, gated paradise made up of 4400 condos and rentals, 300,000 square feet of office, commercial and retail space, including some 24-story buildings and several new streets intersecting the property.  "Towering ambitions for Boyle Heights," the Times trumpeted the next day, untroubled by journalism ethics and standards.  (The article also reported as fact Fifteen Group's assertion that the buildings are decrepit and too costly to repair when, really, anyone who has ever attended a dinner party at my place would agree in a jiffy with preservationists on the structural soundness of the place, despite a marked reduction of maintenance in the last several years.) 
So what was the real point of these meetings with tenants??  Is Fifteen Group really just an enlightened, socially conscious sort of company looking for ways to help a working-class neighborhood, as Fink and his staff let on that summer? Or as the San Francisco Chronicle, commenting on Fifteen Group's havoc in the Bay Area a few years ago, wondered in an editorial:  Can this company really be "trusted with its sudden expression of commitment to community improvement"?
I think a former neighbor of mine was on to something when she suggested two years ago that the owners merely wanted to claim, eventually, that it was the people themselves who had asked for redevelopment–as opposed to repairs.  The Guatemalan wife and mother of three (who after a generation at Wyvernwood was evicted last year when hard times caused her to fall ten days late with rent) further hypothesized that Fink was working to ingratiate himself with the public by projecting the semblance of a caring, charitable property owner and developer.  If successful, the resulting public trust he would gain for the company would make it easier for city officials to allow the project.
In fact, Fink seems to know the game of public relations well.  If you check out the company's Wyvernwood website, you'll find out how the company has "partnered" up with a couple of Boyle Heights nonprofits providing important community services (i.e., Puente Learning Center and Jovenes, Inc., on whose boards Fink sits).  Pictures of the white middle-aged man in casual dress, attentively listening to his Latino tenants at a gathering, now grace the website and much of his promotional materials, illustrating his "sensitivity" to the needs of people (whose hard-earned cash supply his income).  And ask around in the community and you'll hear how much Fink has donated to other nonprofits and churches in the Eastside, how many neighborhood and religious leaders he has cozied up to, and how committed a Boyle Heights citizen and philanthropist he seems to have become.  "He is passionate about community service…" says his bio on ZoomInfo.com.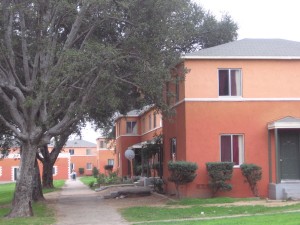 In his efforts to get the families of Wyvernwood to embrace the project that would give them the jolt of their lives, since the 2006 meetings Fink has called tenants to about a dozen more on- and off-site "forums" to "continue the dialogue about the future of Wyvernwood." Unsurprisingly, these events have been nothing more than opportunities to bombard us with images of Fifteen Group's opulent, Playa Vista-style vision for this little corner of EastLos and deceptive promises that current residents would be part of that future.  Just to add to one's distress, we've also heard reports that the company uses our signatures on these meetings' sign-in sheets as expressions of support for its redevelopment plans.  Oh… and the "dialogue" component of the gatherings always comes in the form of Fink reading and responding to a handful of written questions and comments, which always seem favorable to the project, interestingly enough.
But despite such painstaking, wily orchestration by Fink and his crew (including the hired PR firm, Consensus Planning Group, which promises to "deliver community support" for their clients' projects, whatever they may be), the Miami Beach company must now deal with the glaring, overwhelming defeat in its quest for consent from the people of Wyvernwood.  The casual questioner strolling through the community any afternoon asking residents how they feel about the prospect of demolition and construction of a new housing complex will likely see a grimace on the responder's face and almost invariably hear something like: "Pues… no nos conviene—obvio."  A little pressing will reveal that people find this barriecito safer and more comfortable than ever, thanks to the lowest crime rates in the area anyone can remember; that nobody wants to suffer the hardship of families who have moved to the Inland Empire in search of affordable housing while leaving their jobs, schools and hearts in LA; that families yearn for stability, so frequently elusive for working Latinos, and that elderly residents don't want to be moved; and that despite grievances against the landlord, like widespread harassment and lack of maintenance, the uniqueness, communality and homeliness of Wyvernwood make it one of the few places in Los Angeles today where folks of modest means, young and old, can enjoy rich lives in a real community.