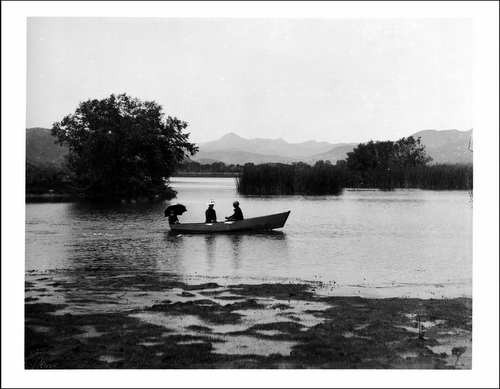 Johnston's Lake, 1888. Photo courtesy of the USC Digital Archives.
Awhile back, I was re-reading Charles J. Fisher's book on Highland Park which is brimming with old photos of the Northeast LA area. One photo that caught my attention was of a flock of sheep gathered around a small "natural" lake in the San Rafael neighborhood just north of Highland Park. I figured it was lake that had been filled in and forgotten because if it still existed, we'd know about it, right?
By coincidence, a few days later, I read an article in the Los Angeles Times about a garden in the San Rafael neighborhood which was said to be across the street from a lake. Could this be the lake in the photo? The article provided some geographical clues and with the aid of Google maps I was able to locate the general area of the mystery body of water. Time for a visit to the San Rafael Hills!