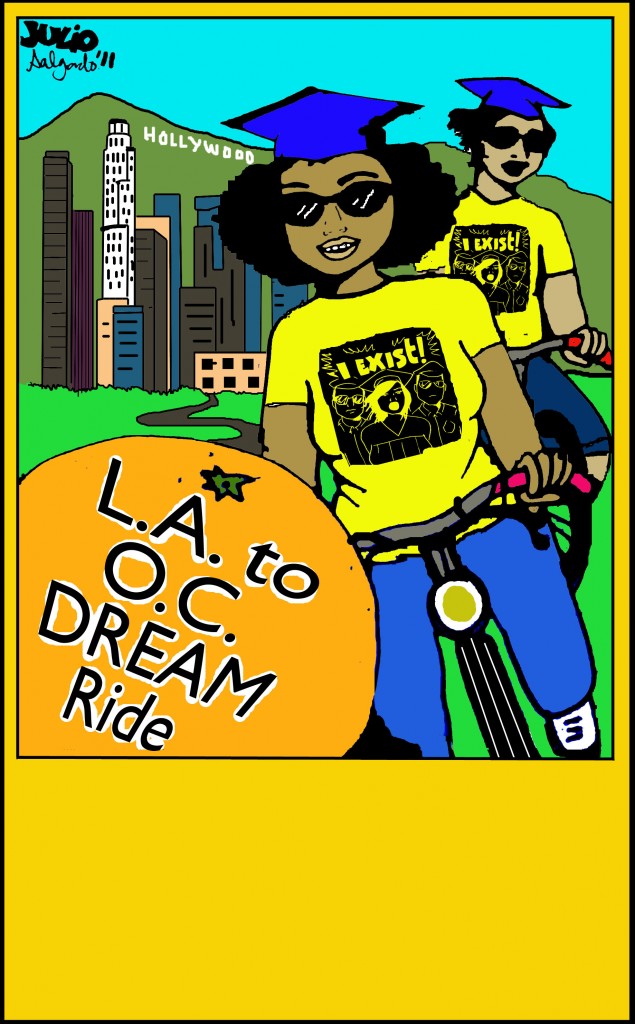 Join us in a 50 mile bike ride to continue raising awareness for Federal Dream Act, California Dream Act (institutional financial aid) and getting drivers licences for all California residents, as well as bringing attention to the rights of all bicyclist in the city of L.A and Orange County. Spokes & Words, The Orange County Dream Team and Dream Team Los Angeles are working together with City of Lights and the Bici Digna program in organizing and funding this event to bring together all these great orgs that fight for social justice for for all.
When: Sunday Feb. 20 (presidents day weekend)
Where: Starting at Corazon del Pueblo 2003 E. 1st. street Boyle Heights 90033 and ending at Centro Cultural de Mexico 310 W. 5th street Santa Ana 92701
Registration: Registration form and $15 fee (link at bottom of page) will be due on Jan. 28. This will include lunch, dinner, bike maintenance during event and over night stay in Orange County. Form can be downloaded via link: https://docs.google.com/document/d/13WcyFiBe45oBXLUIAOkvINgfZAzimUHsIxHlPCWnNOM/edit?hl=en
Route: Approx 50 miles via streets of L.A., San Gabriel River Bike Path and streets of Santa Ana.
Housing: Sleeping over at Centro Cultural de Mexico. Individuals are responsible for bringing their own sleeping bag, pillows, blankets, toiletries, change of clothes etc. and transportation back to L.A. A truck will carry participant's belongings, sleeping bags etc. to Santa Ana and back to CDP after ride is over.
Food: Lunch, dinner and snacks will be provided for all participants accounted for, for the event.
Bike Safety Work Shops: All participants of event will be required to attend at least one workshop on safety, rules of the road and ridding in a group. No exceptions.
First workshop will be at CDP on Jan 23rd from 1 to 4 p.m. Second will be at Centro Cultural in Santa Ana on Jan 30th from 1 to 4 p.m. and the final workshop will be at CDP on Feb. 5th from 1 to 4 p.m. Riders needing help with their bikes will be encouraged to bring them to the workshop for maintenance and bike tune up. Workshops will be coordinated by City of Lights.
Sponsorship opportunities are available for anyone that wants to donate food, supplies or sponsor riders for the event as well.
Anyone with questions about the event can contact dream.act.riders@gmail.com for more information or concerns
Event Sponsors:
Spokes & Words
City of Lights
Orange County Dream Team
Dream Team Los Angeles
Corazon del Pueblo
El Centro Cultural de Mexico
Link to pay pal account here:
http://justarandomhero.blogspot.com/2011/01/la-to-oc-dream-ride.html