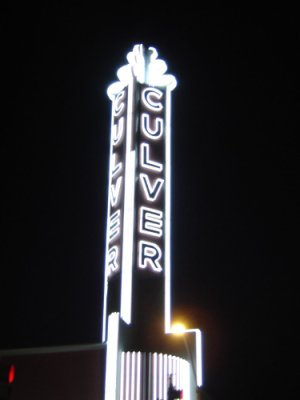 photo by Cindylu
Welcome to Part Two of the Taking Over reviews. A couple of reviews are still making their way through the LA Eastside digital transport, so please revisit this post in the next few days. (New review from Pachuco 3000 below!)
Part one can be found here.
Cindylu:

I've lived just a few minutes away from Downtown Culver City since 2000 in Palms South Robertson*. Despite living here for 8+ years, I only recently started spending any significant time (and money) in the area. Previously, there was nothing to do after 5 pm and a dearth of any other sorts of entertainment.
That's all slowly been changing. The Kirk Douglas Theater playbill featured an article about the "revitalization" (aka gentrification) of DCC in recent years. In a small area you can find several architecture firms, art galleries, a couple of theaters, and several restaurants. On Tuesdays, local growers set up a farmer's market on a 1-block long Main Street. If you go during a weekend night, you'll find the 5 or so blocks between the Trader Joe's and Kirk Douglas Theater quite busy. Now, I regularly shop at Trader Joe's, buy fruit and vegetables at the farmer's market, watch movies at the Pacific Theater and eat at some of the restaurants. I'd never gone to a production at the Kirk Douglas until last week. And yes, I can see the inherent contradiction of watching a play on gentrification in my neighborhood due to the gentrification in the area.