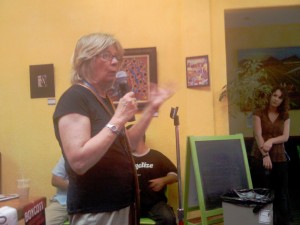 "Tesco is to stop importing about £1m ($2m) of fresh vegetables from Zimbabwe, reversing its previous stance that the trade was essential to support the families of the farm workers who grow crops such as mange tout and baby corn." By John Willman in London and Tony Hawkins in Harare at the Financial Times.
Tesco owns the recent upstart in the organic food game, Fresh & Easy (which for some odd reason the blogosphere is obsessed with.)
Not that I believe that Tesco was only trying to help, but how far is too far in regards to "helping" and what's not far enough?
On Friday I went to a get together at MacArthur Park's Mama's Hot Tamales in support of the ongoing carwash boycott that first came to the attention of the media with the boycotting of the Pirian-owned Vermont Hand Wash in Los Feliz.
At the event Barbara Ehrenreicht (author of Nickle and Dimed and the new book This Land Is Their Land: Reports from a Divided Nation) gave the boycott organizers and their supporters her encouragement.
"America has forgotten it's own history of organized collective action and outright rebellion…" Barbara Ehrenreicht.
That to me is the key. You can't go too far, but you can screw yourself if you don't go far enough.