2 homies still asleep in hostel. whole place is quiet. i leave and at 945 i'm on the metro, not packed. get to vegetus in downtown, across from this parking lot. small spot, kinda cramped. they tell me it's all vegan. hells yeah! get lasagna and it's alright. yes, lasagna at 1030! even got some ice cream made of avena. i take some pics of menu and a woman kindly asks me why and i tell her, just for memories. she goes over to the counter and brings me a menu and says, "you can keep this one." here it is


i split and it's noon and hit up a net place and write some shit. walk around and at a corner, in front of shopping center, is a long-haired metal head selling the latest in death and black metal. i walk over and we talk. i dabble in the metal arts, i say. i favor the traditional heavy style a la trouble. push play, sucka, and let the dark riffs remind you why ozzy and tony are seers. and no that is not ozzy. as if.


and he's more into cannibal corpse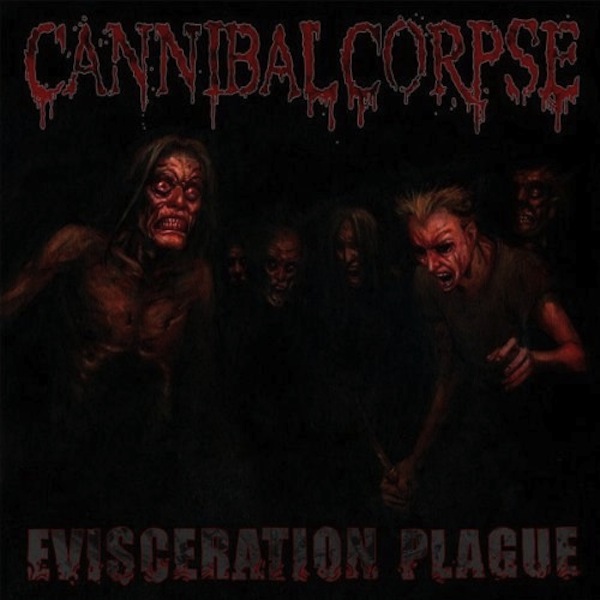 are they exciting?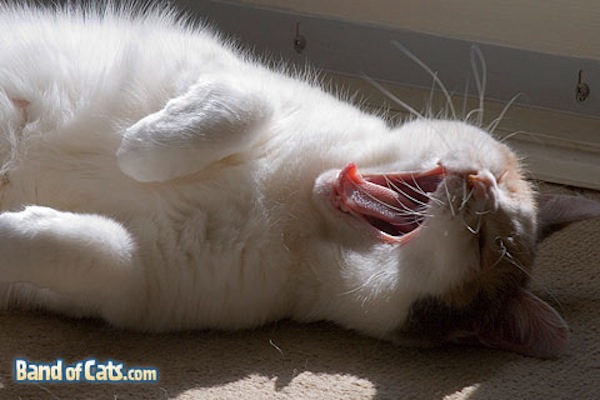 looking at his table set up, i ask for some of the latest in colombian death metal. doesn't have much. mostly known bands. there is a colombian band from popoyan called rotting blood. come on, why not? what a cute name.


we shake hands, metal style, i don't know what that is either, but sounds cool, hey? at 215 i split to my favorite place, el arbol de la vida. this is a long walk, but i enjoy the sun and continue to take in the medellin vibe. this is still a big city, so i am careful, as always.


this food is good, as i have said. you see? can i start off with a soup, please? do you have barley?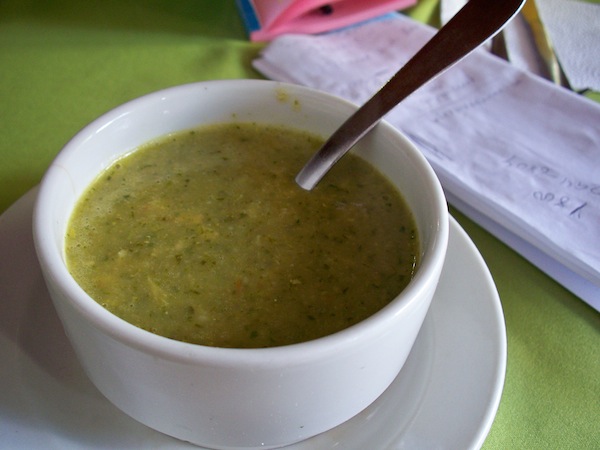 how about some light fare? maybe a corn and broccoli dish, with, let me see… sesame seeds? and is it organic?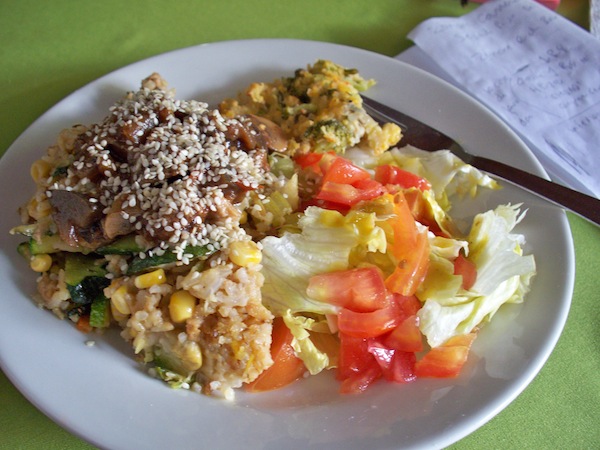 do you have any desserts? uhm, is it vegan? you don't say.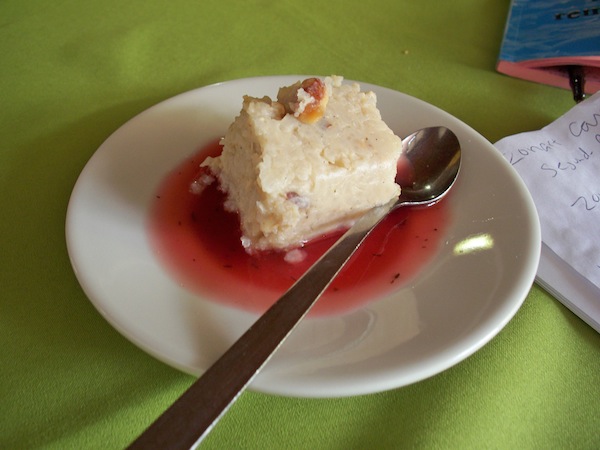 i have a long conversation with the owner about living in colombia, vegetarianism, the u.s., etc and then her husband shows up and says i could teach english here, at a university. he drops some names on me and then tells me his former instructor runs the prestigious Colegio Colombo Britanico. he says to use his name as a reference. that was nice of him. i did go, and the director was very hospitable, but the school is for little ones and it's full-time. don't ya know me by now? i'm a fuckin sub for a reason. i like my time free. say what? hey, i work my ass off as a sub, but not fool time, iz ya kerazy?


since it's one of my last days in medellin, i decide to hit pueblito paisa, even though it's a touristy spot, the views are cool and the air up there will give me time for pause. strolled away from el arbol and flagged a taxi behind a bank. taxi rides are pretty crazy here, i was actually holding on to the back of the seat while cabbie chatted me up. they usually mention the women, guess par for the course, me being male and all. "many guys come here and get married… i know this one guy…" "if you like morenas, well you have to go to cali…" hey, i recognize, i got eyes, but why assume all us dudes talk about is women? believe me, this happened on almost all cab rides. a strange "pride" they hold here. sometimes, the women do it too. whatcha think, i'm some kind of perv?


i hung out at pueblito paisa, with my camera, and wondered what city i would hit next. i had no idea. bogota? i stared out, over medellin, and wondered. seems to go forever. but the air was good.


green grass and waves of clouds, fine by me.


get to a rail and to the left is downtown. not really a city lover but the mountains lessen the urban pall.


so pueblito paisa is supposed to be some model of an old town. i like towns with people, fool. blah blah. that shit never works. zzzz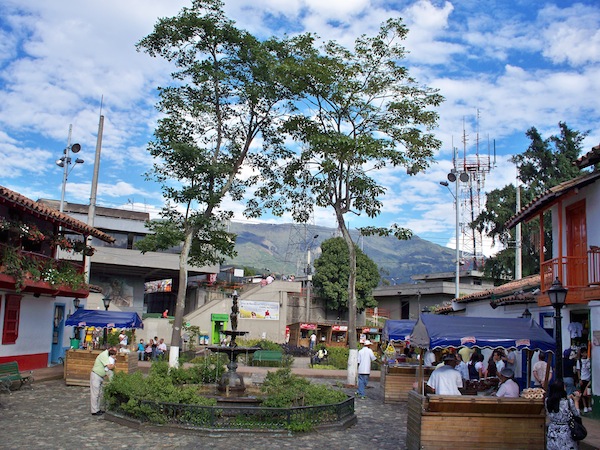 at least they had a haunted house. shit is scary. how depressing. like somebody died. oh god.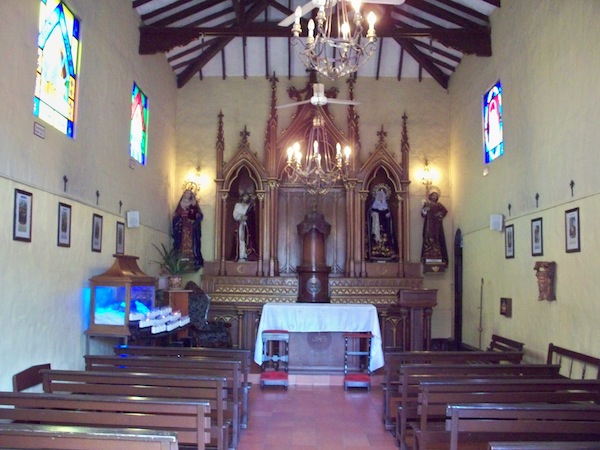 i like feeling like i can stretch out and touch the clouds. so i strolled towards them.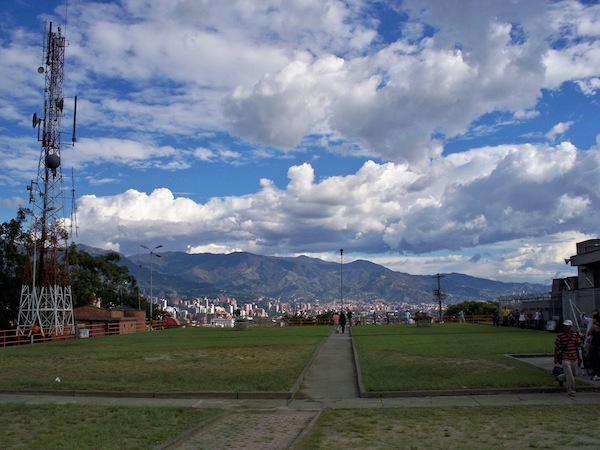 don't they know flags are "rags that symbolize nothing?" damn, better get a small one for my wall. hypocrites unite!


i got back to parque berrios around 9. it was dark but city was still moving. decided the next day i would hit the jardin botanico. come on, let's go.
first, back on the metro. got off and crossed a bridge.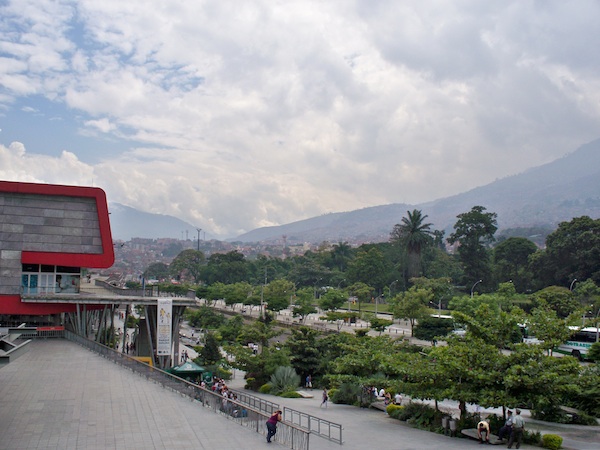 get up near garden and am met with some art installation about smoking? that's my guess. good thing i don't smoke… cigarettes.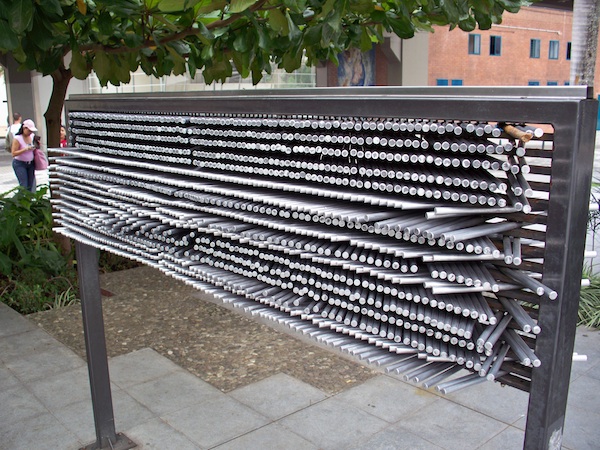 there was another installation of water fountains. of course, i walked through them when they were on the dl and my pants got splashed. i thought it was funny and so did that girl in the red blouse.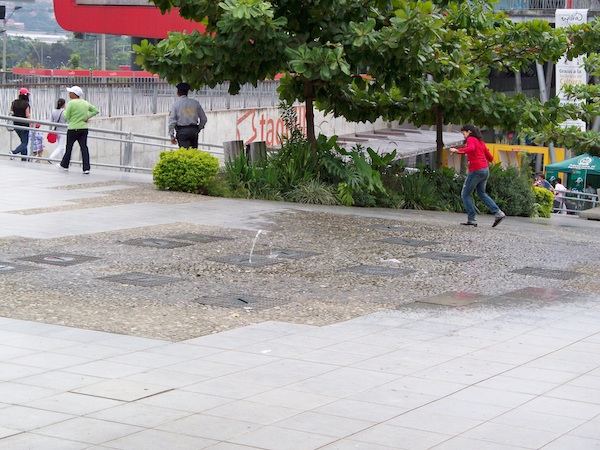 ok, the entrance. i was confused as to where to pay. the security guard simply walked me to the entrance and allowed me in. is it free? i didn't ask.


i walk in and the colors are inviting. funny how the city is just one fence away. even that concrete bridge looms to the side.


i could have waited for a crowd to gather for a comfy tour. but you know i don't wait for crowds. i don't wait for anyone.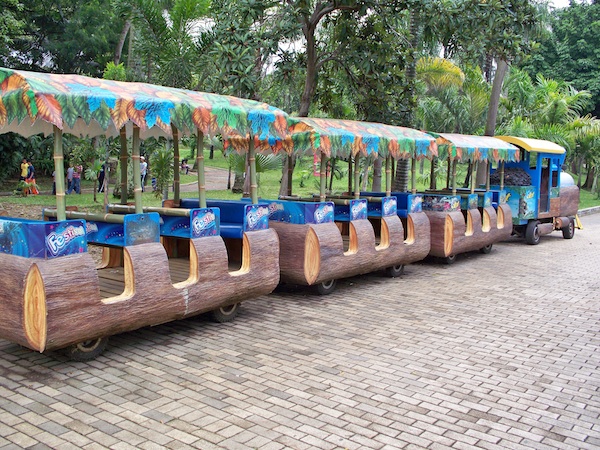 local folk are allowed space to sell medicinal herbs and assorted plants.


ok, now we talking, what a beautiful, welcoming path to who knows? i'm glad i came already. where will it lead me? i again remember that i am in the middle of medellin.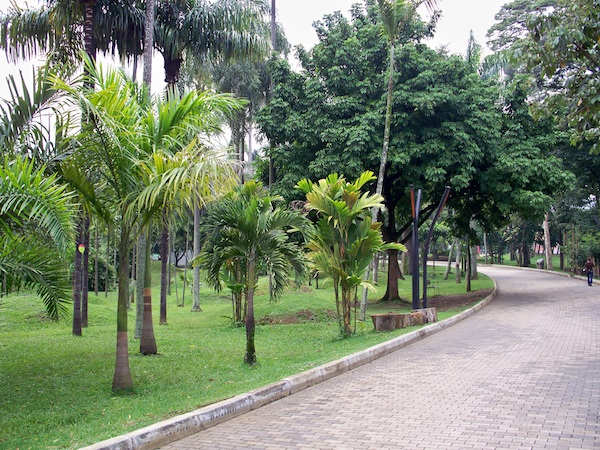 how purdy. i just want to take off my chews and run through the jungle. what? and kill the grass?


i stopped and met someone for lunch. i think we ordered the same.


not one complaint, my kind of pal.
i kept walking and yet they tried to tempt me into sitting. i declined to recline and kept my pace. casual, of course.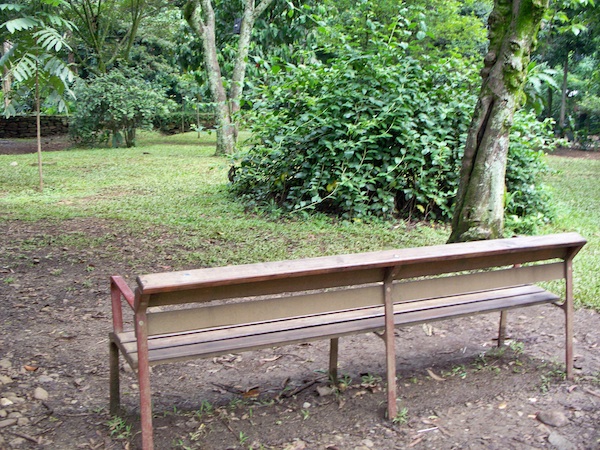 these are "more brighter" than they look, digitally. they really are so beautiful.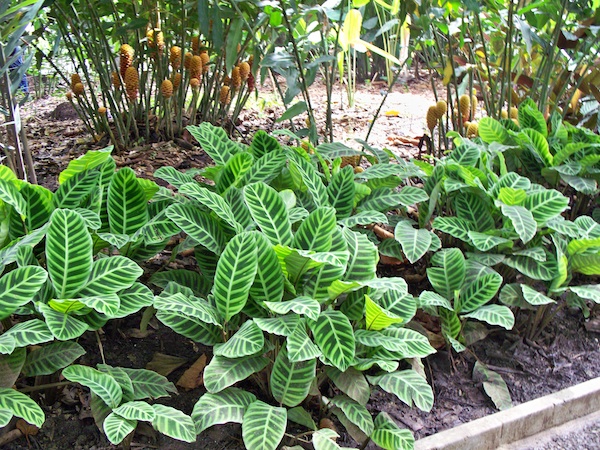 i had no idea my cousins had been to medellin.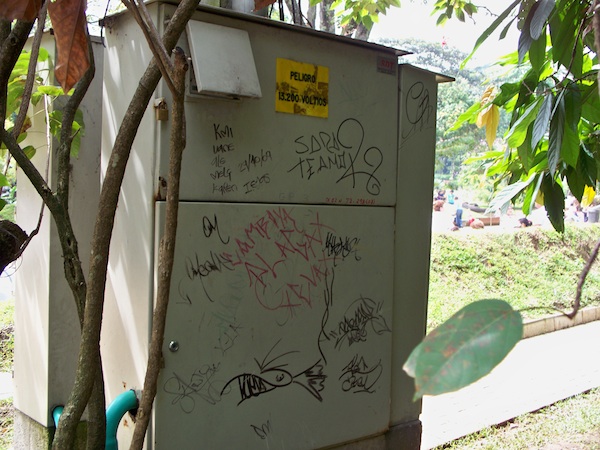 gente just hanging out. someone should tell em this is "like, oh my god, like the murder capital of the universe. you can't be enjoying yourself like you are some hippies in golden gate park searching for the perfect spot for a round of hacky sack. don't they read the paper?"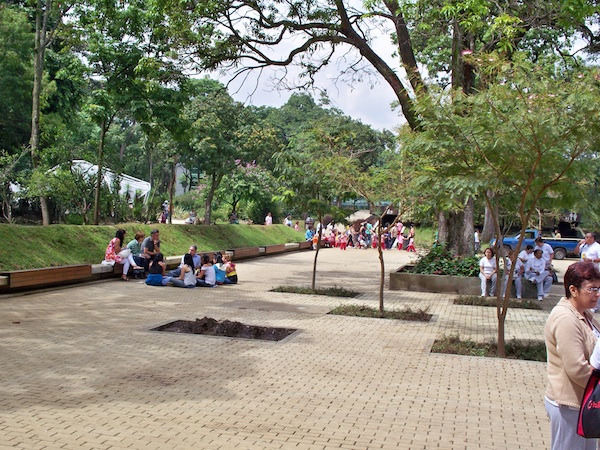 now that's a great advertisement for fun, no? and the one with the image of a book is good too.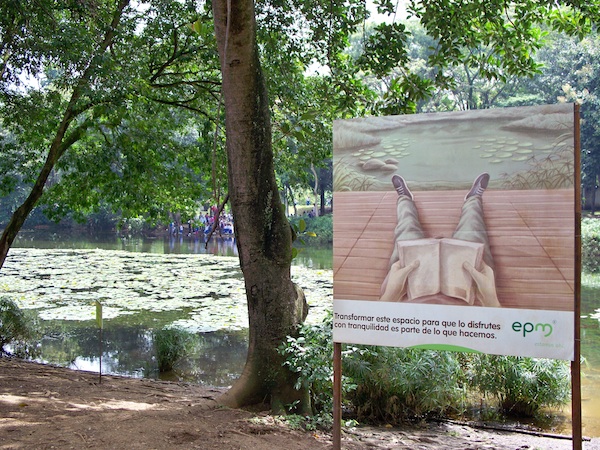 it just gets better.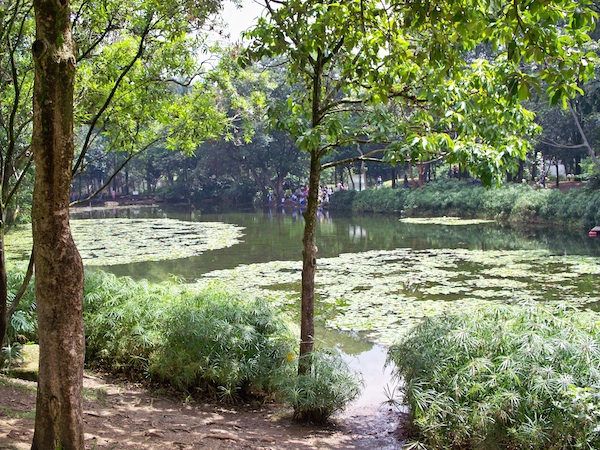 stop that. don't tempt me. i… will… not… sit down.


even classes of students rolled by. how much better than being locked in a box in a grey building.


i finally sat on the grass and reflected. i wasn't alone


and to my right were some kids playing. what else should they do?


remember at Hammel when I used to thrown up those crazy Kareem sky hooks? well, i do. of course when they went in, Jose David, Jose Alfredo and Juan would yell, "¡zapote!" at that age, i did not know they were throwing horticultural terms at me.


i then noticed this large structure, and i mean large. what the hell?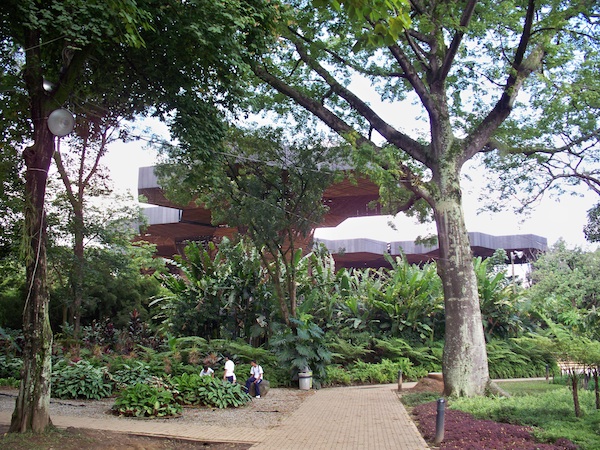 it's the orquideorama, it was closed.


ah, a bridge to everywhere. what's over there?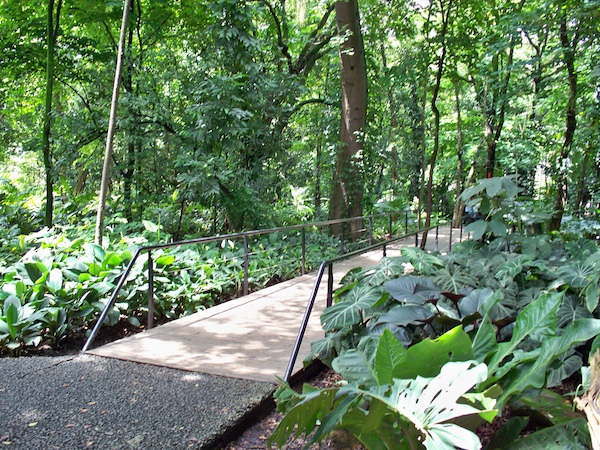 more of the same. that's a good thing, sometimes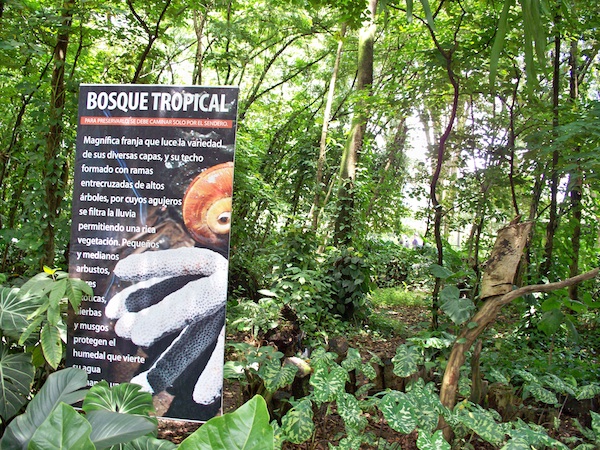 Rambling On My Mind: South American Edition will detail my 40 day, 3 country visit of that continent. from the streets of medellín to the calm, cloudy skies of manizales to the inviting plazas of popoyán to the latitude-defying geography of quito to the muggy beaches and sultry songs of guayaquil to the sacred valleys of urubamba and the magic mountains of machu pikchu and waynapikchu. may i say, in the most "american" of accents, the trip was, like, omg, like, so amazing.