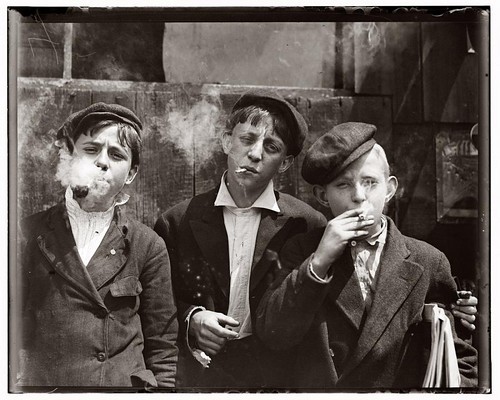 Not the little boys from Lincoln Heights but a reasonable representation
There have always been "juvenile delinquents" on the Eastside. As the years have gone by, perhaps the ethnicity of the children has changed but the acts are the same. Kids get bored, they experiment, they are curious, they want things and figure out various ways to acquire the articles they seek. A phenomenon common to all humans. Sadly for these little burglars, their names and addresses were printed in the Los Angeles Times for all to see. Worse, the newspaper mocked their common predicament by stating: "This is the saddest time of their lives."
THREE SMALL BURGLARS.
They All Ran Off With Pocket Knives and This Is the Saddest Time of Their Lives.
Los Angeles Times, May 24, 1906

Three small boys, none of them over thirteen years of age were charged with burglarizing the Griffin-avenue schoolhouse. The three lads have made a full confession. They are Miles and Earl Vaughan, aged 13 and 10 years who live with their parents at No. 248 at South Gates street. Their father is a switchman with Southern Pacific.
The third and smallest member of the trio is Eddie Crist, aged 9. He lives with his parents at No.516 South Gates Street. His father is a carpenter. The boys were arrested and taken to the East Side Police Station and later removed to the Detention Home.
According to the story the three lads tell, they were playing in the yard of the schoolhouse Tuesday morning It was a holiday, owing to the Fiesta parade, and no one was in the building. They pushed on the door of the building and the lock gave way.
Once inside they made a thorough search through the rooms and say they took a number of pocket knives and fountain pens. Little Eddie Crist says he only took one pocket knife. The other boys admit taking several and some fountain pens. Their only excuse is that they wanted the articles. The lads will have to face a charge of burglary in the Juvenile Court.
Article courtesy of the Los Angeles Times, all grammar and punctuation are from the original story.