busy day, always hectic when taking off. trader joe´s, bank, good-byes. mom always freaks out when i venture out. sis and nephew drop me off at union station to get the flyaway, 7$ to lax. great service, to airport in 30 minutes! too bad they spoiled me by having it at $3.50 when i first used it.
at lax, check-in line was short and fast, but then colombia starts getting crazy on me. i had purchased a one-way to medellín and now spirit air is saying i have to buy a return ticket because they won't let me in the country without it. shit, i planned to land there and do a slow tour and then decide when i'd return. now i have to throw down 400 $mack$ for a make-believe return. the agent promised i could cancel it before return date and get completely refunded by phone. still…

i get to screen check-in and they hassle me cause my shaving cream is 4.5 oz and not 4. no shit. that got tossed. without my special aloe blend from pavillions, how will i maintain the smoovness of my cheeks?


we board and all good. get to fort lauderdale at 8:00 a.m. we will have to wait two hours at gate for connecting flight. i begin to hear that colombian espanish, reminding me of my friend bernardita and her family in bogotá. in fact, a woman seated behind me says to her friend, "bueeeeeno, no quieres nada?" with this inflection colombian spanish seems to have. she went on: "cincueeeenta," "fiiiijate, y son mios," "hay maaaami…" passive aggressive? most waiting for flight to medellín are light-complected. kind of like me. behold a pale face.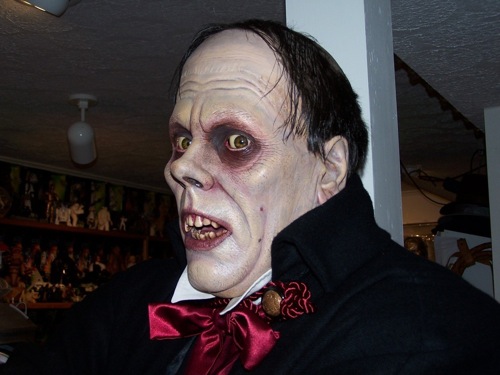 this woman sits near me and she got that infamous medellín look. black hair, perfect eyebrows, light brown skin. every head turns when she gets up. she looked like this: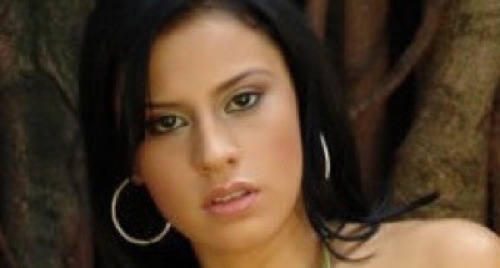 3 hour flight to colombia was bumpy as all hell. had an empty seat by me. don´t believe pilot when s/he says, "prepare for landing." it´s usually bullshit because you still have about 40 minutes to actually touch the ground.
we land and as we exit this woman asked me to help her with her two ton suitcase. don't know how many bodies she had in there. i carry it down those crazy steps and go back up into the plane for my stuff. as we entered the actual airport, there were 3 flights of stairs and the old lady turns to me. i helped her. she thanks me profusely. i'm sweating. in the building, and i am not kidding, there was an escalator down to immigration and it was not working. fuck! "hay, perdon mi amor," she said. i took her shit down the stupid stairs. the old bag thanked me. i got in line for passport check. did i tell you her suitcase was damn heavy?


got through immigration fine. went to exchange some greenbacks, after some incredibly detailed directions from a janitor. changed $80 and got back about 1,500 pesos. i only changed eighty dollars because later i might get a better rate at a bank. now i'm in the city and i remember the last time i was here and i remember that ronnie james dio just passed. so much to hold, i begin to mouth:
oh no, here it comes again
can't remember when we came so close to love before
hold on, good things never last
nothing's in the past
it always seems to come again.
again and again. again and again…
blessed by the night, holy and bright
called by the toll of the bell.
bloodied angels fast descending
moving on a never-bending light.
phantom figures free forever
out of shadows, shining ever-bright.
Neon Knights! Neon Knights! All right!
looked for a taxi (colectivo) and agreed with 2 guys to pay 13,000 pesos each, bout 7 dolla. the one guy in the back with me got on his cell, argued with someone and said "mierda" 76 times, at least. the airport is outside the city (maybe 30 minutes), so it was a drive. little did i know that my hostel was in el poblado, where "clase high" reside. i didn't mind. the pristine avenues of city terrace have prepped me for hanging with the bourgeoisie. can i also own the means of production?


we find hostal tamarindo and an old lady lets me in. she and another go over my reservation, scan my passport and ask me to sign-in. they offer me a private room even though I reserved a dormitorio. the dormitorio aka a bed, is 18,000 pesos = 9 bucks. made my economics major choice and decided sleeping in a room with other visitors is worth saving some cash.


ask the ladies a few questions and they are not very helpful. first one says, "eres complicado." fuckin hey, asked you two questions!


they point to a wall of flyers as a gesture of hospitality. nyet. bail to "my" room and lay out my stuff on "my" bed.


i am a bottom, ahem, i mean i always take the bottom… bunk, so I can hear and see goings-on from ground level. i'm careful like that. paranoid? uh no. i haven't traveled to many places but i have been in my share of hostels and not once has anyone taken any of my shit. not once! check out the hostel and nobody home so i leave and walk about el poblado and everything is fuckin closed! end up at this juice joint, la jugosa, which is on this main drag, Calle 10.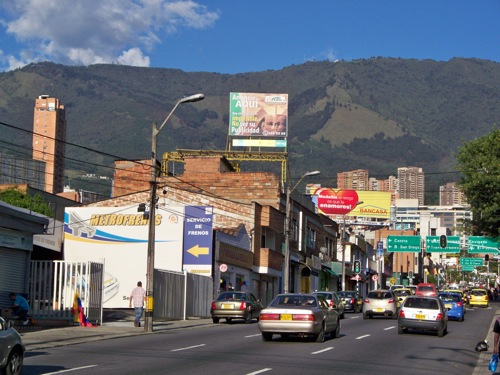 i get a jugo de melon and homey says, "día festivo." independence day foolio. see, when you don't research, what could happen. i had no idea and nobody said shit on the taxi ride over or on the plane. who gives a damn, i'm in south america. again. walking about el poblado and hell, i know i rag on westwood, but no kidding if this place be lit up with boutiques and kawasaki jacket vendors. who knew i was in williamsburg or damned concord, mass. walk down calle 10, a serious decline (and incline, i find out later) and exito! is open, one of those walmart holes that mexico and i guess colombia, believe is something special: canned food, tires, diapers, toilet paper and dead meat all in a row, how middle-class. don't worry, you belong.
but a starving fool, even a vegan one, can't be too picky. in the food court is a japanese joint and no shit if the veggie yakisoba is on some shit, plus with a mango juice, burp! i head out and when i think i see a giant mercado (they are always near and dear to my heart/stomach), it is actually one of many bars, boutiques and clubs of parque lleras aka the zona rosa of el poblado, you know, the in spots. booze, booze and more booze. the names of the spots should give you an idea: mangos, tijuanas, and some other stupid names. there was even a hooters and a cafe juan valdez (in lieu of starbucks). bro, this area is, like, so bangin.


it's like a combo of old town pas, the glendale galleria and downtown claremont and there you go, oh and add some tia juana. hey i exxxagerate but bars, billiards and large television screens line this row. they trying to outdo cancún, pronounced as in "racoon".
head south and wtf, there is this cool park, and it runs right by this jersey shore hotspot. i took a stroll and took some shots. see?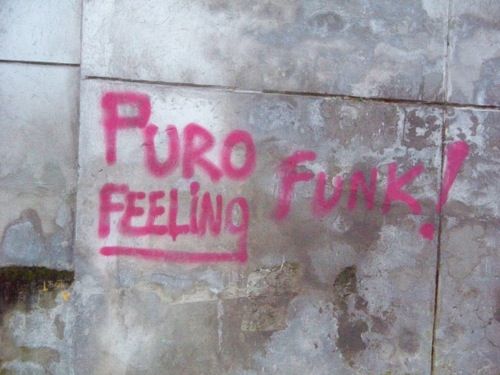 some soldiers give me the eye, these mofos be everywhere. i already told you bout my run-in with them in another post. fuck em, keep doing my thing. i sit for a bit and relax.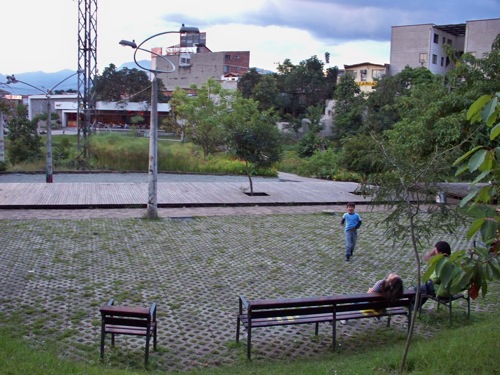 during all my walking i kept an eye out for a cyber cafe and a veg place, but nothing was open. but later, i did get a moment to laugh aloud. got back to hostel about 930 and a woman at the desk is way more hospitable than the 2 vultures who signed me in. she in fact, runs this spot. the cold ones from earlier were more like maids. who knew? not me. she breaks down so much for me re: streets, mercados, vegetarian spots, etc. but get this, they had a computer with internet right there by the desk! emailed sis and others. through the window, i noticed it started to drizzle. go upstairs and i'm rooming with 2 brasileños, a young couple. they seem alright. we say hi. i hit the head and head out to the roof top of this cozy hostel.


which is where i write this.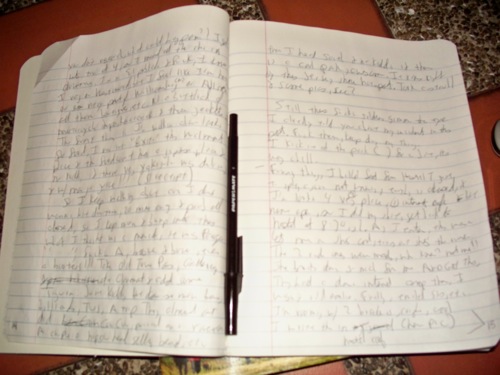 good night.

** it is fatal to know too much at the outset: boredom comes quickly to the traveler who knows his route as to the novelist who is overcertain of his plot. (paul theroux)
p.s. yes i know lucho barrios was born in callao, peru but i discovered his music in colombia several years ago. his voice and those incomparable musicians will always be part of my visits to south america. if there was an east america, i'd listen there too.
Rambling On My Mind: South American Edition will detail my 40 day, 3 country visit of that continent. from the streets of medellín to the calm, cloudy skies of manizales to the inviting plazas of popoyán to the latitude-defying geography of quito to the muggy beaches and sultry songs of guayaquil to the sacred valleys of urubamba and the magic mountains of machu pikchu and waynapikchu. may i say, in the most "american" of accents, the trip was, like, omg, like, so amazing.