up at 8, showered night before. got out by 845, got to parque lleyras and like calle 10, it is empty. take metro to poblado to metro caribe then to north bus station to get bus to Guatepé. 11000 pesos it ran me. bout 5 bills
i'm right on time, sit in the back, wait 5 minutes.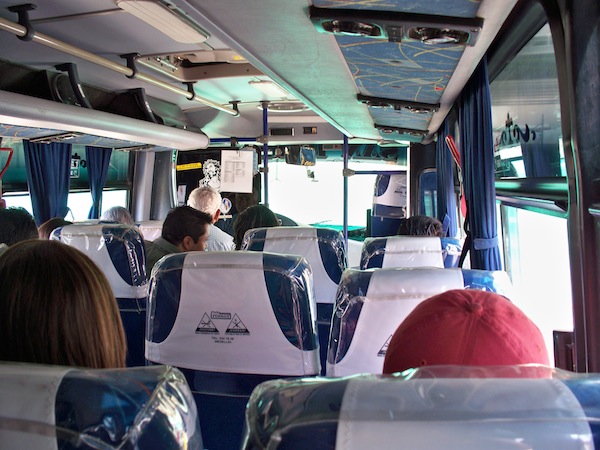 last minute folks getting on, hustling for chairs. windows somewhat tinted and chairs not too comfy. i never thought of myself as tall, but every bus so far on this trip has chairs that dislike my knees. i have the bruised knee caps to prove it. and off we go ("so saddle up MC's, and off we go. it's not a rodeo, but i carry a lasso"). some tourists start to talk and i am grateful i have my ipod, i throw it on and vader accompanies me.


no not that vader, this vader!

but, i am hungry, as usual.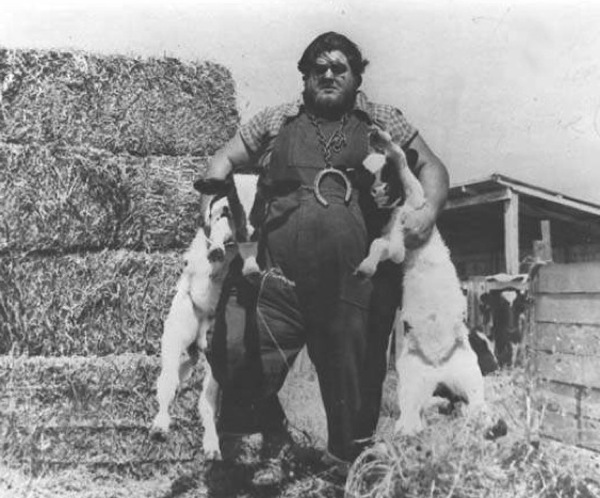 about 45 minutes later, we make a pit stop, of course, not much for me to grub on. so i just hang out and go with the vibe.


back on the road. we get there another hour later, near Peñon de Guatepé. place is beautiful.


got off bus and bus just leaves, pretty funny. no info for fools that just got off, like me. couple of norwegians with ginormous backpacks that looked like circus tents just stood and looked around. they asked me, "where do we get a bus to return to medellin?" I told em, "i have no idea and you shouldn't worry about it til later." hey, there's my proof i'm from east los, no? "ah, i'll pay you later… i'll see you later… i'll stop by later…" they did not take my advice and their worried faces returned. oh well. i started up the road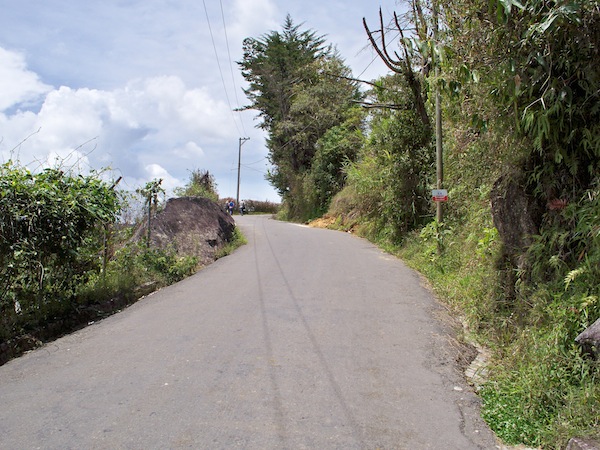 and i was mesmerized.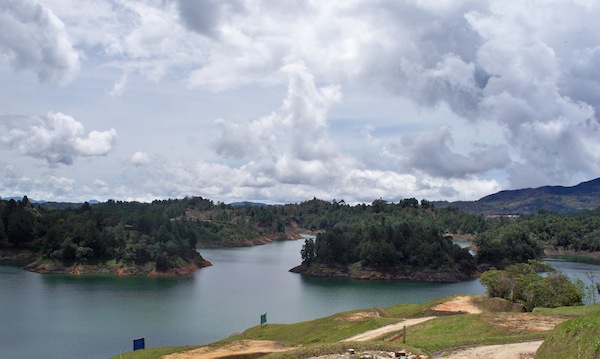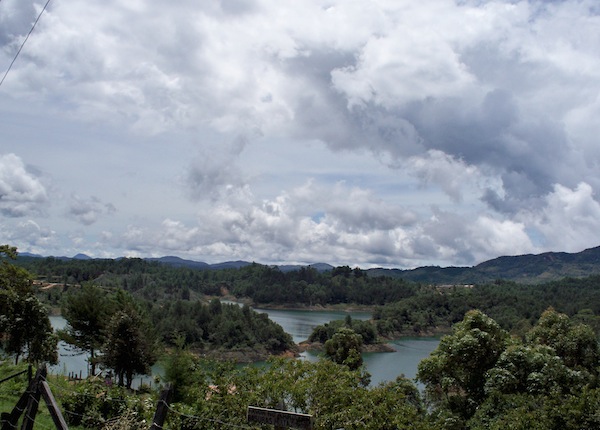 hypnotized even.

being only 2 hours from medellin, of course there will be plenty of busses to return, no? i continued the climb.


even peeps on horses passed me by.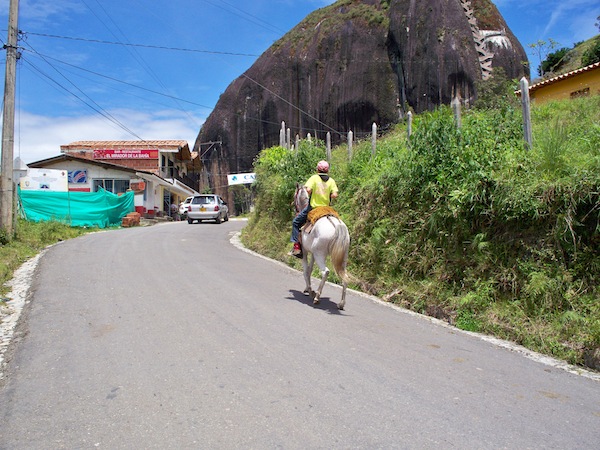 then i remembered i had very little $ on me. after peñal de guatepé i have to get a cab to guatepé municipality and how much would that roll me? me worry? back to the climb. i got a better look at the piedra.


the road don't look too steep but it was, ok?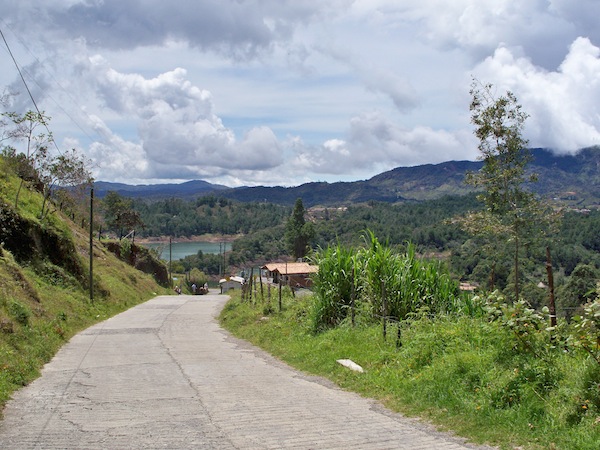 the sun is strong here and climbing towards it, makes it more so. but the views were awesome. i got anxious because i wanted to see how it would look from atop that crazy looking rock. i kept climbing and taking shots, mouth open and head shaking. the blue water, the higher i went, took on a tourquoise tint and the greens got more vibrant. to shorten the climb, i got off the path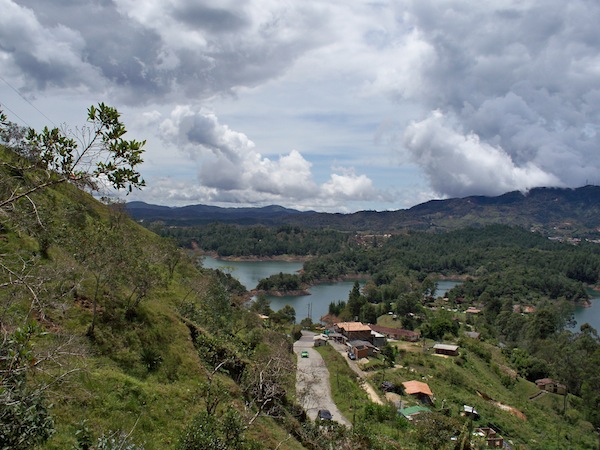 and climbed a hill to the parking lot. i ended up here.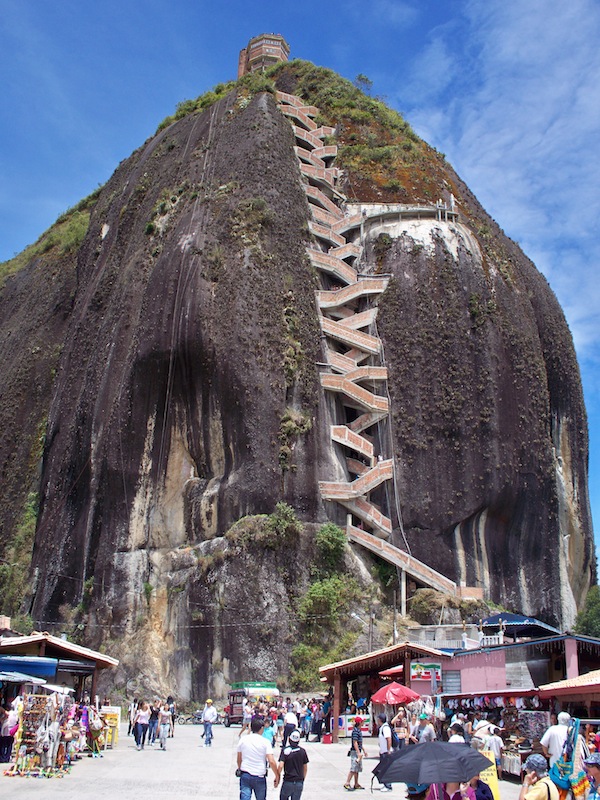 lots of tourists, probably from other parts of colombia.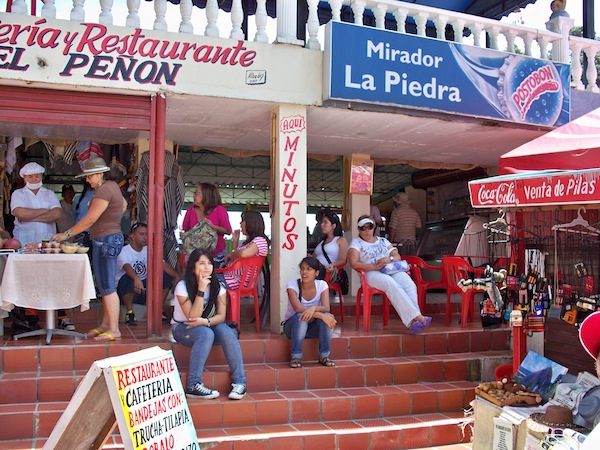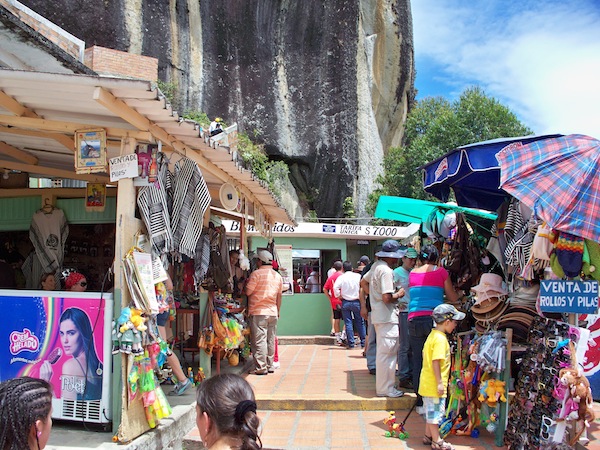 but the view from up here, even more impressive. i was all about this.


gotta pay 7000 pesos, cuz i wanted to get that view


but damn, after climbing that road, these steps looked even more daunting, but away we go. take a peek.


stairs were seriously DIY but they hold up. after a few "floors" i snap a few.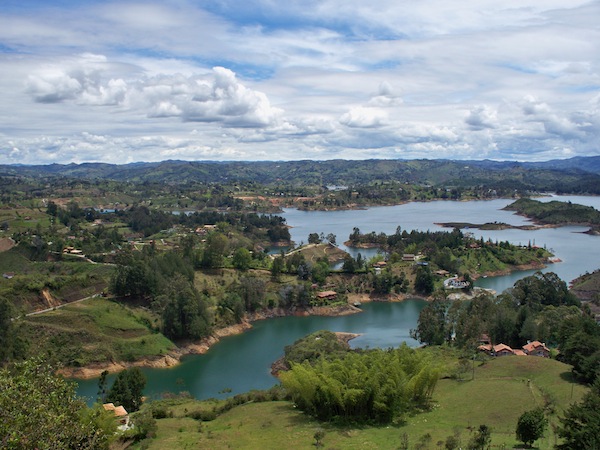 did i mention they were steep?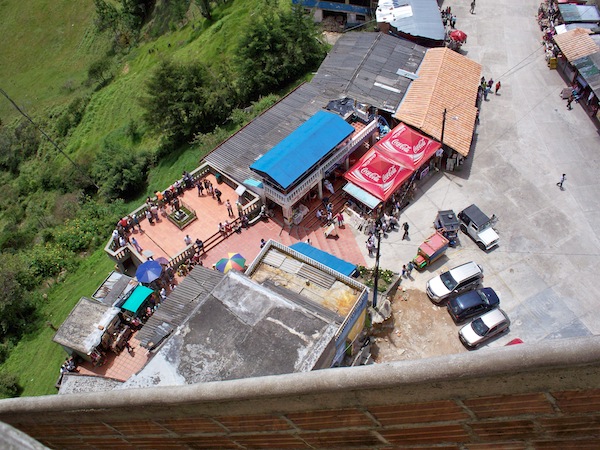 told you were they were DIY


funny reminder of my little friend in city terrace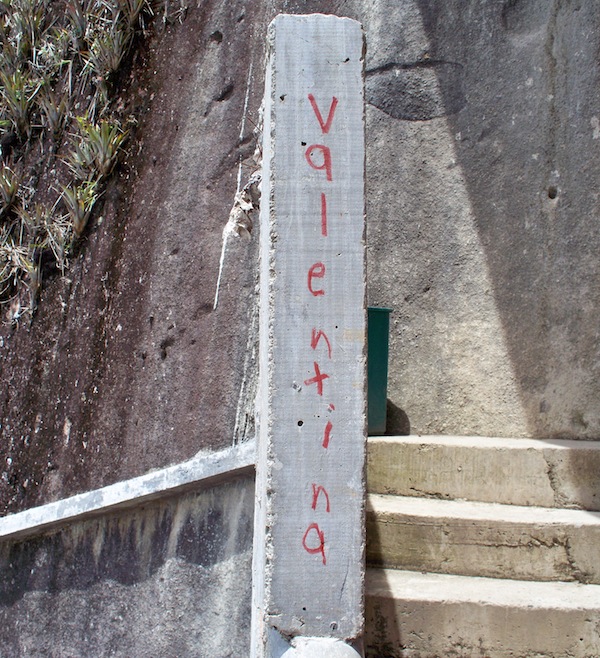 getting close to the top.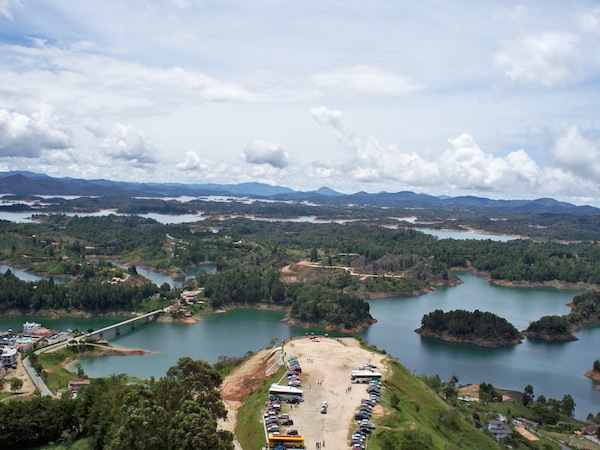 when i got to the top, most of the folks are huffing and sweating. funny. it was a beautiful, warm, cloudy day. several offered to take pics of yours truly posing (poser!!) with the beautiful background. didn't have to even ask. i hear brazilians are the friendliest, but damn colombians can make a claim too.
at the very top were stalls selling drinks and food, there was even a complete restaurant up there, not pictured. hard to imagine such a thing existed from the view from below.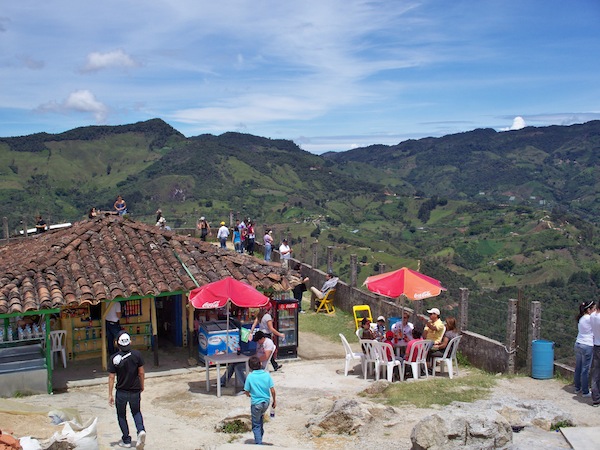 met a couple and their kids, they were from Barranquilla. really polite and curious when they found out i was from u.s. what a cool conversation, which ended as some do here, with the advice: "please tell everyone that our country is not what the television shows. we are better than that, etc." never with a hint of bitterness or anger. i promised to do that and i believe i have made it very clear in these posts that colombians, at least the many that i have met, are such wonderful people, that i seriously entertain the notion of living there one of these days. i tell em my feelings bout their country and how i've been so impressed, they are pleasantly surprised, even proud. i reached over and shook their hands and acknowledged their kids and we said good bye.
i took a couple of shots myself. i was impressed, ain't you?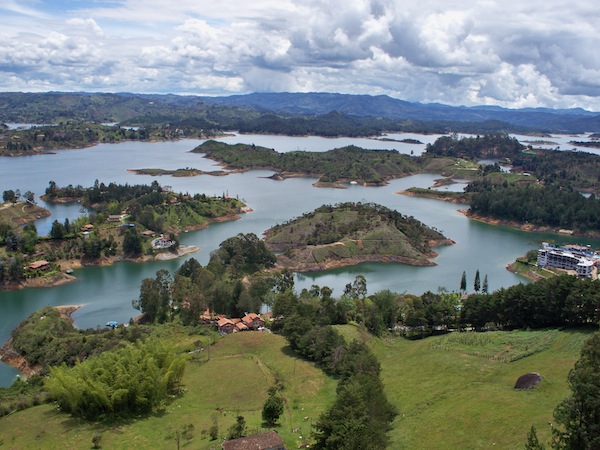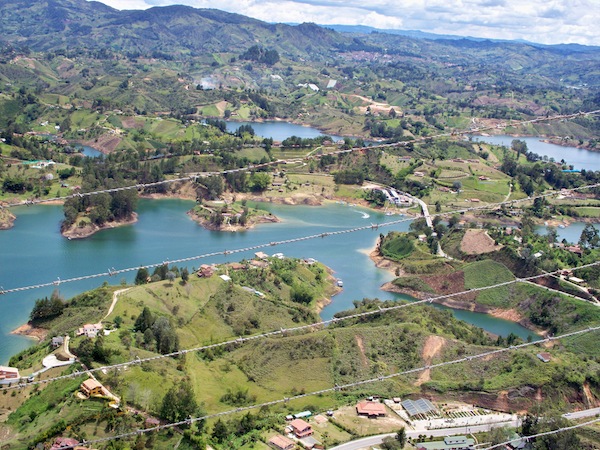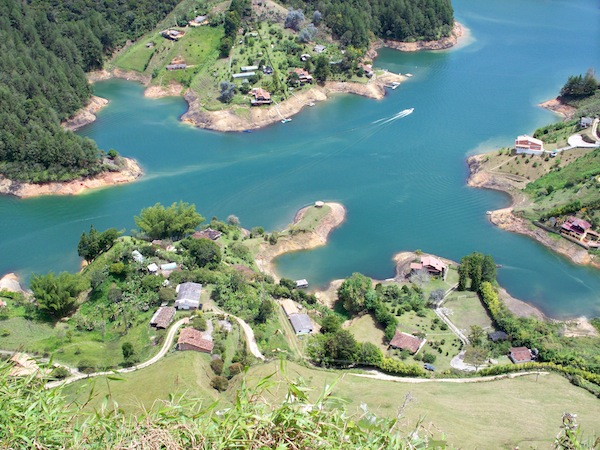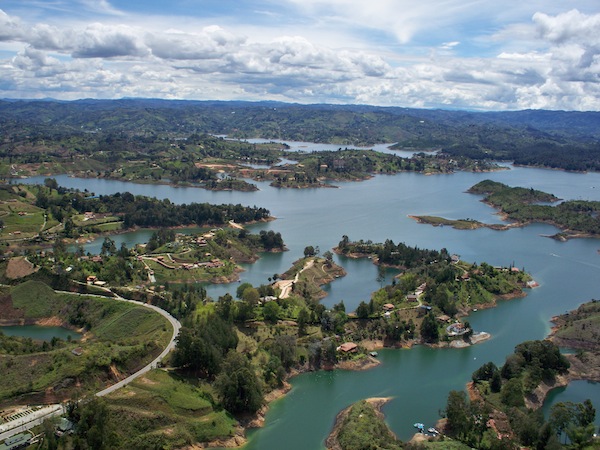 by the way, it was about 600 steps up to the top. after hanging up there for a bit, and drinking in the views and the air, i began my descent to base camp. is that cool mountain climber lingo? next, K2!


get taxi back to guatepé proper. 5$. we get there and talk about a 1 burro town. i could not find an atm for nada. but asking for one did start some interesting conversations. i found a real hoity toity hotel for 30$ and talked to the receptionist, she was funny. we talked music and i busted out my ipod for her. it was slow season, obviously. she thought charlie zaa wrote those classics he sings. girl please, the latest ain't always the greatest. somebody was there first.

without worry, went back to check on bus to return to medellin. whadda ya know, there were several. see how shit works? got ticket, stretched out my limbs (consoled my knees) and i was ready for a relaxing return to medellin.

Rambling On My Mind: South American Edition will detail my 40 day, 3 country visit of that continent. from the streets of medellín to the calm, cloudy skies of manizales to the inviting plazas of popoyán to the latitude-defying geography of quito to the muggy beaches and sultry songs of guayaquil to the sacred valleys of urubamba and the magic mountains of machu pikchu and waynapikchu. may i say, in the most "american" of accents, the trip was, like, omg, like, so amazing.