This years fiesta sucked ass !!! It will never be as I remember it when I was a kid, walking around with my parents and sisters getting in lines to get free samples of things we don't need and taking pictures with celeb look-a-likes. What happened to you Fiesta Broadway ? How did you lose your heart ? Did you even have one to begin with ? I know that the corporate advertising is part of you, but companies use to give out WAY better things. Now, your lucky if you even get a stupid pamphlet telling you to buy some crap you don't need. Sigh… this years fiesta really was no different than last years and Chavo posted a good photo essay, which was ok I guess. I think mine is better, but I'll let you'se guys decide. Sigamen los valientes !!!!!!!
I was able to get outta work early and I dediced to pass by to see what this years fiesta would bring. First thing I notice right off the bat is the creepy clown slanging balloons to kids for a dolla. Burn in hell clown !!!!!
I also noticed that this years fiesta had a heavy police presence. More so than last years. In fact, as I was walking toward the fiesta, one of the guys in yellow shirts asked me to open my back pack so he can see what I had inside. I asked him why and he said that last year someone took glass bottles and started fighting with people. My guess is that they got mad from waiting in line for a some toohpaste and felt like he got the short end of the stick.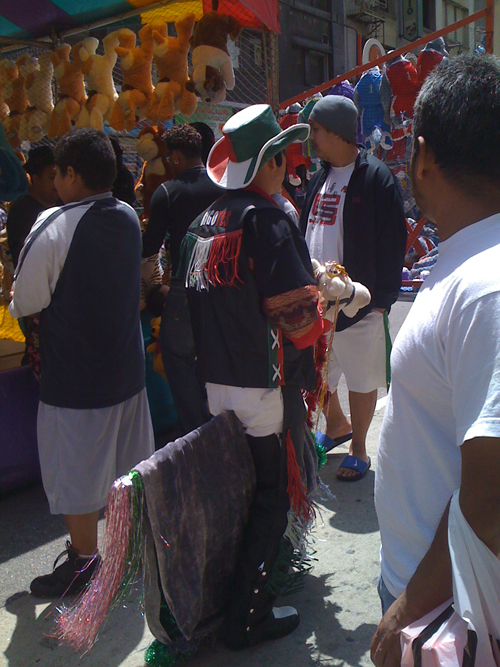 This vato was riding around the whole time handing out business cards. It matched his fake Burt Reynolds mustache.
"Repent now Mexicans," said the Jebus guy on the megaphone. No body paid attention to him, they were more concerned with making line to go get free energy drinks.
It's not a nopal, but close enough. I think it's standard for a Mexican guy with an over sized sombrero to be at these things.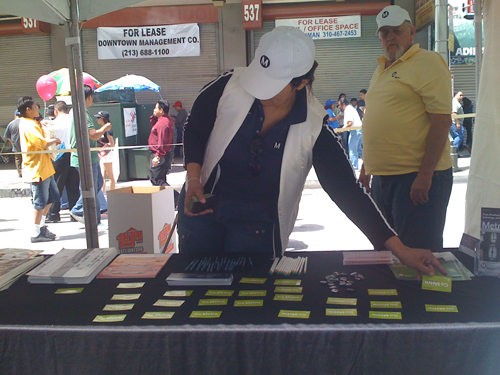 I have a special bone to pick with Metro this time around. First off what the hell, I can understand the detours on regular bus routes, but the damn drivers don't bother to stop. You literally have to wave them down to the point that you have to jump in front of them so they can stop and pick you up. I will say that one bus driver was cool and did stopped twice to pick me up and for that I'm greatful, but today was the worst. I was trying to make my way to commerce and the damn rapid buses, which were suppose to make stops on Main st. didn't. They just zoomed by leaving people to bake in the fucking sun. I myself got fed up with it and skated home instead of dealing with the freaking bus. I made it home arouund the same time the bus did. On a side note, the lady at the booth did hook it up with a cool Metro pin.
It's funny to see how people croweded around a police cruiser to see what they have inside. The reactions people hasd made it seem like they just had seen a transformer.
After getting a good look at their rides, people were taking pics on those robo-scooters the cops roll around in. The guy in the picture was thinking how sweet it would be to ride one of those to work.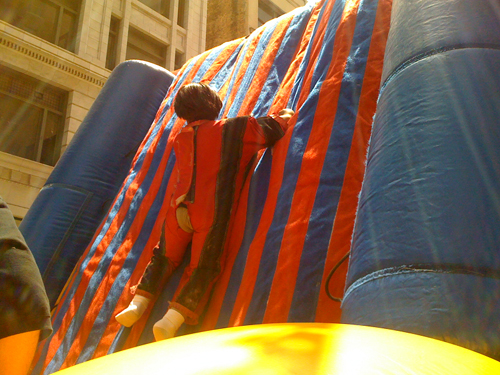 This kid was just hagning around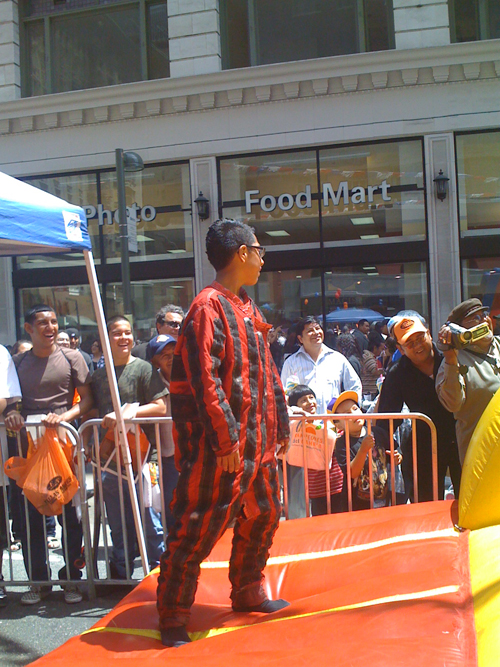 "You mean to tell me I can't keep the velcro suit ?"
And the campaign to help people go digital continues….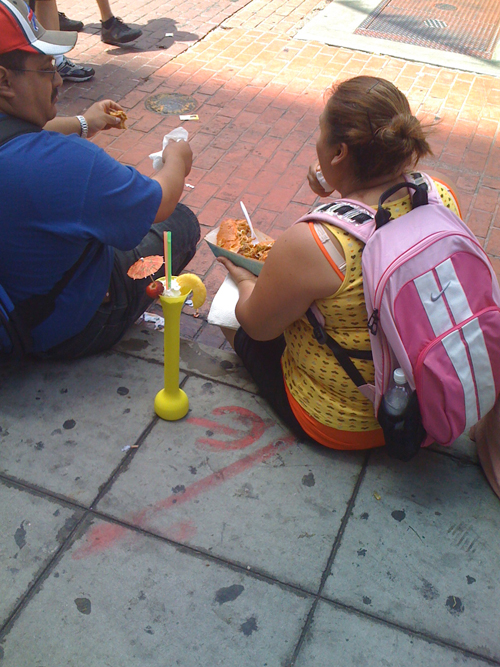 Nothing goes best with an over sized torta than an over sized fruit drink in a plastic tube thing.
I bet if I had a booth and charged for energy drinks, kids would want my autograph too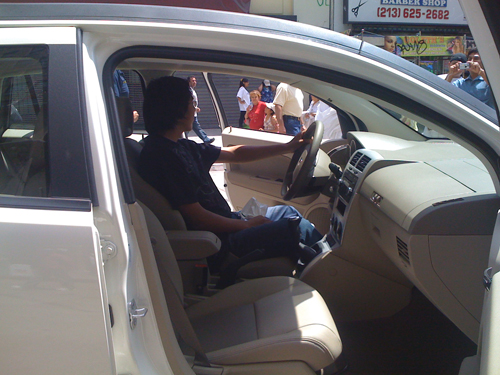 "Which way to Chavez and Soto ?"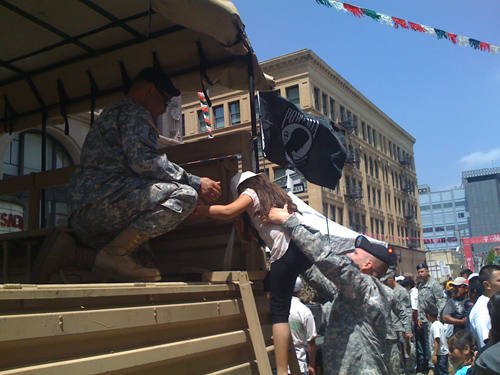 The army trying to sign them up while they're young.
Everyone loves a man and woman in uniform.
Just like last year the army has its little station signing people up, taking their info and pictures so they can plug it into their database of spam emails and annoying phones calls. This time around they offered people dog tags if they sign up.
Doyers !!!!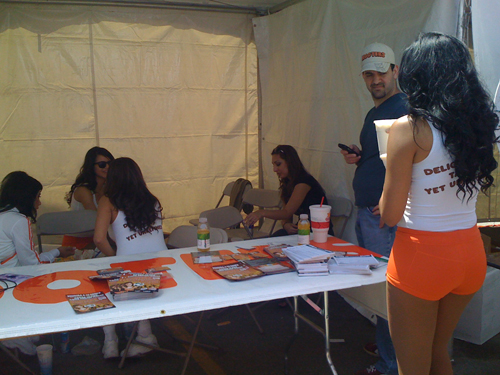 I have no idea what the hooters girls are doing at a family event. As you can see from this picture, apparently nothing.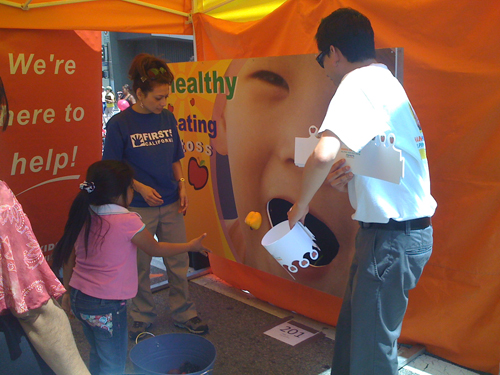 There's soo many things wrong with this game I don't know where to start.
It's everyone's favorite radio station !!!!!!!!!!!!!!!!
They have a way of captivating their audience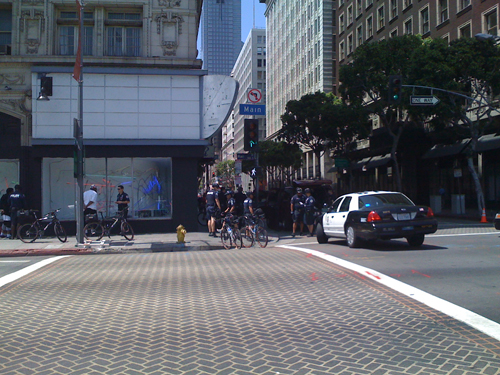 These guys got pulled over because they were having way too much fun. So much fun that the cops looked all over the escalade to find the fun they were stashing.