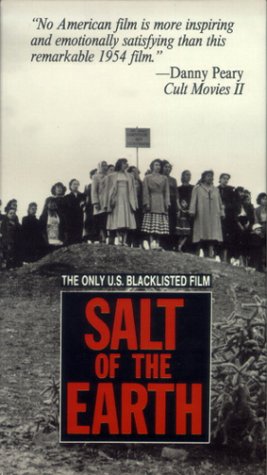 Recently Chimatli's blog "Glassell Park on TV" created an interesting dialogue about what is fake and hilarious to the eastside audiences in film and how others view these ludicrous stereotypes of Latinos as gospel. Yeah, you know who you are, my little eastside.com tourist friends.
So just for you—those that don't have a clue that there are racist depictions of Latinos in film—AND you, who can afford cable television during La Crisis –tune into Turner Classic Movies (TCM) starting on Cinco de Mayo (Tuesday, May 5 at 8pm) for an enlightening learning experience about your beloved Hollywood. Via television you will receive a condensed version of a Chicano Studies class—but you won't be tested until you say something dumb like "Everyone in ELA is a gangbanger or drug addict—-I saw that on a TV show!"
UCLA Professor and author of "Shot in America: Television, the State, and the Rise of Chicano Cinema", Chon Noriega will co-host the Race & Hollywood: Latino Images in Film Festival with the channel's staple host Robert Osborne. Check out the schedule, movie stills and the cool pop-ups of Chon, J-Lo and Carmen Miranda at TCM
There will be films from el año del caldo, but those will show the meager beginnings of where we Latinos find ourselves in films now and why we filmmakers are on a mission to tell our own stories in our own voices. Hey—whatever did happen to "Taco Truck the Movie"?  Great writing turned formulaic then murdered by the Hollywood studios, no doubt.
On May 12, Salt of the Earth at 1:45am (you should Tevo it—-yea, I know you've got Tevo too)—it was one of the films that inspired me to be an activist, a filmmaker and a seeker of justice. On May 26-the return of the midnight movie (in your living room) with Boulevard Nights-–I recommend serving your guest 40s, chips and salsa. I say "40s, chips and salsa" as a kitschy art thing just for very close friends—but maybe on your side of town you should stick to wine and cheese, making this a high-art film night experience. Boulevard Nights, 40s, chips and salsa could make you seem racist to people that don't know you—sort of like when those UCLA frat boys dress in sombreros, mustaches and panchos as one of their yearly 'Cinco de Mayo" events a few years ago. Yep—that is pretty racist.
I will be tuning into Chon and Race & Hollywood: Latino Images in Film Festival too, because there are some films that I haven't seen and some I haven't seen in a long time.
If you get hardcore about this genre of film, then by all means join me at the 2009 Reel Rasquache Festival of the U.S. Latino Experience in Film & Art at CSULA's Luckman Fine Arts Gallery on the weekend of May 15 through May 17. This festival will feature more contemporary Latino filmmakers. My film "báwrdÉ™r" will be screened on May 16 at 9pm. Meet me there!
For the complete schedule and festival details of the 2009 Reel Rasquache Festival of the U.S. Latino Experience in Film & Art (to be posted very soon) go to Reel Rasquache