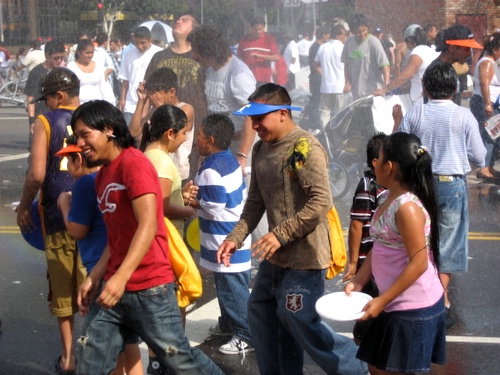 The Fiesta Broadway this year was just as I expected, but since I was going anyways to see Ramon Ayala I figured I'd take a few pics to share with you. Want to see them? Click ahead!
When we arrived to the event, we headed straight to Olympic and Broadway as that's where Ramon Ayala was scheduled to play. But some other band was playing, and someone in the know told me it was going to be around 4pm. Guess I'll walk around a bit til then. One of the first things I saw was a crew of firefighters trying to setup a water hose to aid in keeping people cool on such a hot day. After a few tries, and muliple trips up the ladder, they got it to work!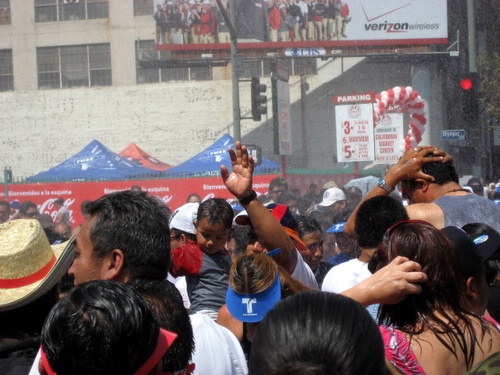 It was an instant delight to kids and grownups alike. This was easily one of the more entertaining features at the "fiesta", a simple stream of water brought out more joy than all the other booths combined.
Here's a short clip of all the water soaking action. Even though I got pretty soaked, I dried off within 2 blocks.
My friend noticed this guys shirt for the Ensenada Bufadora; I guess this water stream is a temporary Downtown Bufadora.
If you ever see a place advertising Horchata with an icon like this, then you'd best stick to plain water.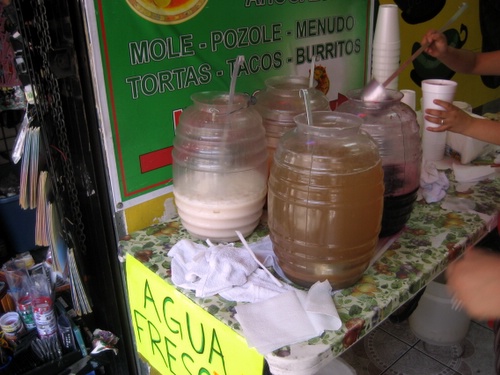 But if you see it in these simple glass barriles then it's probably worth a taste.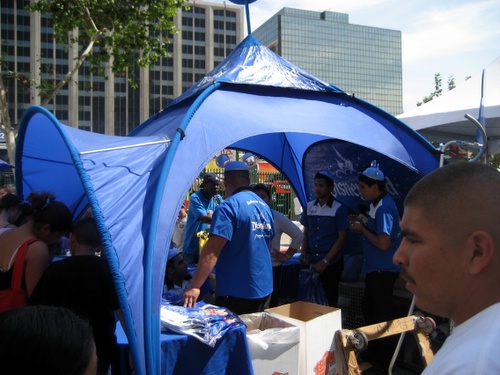 Grown men wearing rat ears.
In between the booths for stuff, Los Embajadores de Tijuana played. I only got to hear one song but they were quite good.
See for yourself.
The only alcohol at the event was at this table for some tequila in a fancy bottle, the kind that usually don't taste very special. And they weren't giving samples either. Caught red handed, some dude tries to steal a few bottles.
The Virgin Mary and La Virgen de Guadalupe both compete for your attention.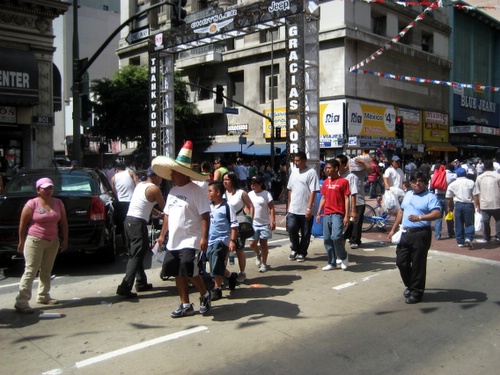 A man in traditional Mexican garb. Later he went and took a nap next to a cactus.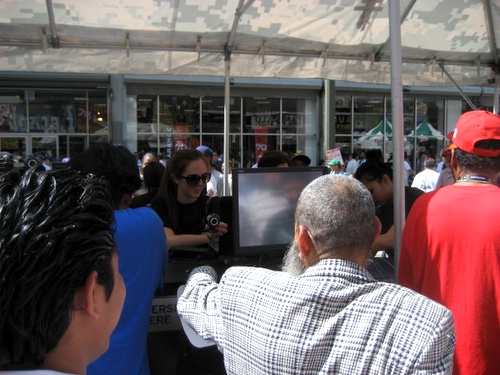 This was creepy: the Army had some computers setup where you could punch in your info and they would also take your picture, I don't know the reason but I wasn't going anywhere near that camera. I hope they don't decide to share their info with some other government agencies.
Mr. Natural High wasn't interested in the army con.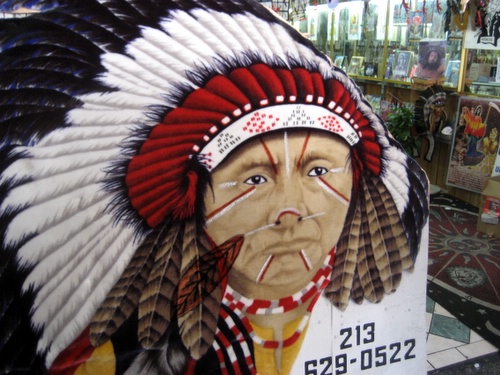 Is it just me or is the Indio Amazonico looking more and more like a clown?
Why are all these people lined up?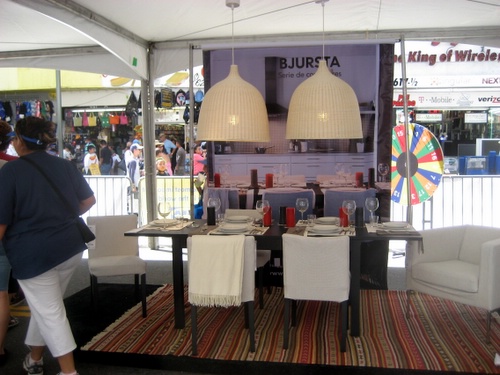 To walk through some furniture showroom. Lame.
Telemundo Trinket Table. This is exactly what this fiesta is all about.
Hi Ross!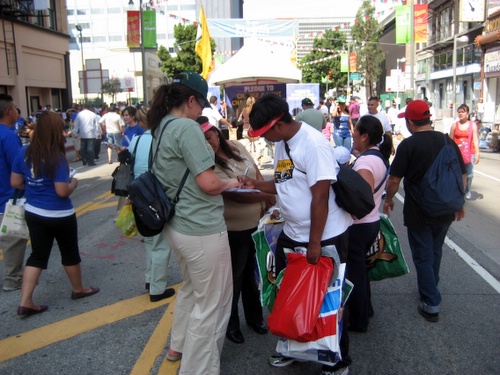 Under no circumstances should you ever sign anything at a place like this. If it's not a scam then it's the beginning of junk mail.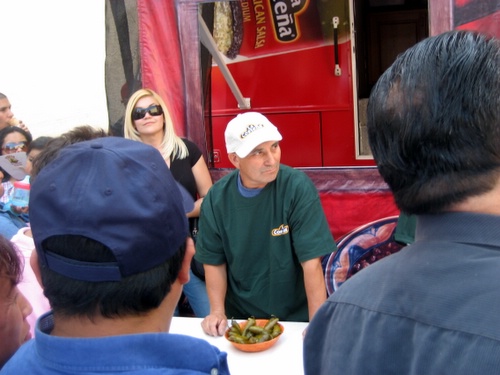 One event I ran into was a Jalapeno eating contest, which was quite amazing to watch. From the steely determined way this guy was standing, I knew he was gonna win.
Al Ataque!
Oops, memory card full.
Pelayo wins! 19 jalapenos in 1 minute = $500!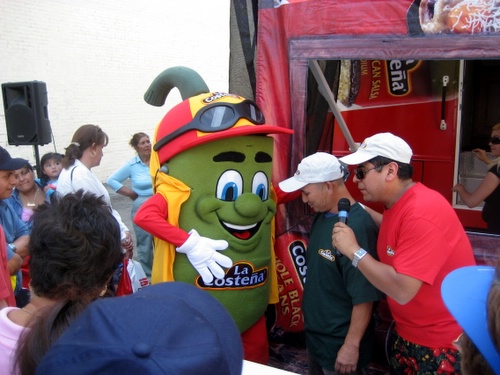 Warnings from a cartoon chile about the effects to the stomach and some tips for "la salida".
No matter how emptyish the streets look, the organizers always claim fantastic numbers, the mayor said there was 1/2 a million people. I don't think so.
I thought the idea of animals as prizes had gone out of style? It should.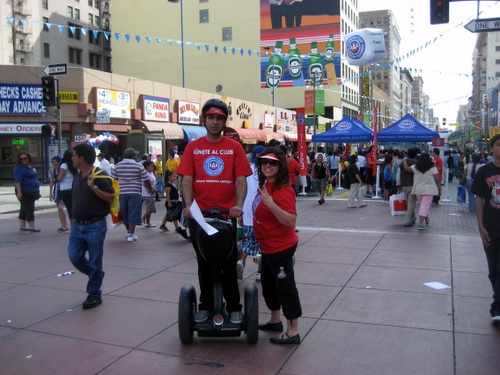 If you join up now, you can get 2 tickets to a baseball game. Neh pollos.
Cry Now, Cry Later put on a little show. Preaching at a Fiesta, now thats entertainment!
Nobody admitted to doing the prayer thus nobody got the free bible.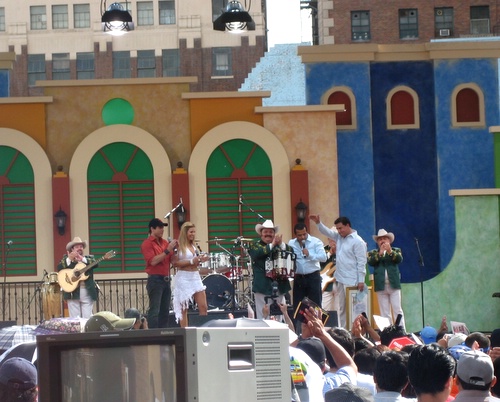 It was approaching 4pm so I headed back to the stage, and lo and behold I had already missed most of the performance! Argh. Some pajarito is gonna pay. I did manage to catch two songs and the surprise award that Villaraigosa and Huizar gave to Ayala: they named him Grand Marshal of the Fiesta. Surely they did it just to be seen next to the legend, cuz how can they get booed while standing next to him? Even then, there were a few insults tossed around when they took the stage, and a healthy dose of the chinga-tu-madre whistle, which I assume you all know by heart.
Always the class act, Ayala makes sure to give props to his Bravos del Norte. Oh well, I missed the show yet again. See what I do for you all?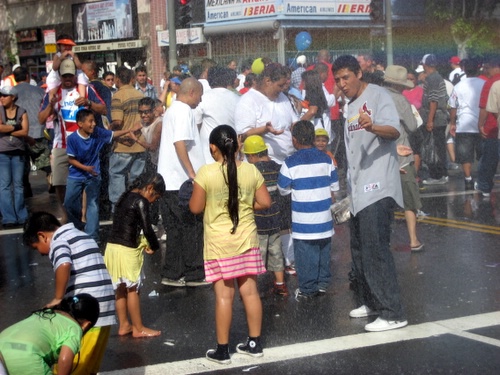 As far as I'm concerned, this Fiesta is over. But there were still people enjoying the cooling water.
Cya Later!