Spotted at a Chinatown novelty shop. A leftover from Madame Wongs or The Hong Kong Cafe, perhaps?

Botanitas is an ongoing feature bringing you stories and news from various sources, upcoming events and other bits of ephemera that might be of interest to LA Eastside readers. Suggestions welcome!

Click through for bulldogs, pobrecitos, jerks, tall coffees, shovels for sale, missing paramedics, anti-authoritarian tigers and the blues for the unemployed.

::NEWS::
Garfield Full of Smarties
Garfield ties with Marshall and Granada Hills in Academic Decathlon Quiz.
From L.A. Now.:
Garfield's success is a particular point of pride for the school, which was defined last fall as among the worst in the district and therefore eligible to be taken over by outside operators. A final decision on future reforms at that school is scheduled for this month.
Go Bulldogs!

We're #1!
In poor people, that is:
The county's poverty rate is now higher than the rest of the nation's, according to the report, which surveyed the county's economic situation in 2009. More than 1.47 million people, or 15% of the county's population, live on an income of $22,000 a year for a family of four, the report says. The national average is 13%.
And with Mayor demanding one thousand workers be given their walking papers, the number will probably increase. Less workers means reduced city services at parks and libraries and that means lots of people with nothing to do and nowhere to go. Expect a long, hot summer…
Poor, poor people. LA Times article here.
The Mayor – Our New CEO
"There just aren't unlimited options here," Villaraigosa told the council. "I have profound respect for the difficulty of the decisions you have to make, but I want to say this. We can't continue to say no to everything. We can't say no to layoffs, no to furloughs, no to department eliminations. … The fact is we can't sustain this business model."
Business model? Hmmm, I thought he was a servant of the public and the city was a government institution not a corporation? Sounds like he's been hanging out with the UC Regents. Link to full article here. And yes, this soon may be a police state.
Cafe in the Heights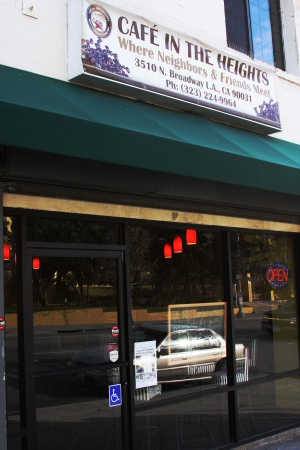 New cafe open in Lincoln Heights! They have very cool old photos of Lincoln Heights decorating their walls, a large backroom for parties/events and pretty decent coffee. The sandwiches still need a bit of recipe fine-tuning though. Hopefully, they'll offer a real veggie option on their menu soon.
Cafe in the Heights website.

StoryCorps comes to East LA
StoryCorps Historias is an initiative to record the diverse stories and life experiences of Latinos in the United States. Sharing these stories celebrates our history, honors our heritage, and captures the true spirit of our community. It will also ensure that the voices of Latinos will be preserved and remembered for generations to come.

StoryCorps Historias chose to come to Los Angeles because few cities can compare to its contributions to the history and culture of Latinos in the United States. Don't let us leave East LA without hearing from your community!

February 11 – March 20
East Los Angeles Public Library
4837 E. Third St.
Los Angeles, CA 90022

Website:http://www.storycorps.org/historias-en
There might not be any available slots left but I think there is a waiting list. Be prepared to shell out a "donation" (and have your credit card handy) for the privilege of sharing your historia.

Hillside Village Protests Fire Station Cuts
Residents of Hillside Village and El Sereno are upset with the Los Angeles Fire Department for cutting their one and only paramedic at Fire Station #16 on Eastern and Valley. They recently staged a rally and protest to draw attention to these LAFD brownouts. Fortunately for them, they received some media coverage on KNBC 4 – I happened to catch the broadcast. In the midst of explaining to the reporter their reason for protesting, a passerby could be clearly heard shouting "QUE VIVA LA RAZA!" causing the reporter and the crowd to chuckle. Only in El Sereno…
More from The Voice.
By the way, expect more of these kind of cuts due to the City's mishandling of public funds.
::EVENTS::
Solano Canyon Garden Sale
From the LA Community Garden Council:
The LA Community Garden Council is holding a Garden Sale at Solano Canyon Community Garden on Saturday, February 13th, from 8:30am-12:00pm.
Items include a variety of planters in shapes and sizes generously donated by our friends at windowbox.com. Plants, including fragrant salvia, seeds, and tools will also be up for sale. Come early to grab your garden necessities!
If you would like to make donation of plants, tools or equipment for our sale, please them drop off at Solano Canyon (on Tues. or Thus., 10 am-2 pm). Or call the Council's executive director Al Renner at 323 276-9931 to make arrangements.
Proceeds of this sale with go to the LA Community Garden Council, a 501-C3 organization dedicated to fostering food-growing and greenspace projects throughout LA County.
The Solano garden is located just off the 110 freeway just east of Chinatown/downtown LA. The street address is 545 Solano, LA 90012.
Lunar New Years Celebrations
Welcome Year of the Tiger! What can you expect from this upcoming year?
From the Chinatown Los Angeles site:
2010: Year of the Tiger
The tiger is among the most dynamic signs of the Chinese zodiac and is associated with courage and power, and occasional conflict with authority.
Conflict with authority, eh? Long, hot summer and all that. Anyways, if you would like to celebrate what promises to be an interesting new year, check out these events:
Chinatown Welcomes Year of the Tiger With Midnight Temple Ceremony
Saturday, February 13, 2010
11pm – 1am
Chuan Thien Hau (Cam Au) Temple
750-756 N. Yale Street
Los Angeles , 90012

Free

Chinatown community gathers to welcome good health, prosperity, and harmony for the "Year of the Tiger." Thousands will gather at a local temple to make offerings to the deities, set off firecrackers to awaken the spirits, and burn incense to usher in good fortune for the new year. Participants includes lion dancers, Buddhist and Taoist monks, the heads of family associations, and many others from the Southern California Chinese community. This tradition takes place on the eve of Chinese New Year's Day (2/14/10) and is typically followed by several days of return visits to the temple for blessings and public celebrations.
Chinese New Year Festival and 11th Annual Golden Dragon Parade take place on February 20th.
Don't Forget!

Learn to read and decipher Maya hieroglyphs presented by Cal State LA's Mesoamerican Society. Post here.
An Eastside celebration of "Valentimes Day" (you know that's how you used to say it in junior high, admit it!)- To Love and Die in East LA. Post here. To really get all romantic, you can sing "Hypmatized" to your honey, if you're into the Chicano Oldies kinda thing.
And to continue on with the dedications, I send this one out to all the previously unemployed workers and the newly unemployed like the one thousand city workers who will soon be gracing our city's streets with their worn-out shoes and paltry resumes. Good Luck y'all!