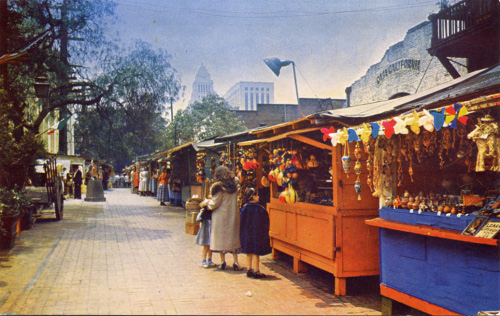 It's unfortunate, but many of us Los Angeles natives take Olvera Street aka El Pueblo de Los Angeles Historic Monument or La Placita Olvera for granted. It's the place to buy taquitos, folklorico shoes and other Mexican handicrafts. We go there to eat, stroll, take pictures on donkeys and just hangout. Every year they put on great programs to celebrate different holidays. I have fond memories of winning the best costume contest for Mardi Gras one year (Chicken Girl!) My mom always tells her story of spotting Marlon Brando sitting in the Plaza one afternoon, staring forlornly into space. For myself and my family, Olvera Street is an institution, a part of our personal history.
I recently read the book Los Angeles's Olvera Street by William Estrada and was surprised by the history of this Los Angeles landmark. If it weren't for the efforts of Christine Sterling, who recognized the area as a historic treasure, the whole street (actually it's kind of an alley) would have been demolished and long forgotten by now.
Well, it's time we all channel our inner Christine Sterlings because we received an urgent email tonight from a LA Eastside reader regarding a very important meeting tomorrow. It seems the City of Los Angeles, in it's typical short-sighted way wants to privatize Olvera Street. I'm sure it sounds good to the CAOs and accountants to do so, but our history is much more valuable than the small profits number-crunchers try to come up with. This is not to say that there is no room for change or new ideas but privatization usually brings homogenization and corporate culture something Olvera Street, for all it's faults, refreshingly lacks. Our city has enough malls.
Friends,

Due to the city's fiscal crisis, tomorrow morning, the Los Angeles City Council will discuss and potentially vote on a plan to privatize El Pueblo Historical Monument, the Birthplace of the City of Los Angeles. Please come to John Ferraro Council Chambers at 11:15 AM ready to share your concerns during public comment.

While the details of privatization have not been disclosed, the plan will likely include the commercialization of El Pueblo, its public museums, galleries and historic sites which are visited by two million people annually, including 300,000 students.

Please communicate to city officials that privatization of the city's birthplace is nothing short of an abomination, may violate state historic codes, and threatens the city's irreplaceable cultural and historical heritage. Let them know that El Pueblo's historic buildings, the oldest in the city, its public space, vast collection of artifacts and photographs that speak to the the city's early history must be preserved for present and future generations.

Los Angeles City Hall
John Ferraro Council Chambers, Room 340
200 North Spring Street
Los Angeles, 90012
Thanks!