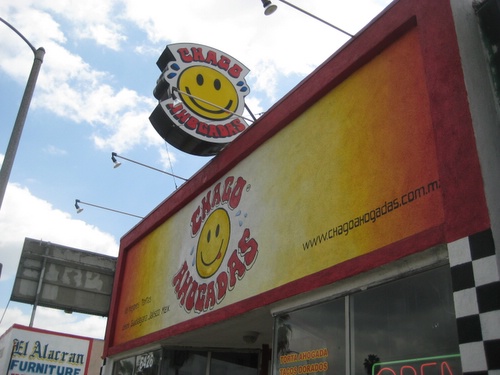 Forget the hat tip, I fully take my sombrero off to thank regular LA Eastside commenter and sometimes post submitter Urbanista who has insisted that we try Chago's Tortas Ahogadas. Yup, he was right, they make some crazy good tortas! Click ahead para ver!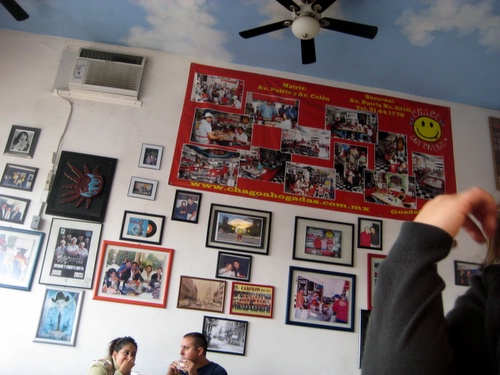 I tried coming here once before, but they were already closing up. I finally had a chance to try again today. When you first walk in you'll notice the busy walls, full of all kinds of memorabilia, pictures, etc. I couldn't find a wall menu and I wasn't sure if they'd even have something for a vegetarian to eat, so I asked for a menu.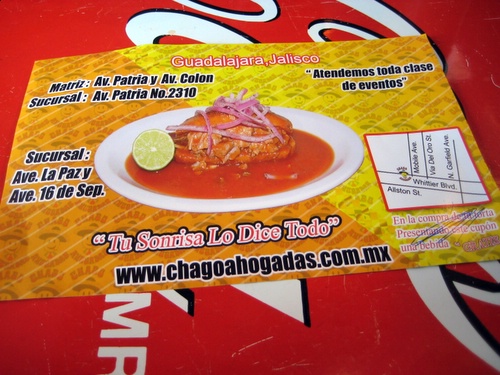 They gave me this flyer. I love that they list their Jalisco locations along with the East Los one.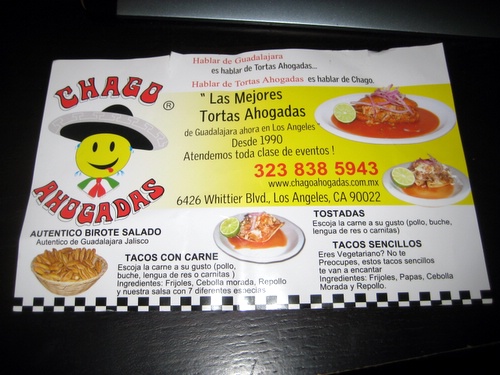 On the flip side is the menu, which seems quite tiny. But what's this?
Tacos Sencillos:Â  Eres Vegetariano? No te Preocupes, estos tacos sencillos te van a encantar. Ingredientes: Frijoles, Papas, Cebolla Morada y Repollo.
Translation: Are you vegetarian? Don't worry, you'll enjoy these simple tacos. Ingredients: Beans, Potatoes, Red Onion and Cabbage.
Wow! It used to be that if you mentioned being vegetarian at a Mexican eatery you would initially get laughed at, by everyone behind the counter or in the taco truck. I've experienced it many times, but I do it anyways just to make places aware that some of us don't want to eat meat. There used to be a great troka for tortas near Brooklyn and Indiana that laughed every single time I ordered a torta sin carne, asking "what do you want? just the bread?" and I'd go thru the process of explaining that I want the beans, rice, aguacate, chile, todo solo no carne. And they would make it. Eventually, it stopped being so funny and they'd just make it. Ridicule then acceptance, I'm quite used to it.
But it's even better when they put out a welcome mat! I asked if they can make a veggie torta, the waitress didn't even blink.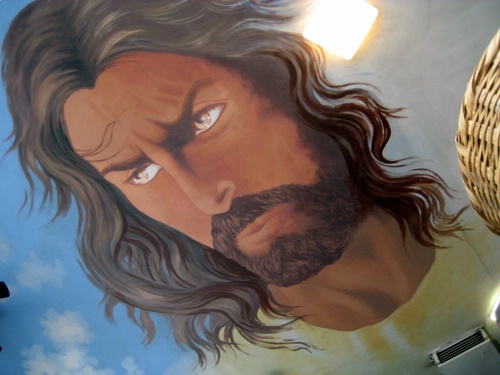 I was a bit surprised to see some frowning dead vato hovering over us as we waited for our food! At least his contemptuous eyes were focused on some other heathen.
My friend got her two tacos sencillos first. I had to get a taste; they were crunchy, tasty, and totally satisfying. Hmm, I wish I had ordered one.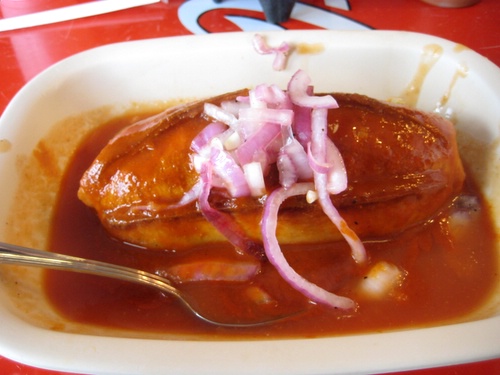 My torta ahogada, in a deep dish. For the Spanish challenged, ahogada = drowned. It sure is, in some hot chile salsa. They ask how you want it, the waitress suggested the half chile, or on the side.  I said "con chile" aka all the way. It wasn't some macho thing, I figured I'd just taste it the way it's meant to be. At first it seemed like this pickly, lemony salsa was kinda mild, but after a few bites you really start to feel the heat! It creeps up on you. Cough, cough. Agua, agua. No wonder the smiley face icon is sweating. Ok, let's try this again.
Yes, you eat this with your hands, which is messy, challenging, and kinda fun. The pan birote, which they make themselves, is flavorful, toasty and slightly burnt, and it holds up nicely to the salsa bath. Filled with beans and repollo, this meatless torta still has enough things in it to make it interesting. And the good fillings that spill out get recycled back into or on top of the torta via the spoon.  Accept the messy, and dig in! Eating with your hands means getting reacquainted with food. As far as I can tell, this is also a vegan friendly torta. But I'll leave it to others to determine for certain. I assume the tortas with animal flesh might be tasty as well, if you're into those barbaric eats. 🙂
The texture of hard bread and the softening powers of the hot sauce make this a great eating experience. The cebolla on top also adds another dimension of alive-ness to this torta.
With all those interesting textures and flavors, this is beyond good. Maybe a bit of evil for your tongue and digestive system, but worth it. So I say now.
I didn't know what the price of these items would be, but I assumed it'd be reasonable. Holy shit was it reasonable! The taco sensible is only 70¢ a piece, so two comes out at $1.40 while my Torta Vegie was only $2.50! Add a large horchata, and the total for this fine meal for two still comes out to just $5.53, now that is pretty amazing. I think the meat tortas are $5.50, so they give a good veggie price break.  If I lived close enough I think I'd make this place my regular spot. Not just for the price, but because it is so damn good. Uh, but I do like the price!
Scrounge up that loose change from the sofa, you need to hit this spot up!
Chago Ahogadas  323.838.5943
6426 Whittier Blvd
East Los, CA 90022
www.chagoahogadas.com.mx