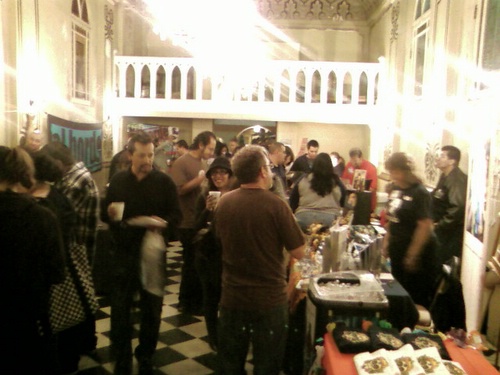 Regular commenter Urbanista submits the following pics and text about another DDLM event that took place tonight, enjoy! (Oh yeah, if you ever want to send in your own pics and text, get in touch with us via the contact us page.)
Good Evening LA Eastside,

I wanted to forward some pictures (cell phone pictures) from the event that took place over at El Gallo Cafe. There was artwork displayed as well as altars. There were some vendors selling some of their crafts with the theme of dia de los muertos. They also had a live band – Upground which got a mini mosh pit going and revived the crowd (no pun intended lol). (http://www.youtube.com/watch?v=Yvy3FBHBhWc) <=== (Dia de los muertos song). I also got a signed "Viva Obama" print from Lalo Alcaraz.
More pics ahead.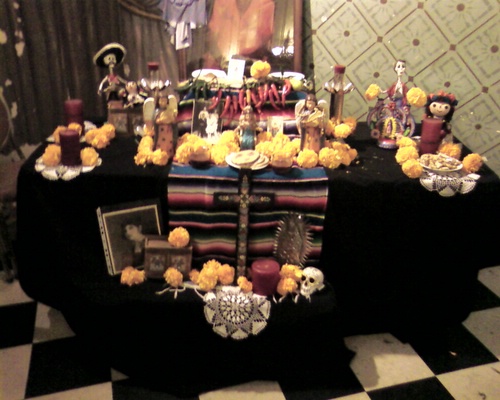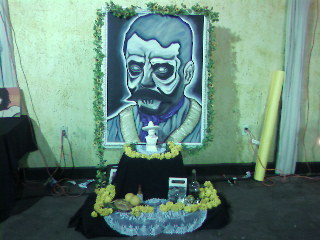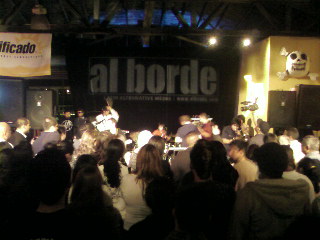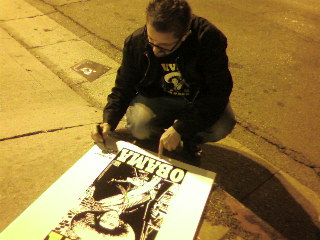 This event took place this evening from 5:00pm to 9:00pm and it was organized by "El Clasificado"/"Al Borde" magazine along with event sponsors such as Monster Energy, Aetna, Wells Fargo, and Manzanita Sol (soft drink). It had a good turn out (I would say at least 200 people). The sponsors were very generous–providing free tamales, pan dulce, flan, hot chocolate, coffee, water, monster energy drinks and few of us got free alcohol. The free alcohol came in handy because I walked across the street to the Obama HQ and was given a list of phone numbers and my call reluctance went away — making calls to strangers was never easier. =)
http://www.alborde.com/content/view/7/215/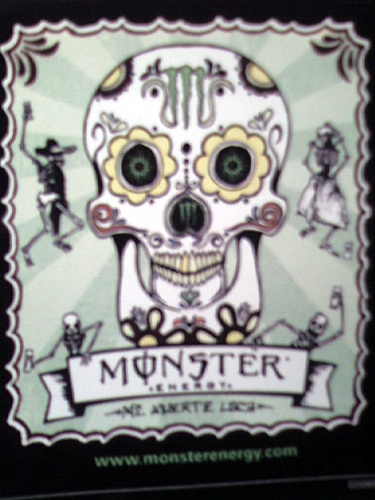 Monster (Hansen Natural) recognizing that there is a market that they can tap.