Torta review by Victoria Kraus
If you haven't already discovered East L.A.'s best kept torta secret, you can stop shelling out your precious American dollars for crap and start getting more for your money, at least Monday through Saturday between 11:30 a.m. and 7 p.m.  Taco Real is nestled in the business complex on Mednik and 3rd in East L.A., across the street from the East Los Angeles Civic Center.  A few doors down from the franchises Coffee Bean and Quizno's, this small-sized kitchen and four-stool counter seating is a secret waiting to explode on the LA Weekly and Times foodie scene.  I've been a loyal biweekly, sometimes weekly, customer for over a year now.  I stumbled upon Taco Real in January 2008 unwillingly on my way to work.  I thought it was another one of those Mexican food places that are too many in East LA.  I was debating whether to eat a familiar Quizno's sub that would be pseudo-satisfactory or try something different.  I took a leap of faith and went into Taco Real, indulging myself with the best freakin' torta on the planet.  I took a bite of my first Taco Real order – a carne asada torta – in front of Victor, the restaurant's owner and fellow Roosevelt H.S. alum.  I could not believe a simple six dollar Mexican sandwich would satisfy me beyond description.  It was better than any overpriced $10+ gourmet sandwich or panini at a chic Los Feliz/Silverlake café.  I told Victor that I've had many a torta but this torta was magic.  "It's the meat, man," I told him.  "I can taste the quality."  He said I nailed it on the head.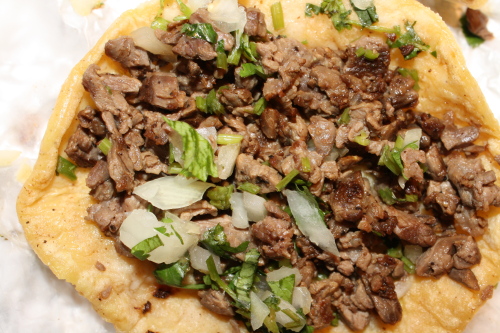 Taco Real uses only quality ingredients that include prime skirt steak meat, one of the healthier parts of the cow.  The Taco Real torta is prepared on a fresh telera roll with guacamole, onions, tomatoes, light mayonnaise, a light bean spread and a hefty portion of their seasoned skirt steak carne asada meat.  Fish, chicken, chorizo and nopales are other protein options.  Every item on their slender menu is accompanied by a definition and informative description that will tempt you to order all eight traditional Mexican savory dishes including the alambre and mulita.  Their soft tacos, well-worth your buck, are made from fresh handmade corn tortillas with a generous portion of meat that should make King Taco think twice about how stingy they are with their tiny tacos.  Taco Real also prides themselves in using extra virgin olive oil informing customers of its health benefits.  The Taco Real torta: guaranteed delectable or it's on me.
Taco Real  323.261.2800
207 Mednik Ave.
Los Angeles, CA 90022
www.tacoreal.com