La Crisis grows worse everyday. Stocks are up today, buoyed by the British government's cash injection of $63 billion dollars into their banks. However, most agree the economy is not going to fully recover anytime soon. At a more local level, I've been wondering how much has La Crisis been affecting people in Los Angeles? My thoughts linger on apocalyptic visions of a worldwide economic collapse and the Mad Max world that might result. Okay, so perhaps it wouldn't be all doom and gloom despair. In places like the Eastside, people might be more adaptable to living off the grid: home vegetable gardens, the innovative re-use of objects and the general flexibility of folks in this area (remember how after the earthquake everyone set up camp in their front yards?) might make them better prepared for a life minus the luxuries.
While property owners depend on law enforcement to carry out their interests in times of crisis, there has recently been a surprising exception.  Cook County Sheriff Tom Dart has refused to enforce mortagage foreclosure evictions.
Too many times, our deputies arrive at a home to carry out a mortgage foreclosure eviction, only to find a tenant — dutifully paying their rent each month — who is unaware their landlord stopped using that rent money to pay the mortgage. They had no fair warning that they were about to be thrown out of their home.

That's because, in many cases, the banks have done nothing to determine, in advance, who's living in the building — even though it's required by state law. Instead, those banks expect taxpayers to pay for that investigative work for them.

That stops today.

We won't be doing the banks' work for them anymore.
During the last big economic crash in the early 90s, I was a victim of this kind of eviction. I was paying my rent, the owner was not paying the bank and my roommates and I were out on the streets.
In my immediate family, there have been job losses (anyone need a good soundman/DJ?) and the resulting strains that come from these difficult situations. My cousin who runs a large car dealership says things have never been this bad. He's considering taking a second job. But I wonder if there are any 'second jobs' out there? I've noticed more and more businesses with "clearance sale" and "everything must go!" signs. I know things are getting bad for us everyday folks but we will never benefit from any bailouts. The government has done a pretty good job of stigmatizing welfare for anybody besides the rich.
So in light of all this, we here at La Eastside are starting a series of posts to offer tips, suggestions and examples of how to get through "La Crisis." Read below for the first installment of 'Surviving La Crisis.' We encourage readers to submit their suggestions as well.
My first example is courtesy of my friends, Edie & Bob. One night while visiting their home, Edie left to the kitchen for a few minutes. Twenty five minutes later, she returned with a chocolate cake. "Did you just make that cake?" I asked surprised. She explained it was simple recipe handed down from Bob's mother. It was popularized during the Depression and World War II when dairy products were scarce. Yup, that's right, not only is this cake tasty and economical, it's vegan! There are many variations on the recipe below. Edie has made it omitting the chocolate and using orange juice instead for an orange cake. Or substitute coffee for the water. Bob once made a version with his own homemade stout. Experiment!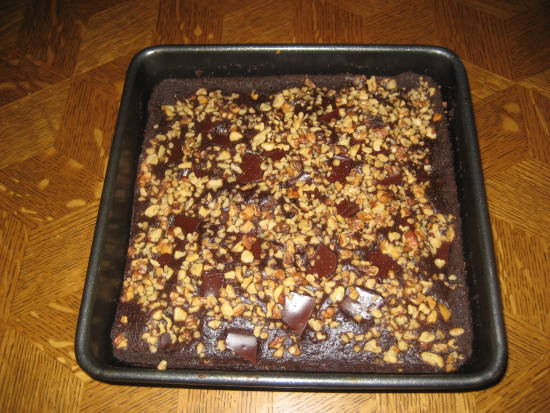 Instead of frosting, I used crushed walnuts and pieces of chocolate (sorry, I don't have a better photo)

Wacky Cake
Prep Time: 5 minutes
1 1/2 cups unbleached all-purpose flour
1 cup sugar
3 tablespoons unsweetened cocoa
1 teaspoon baking soda
1/2 teaspoon salt
1 teaspoon vanilla
1 teaspoon vinegar
5 tablespoons vegetable oil
1 cup cold water
Preparation:
In a large mixing bowl, mix flour, sugar, cocoa, soda and salt. Make three wells in the flour mixture. In one put vanilla; in another the vinegar, and in the third the oil. Pour the cold water over the mixture and stir until moistened. Pour into 8 x 8-inch pan. Bake at 350°F. oven for 25 to 30 minutes, or until it springs back when touched lightly.
This recipe from About.com
The "wacky" title most likely refers to fizzing of the vinegar and baking soda once combined.