I briefly mentioned my distaste for "Edible Estates" in a previous post and I figured I'd expand a bit on why that "project" annoys me. I don't dislike the concept, quite the contrary: everyone in this city should stop watering their wasteful lawns and plant some food instead, for the good of the environment and for gustatory pleasures. But the amount of press and coverage for what ultimately amounts to just an activist art project is unmerited, especially when the garden proposal Haeg makes is a reality for many working class families in Los Angeles. Since he was living in Mt. Washington when he did this project he should have been aware of the gardening practices right around NELA, he ought to take a stroll down the hill once in awhile just to see how the flatlanders live. I took the following pics of front yard gardens in Lincoln Heights mostly in one day, just riding around randomly on my bike. They're everywhere.
The LA Times recently did a story on a place called Skyfarm (in Lincoln Heights no less) about a middle class family building a "country escape" in the urban environment, meaning they grow food and have some chickens. Oh wow, how unique. Here's what I read as the subtext: when poor people grow food and raise chickens in the city, they're just poor and desperate, and that lack of intent gets them no carbon credits. When middle class (often white) folks do the same thing, it's an exploration in sustainable living and a return to homesteading. This should be no surprise to Eastsiders, as we've learned how things work when you're outside of the media loop: your shit don't matter 'til they say it does.
Though (and because) they may be off the radar of those that dictate the social gaze, I present you with pictures of green living done on the cheap! Lack of theory does not negate the practice! Be an urban pioneer and click ahead for the tour! (Warning: lots of pictures ahead. I highly recommend you read this on company time.)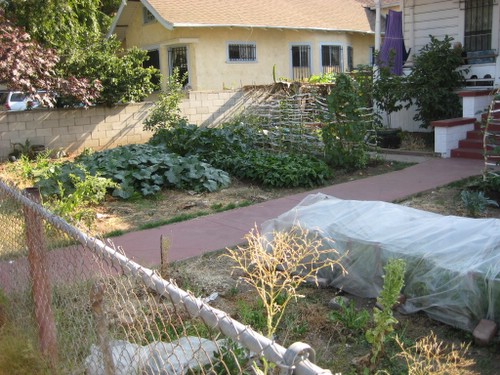 If I remember correctly, the family that Haeg got to turn their lawn into a vegetable garden only did it for one year. In my neighborhood, the practice is not some social experiment, but a part of daily life.
An increasingly rare Mexican vegetable garden. As the acculturation takes over, the sustainable practices give way to the logic of the modern world. "Why grow when I can just buy?" Bananas, corn, tomatoes and some other goodies.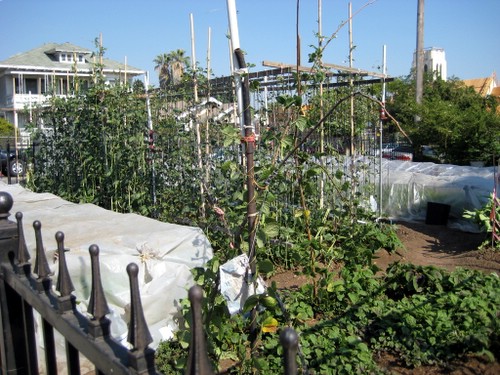 This front yard on Griffin is one of the most productive around: they constantly have crops in rotation and in different cycles of growth. Plastic sheets = hothouse.
Some sort of squash vine growing near the sidewalk.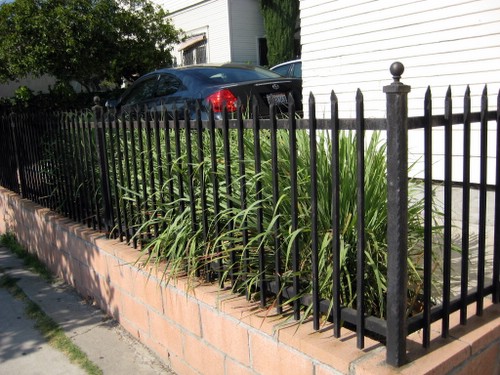 A whole bunch of lemongrass! It looks pretty and it's convenient when you're making a Thai style soup. Easy to grow and much cheaper than buying at the market.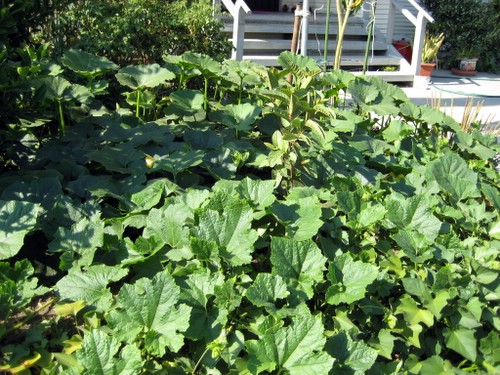 More squash vines.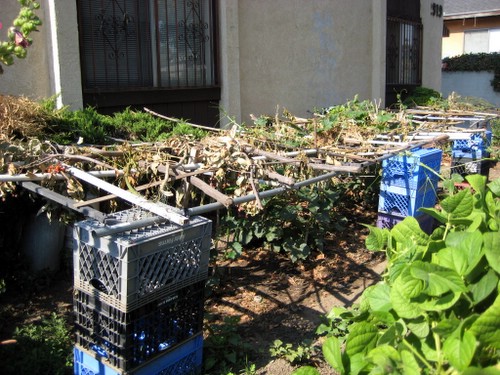 One of my favorite aspects of these gardens is the reuse of existing materials for trellises, in this case milk crates, pipes, and tree branches. Only an earth hater would go out and buy specifically designed trellises.
Green beans growing on and over the fence. No matter what the people at FallenFruit.org tell you, it's not cool to pick your neighbors hard grown veggies and fruit without asking. Neighborly understanding trumps legal rights.
Look at them green beans grow! Cooked in a little bit of oil and garlic, it'll beat most any restaurant dish on freshness alone.
Even with just a little patch of dirt you can grow a few worthwhile items to eat.
Another great looking trellis made from fabric, old hoses, wood, and string. Notice how this attempts to bring plants back despite the concrete.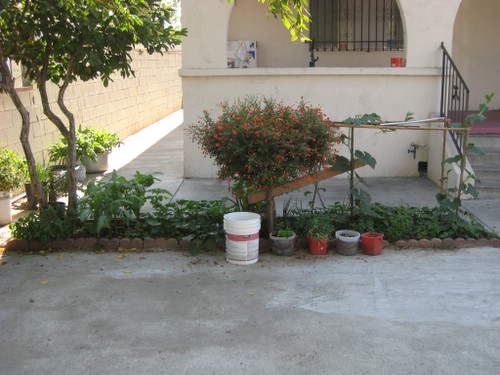 It's hard to tell from this pic but there are a few items growing in this minimal island of dirt in a sea of cement. My theory is that the newcomers still appreciate the earth and it's bounty, while the Americanized 1st generation just wants parking for the new car. This happens with Latinos and Asians alike.
If I was a kid I think I would love to play underneath all this growth.
No dirt, no problem! Just put some in a bucket and we are back in business.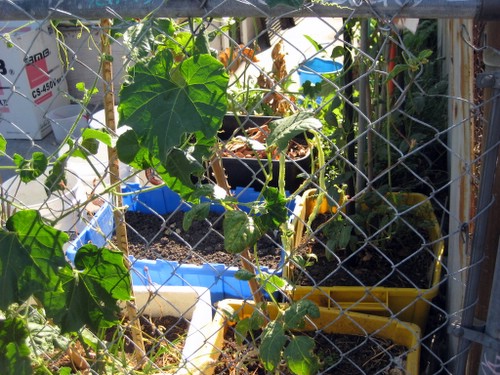 A good use for recycling bins!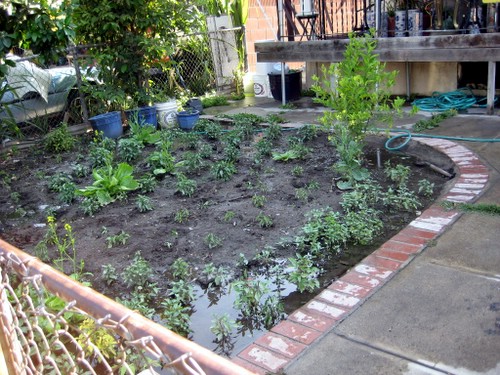 A freshly watered patch of budding plants.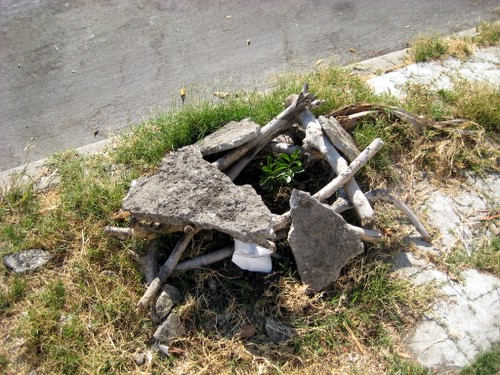 I love seeing these sort of examples of plant TLC, especially when it includes found sticks and slabs of concrete. Though it's still vulnerable to asshole dogs and bored kids, this collection of items is usually enough to signify someone-is-caring-for-this and respect will be given to said plant, even if on a public sidewalk.
This pic I sneaked thru a fortified fence, even though it was mostly a cement terrain for sporty cars, some senior must have demanded a bit of space for greenery.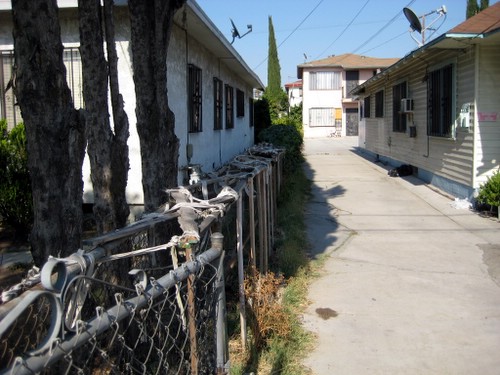 Another DIY trellis, though the plants were still small.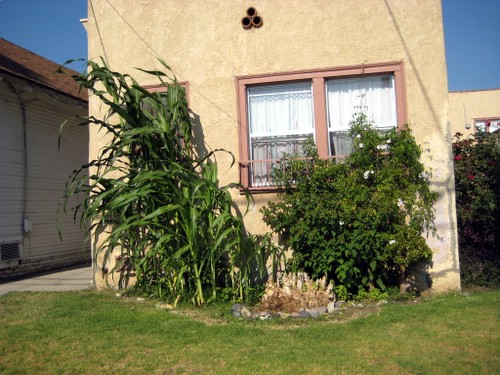 I have to hand it to the Asian families in Lincoln Heights, their gardens are the best around. The Mexican ones are paltry by comparison, almost as if they were merely a nod to tradition rather than an actual implementation of tradition. I know that Americanized Mexicans get all weird and uncomfortable at the suggestion of their agricultural roots, somehow thinking their new Mall Harvesting Culture can replace that corn growing past. Trust me, you're still Beaners, might as well grow your own beans. Above we see a small Mexican garden unafraid of what the neighbors think.
Blue tarp, red fabric, white string: it's an intentionally patriotic garden. Who are you to say otherwise?
They also had shoes and t-shirts absorbing the natural energy of the sun to reduce the dampness of just washed clothing, because electric and gas dryers are also just for earth haters.
Even better was how the garden extended into the alley, on a barely visible lane of dirt. In a few months, when the food price crisis actually starts affecting us, this will be a valuable feature of a new rental, a spot to grow your own food.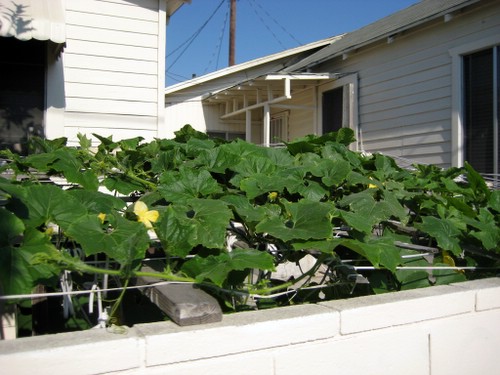 Above the cinder block wall a splash of green indicates the cultivation of fresh veggies.
It's not just veggies though, lots of fruit trees show up in front yards as well. Here we have a pummelo.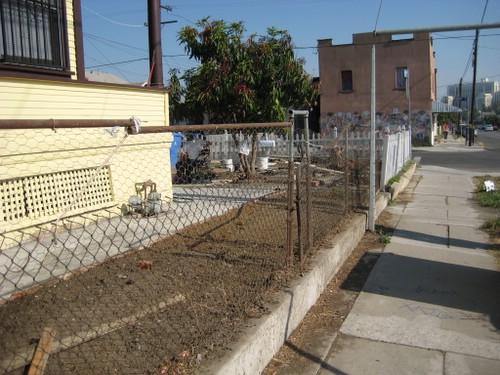 This guy was clearing out space for a vegetable garden.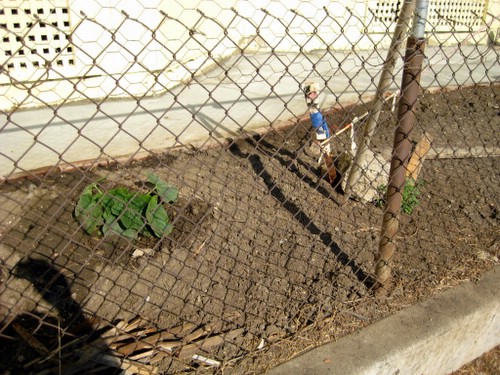 And he already put in a squash plant.
Err, let's take a slight detour. Even if you don't grow veggies, something like this rock and figurine garden will undoubtedly be better in the long run than just some grass. Plus you have instant ammo for slingshot wars.
Some sort of bitter melons growing in a productive garden. Where's the LA Times reporters to cover this bounty?
Yum, Thai Basil!
An orange tree next to a cool cactus.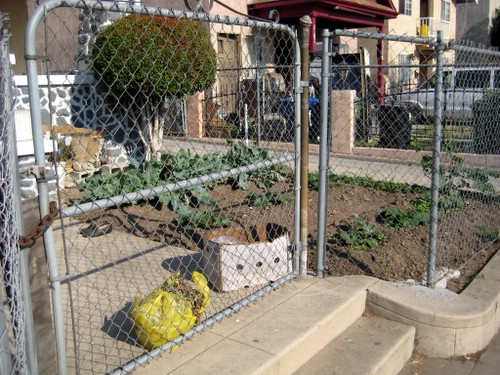 This house is always in veggie production mode. The little bit of grass they used to have is now gone as well.
Maize and tomatoes planted together.
In a garden with some decent crops, a bad example of how to pick nopales. I don't know how the myth that "it's better to cut nopales half-way" got started, because it's just not true. That just makes the plant have to develop unnecessary scar tissue, break the paddles off at the base.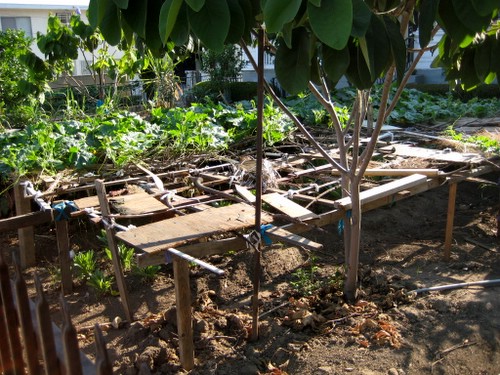 Another great example of trellis work.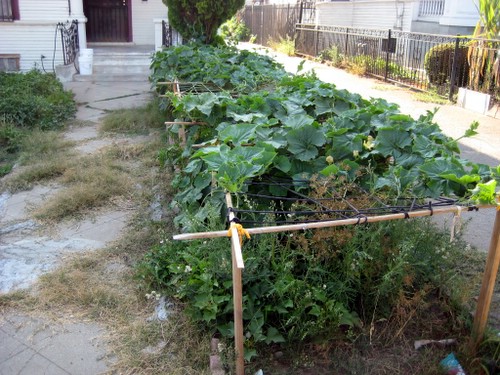 I like how this place tends to the food and can't be bothered with the grass growing thru the walkway cracks! You gotta have priorities.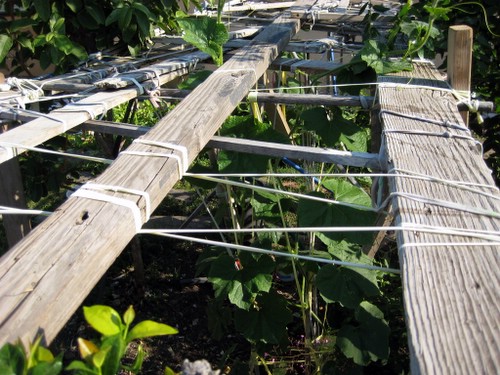 Yet another front yard veggie garden, with some solid structures for the creeping vines. I wish I could peer into the backyards of these homes as I bet they have lots of good stuff there as well.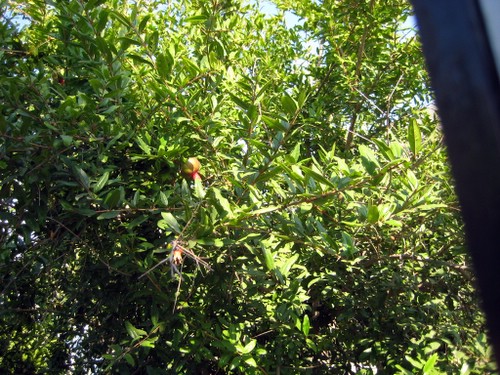 Look closely and you'll see a granada starting to turn red. Considering how expensive they are at stores, this is a great idea for a fruit to grow. That and avocados of course.
Next to the pomegranate tree, a bunch of nopales with some tender nopalitos ready for the harvesting. I know this guy picks his paddles properly, thus the abundance of new growth.
A fruit tree peeking over a wall.
Tunas!
Uhh, not much veggies here but I think the Virgen is telling the ducks and frogs to help fertilize the neighboring gardens and to eat only the pest bugs. I prefer to see stuff like this instead of just the same old thoughtless lawns.
Well that's it for the lil' tour, hope some of you are inspired to grow something other than just grass. And I hope some reporters start looking at actual practices of earth friendly people of other economic brackets rather than covering a friend of a friend that's dabbling in "sustainable living" as a hobby.