I've been commuting to my job at Lincoln High School by bicycle since I've started working there almost 2 years ago.  It's been pretty uneventful as far as run-ins with automobiles, suprisingly since Broadway is pretty hectic around 8am.  I know that once I approach the school that I should really be on the look out for people darting into the far right lane to drop off their kids. Now here is where today got interesting…
…now near Wendy's Tortas on Broadway & Gates St a vehicle stopped because of the traffic congestion immediately thought it would be a good idea to enter the "empty" right lane.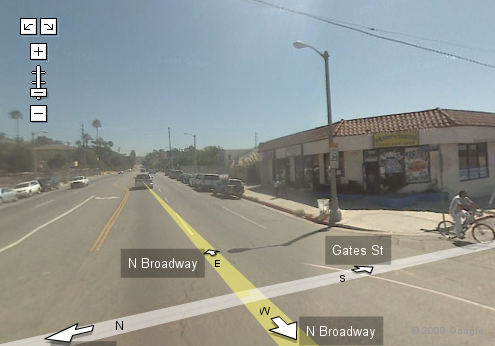 Unfortunately I was in that lane, and I tried to swerve to avoid him.  Since he went so fast I had almost no time to react and he ended up side swipping me. He slowed when he realized this and my left arm came to an abrupt stop on his right side mirror.
My next thought was, "F*ck, I hope I get my feet out of my clips or else I'm going to tip over the side and fall." Fortunately I didn't fall.  I grabbed my bicycle and sauntered to the sidewalk. I could already feel my left arm throbbing from the hit, and somehow my thigh got hit too.  Some skin was scratched off and my arm already swelling.
Fellow pedestrians asked me if I was ok, as well as drivers! It's nice to know that people can still be worried about their fellow members of humanity.  The driver that did hit me did finally pull over and asked me if I was o.k.  I told him I was ok, though I probably should have said otherwise.  I tried to speak with him but he spoke little English, and I spoke no Vietnamese. His son tried to translate, but I know he's in beginner's ESL since I was in his classroom once.  I left the situation as it was, mainly because I was in a daze of what happened.
The moral?: ALWAYS CHECK YOUR BLINDSPOT. There may be a car, or even worse, a homely bicylist with only his skin for protection.