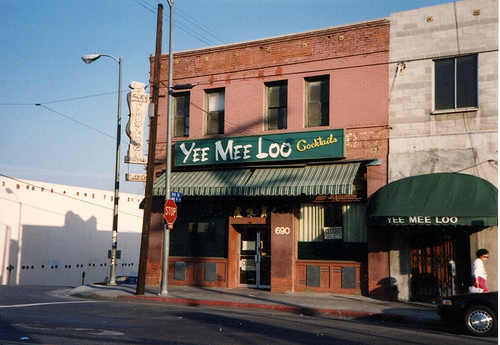 Photo courtesy of A Vanishing World
Yee Mee Loo Bar and Restaurant in Chinatown, Wow! What a loss to Los Angeles when they tore that great dive bar down. The little bar was always jumping, the drinks served by the legendary Richard Mau were nonpareil, the crowd and the booze, the cigarette smoke, and music from the old fashioned jukebox  was reminiscent of a scene from a Raymond Chandler book, Humphrey Bogart, Claude Raines, Mary Astor, or Charlie Chan would be right at home there.
The place was a bookie joint and the regulars could always be depended on for a tip on a longshot at Santa Anita or Hollywood Park. And before drinking my first Mai Tai or Long Island Ice Tea I always laid a buck down on the counter so Richard would light a stick of incense and place it on the Buddha on the spectacular carved wooden altar on the wall, bowing and saying a prayer in Chinese.
The conversations overheard always seemed a bit shady and full of conspiracy, as dark as the joint, where somehow you were in a different time and the atmosphere was 1935 or 1945, Los Angeles.

Yee Mee Loo also had one of the greatest jukebox's around, the music that came out of it was perfect for the setting somehow.

Billie Holiday – Any Old Time

I CAN'T GET STARTED – Bunny Berigan 1937

Jackie Wilson – Lonely Tear Drops