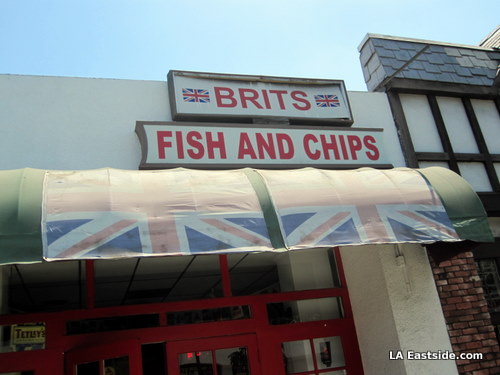 I haven't been able to get to any public spots to watch the World Cup games, mostly I catch the early matches before I head to work and then tape the later ones. Its not too bad watching at home either, you can see all the plays without distractions and you can get animated without feeling like yer bothering someone. But still, it'd be good to see a match with others no? Today I had a chance to head out to see the USA vs Ghana match, might as well be amongst a crowd of fans.
Look, the door is open, let's go in!
Since everyone goes to the ethnic spot of the team playing, I figured Pasadena would be a good place for the American vibe. Err, the American vibe at a British style pub. At 10 am Lucky Baldwin's was already packed but that's okay, I wanted to come to Brits anyways, it reminds me of a real English local: a bit on the homely side but still tending to your basic needs…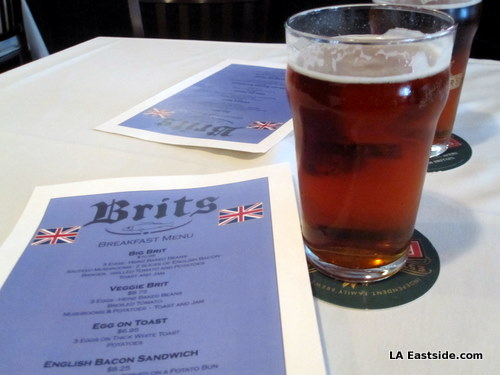 …that being a decent beer to go with your breakfast! Look, they even added a Veggie option, an old fashioned English fry-up, just without the meat. We were here early and there was only two other tables of football fans in the place, but it would fill in closer to the kickoff time.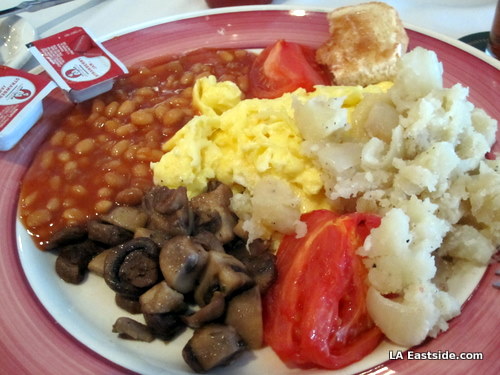 A very decent and basic breakfast to go with our beers. Beans from a can, potatoes, eggs, mushrooms, and mushy tomatoes. English food at its finest!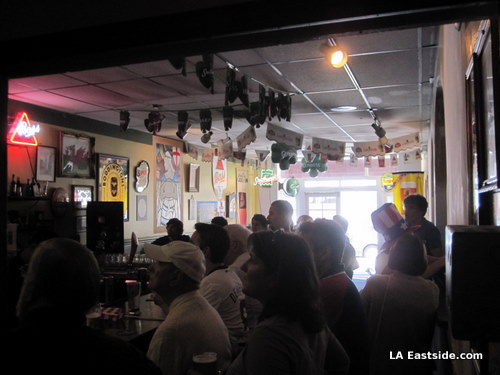 The thing I like most about this place is that the footie fans are there to watch the game. There's a bit of cheering and noise making but mostly everyone is just glued to the match. Yeah, it works.
Its near PCC so of course they offer a student lunch special. But since those students seem like ultra-nerds, I doubt they take them up on the offer.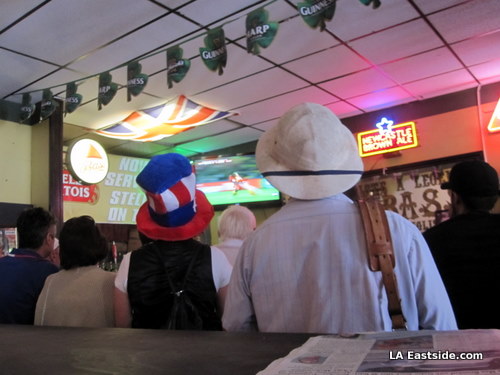 Even the mail person stuck around for a little bit to see some of the match.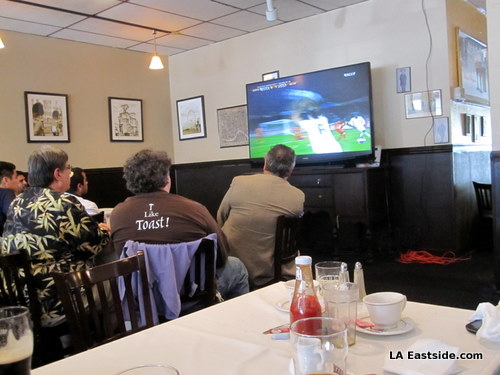 The main dining room has the big screen tv. Hmm, it looks small here but it was visible enough for everyone. I hope. Yeah, USA was down a goal from the 5th minute, so there was a bit of an anxious vibe in the air.
And then a debatable penalty was called, but I'll take it! Watch as Donovan almost misses it but gets it in anyways.
As you all know by now, that tie was soon to be lost in overtime. Ghana made some nice goals while the US struggled to finish. Here we see a dejected Edu after the final whistle sounded and all those World Cup dreams were suddenly turned into an illusion. Much of the crowd left quickly after that disappointing finish.
A few stayed around to contemplate their loss, lick the wounds of defeat, and nurse a beer. No worries, the next World Cup is only four years away!
I heard that Brits lost their lease and will be moving somewhere else. You might want to check them out while you can, and try what I hear are the best Fish and Chips in the Greater Los Angeles area.
Brits  626.578.1301
1770 E. Colorado Bl.
Pasadena, CA 91106
www.britspasadena.com