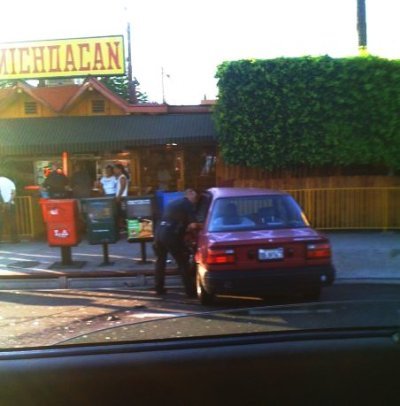 Just another day in Lincoln Heights photo by Mecatli Acatl
(see what happens next at the bottom of the post)
Botanitas is an ongoing feature bringing you stories and news from various sources, upcoming events and other bits of ephemera that might be of interest to LA Eastside readers. Suggestions welcome!

Keep clicking for artistic Eastsiders, punk podcasts, East Los radio, businessmen on bikes, forgetful fires and slanguage!

A.R.T.E.S.
Los Angeles Times interviews artistic Eastsiders about their ideas for an arts district in Boyle Heights.
Eager to make a cultural destination out of the region's rich yet often overlooked heritage, they are offering a vision of galleries, studios, theaters and cafes along 1st Street between future Gold Line stations at Mariachi Plaza and Soto Street. Yet, they know that playing with the fires of revitalization can lead to the ashes of gentrification, so they're asking themselves how to promote a community's artistic identity without losing its soul.
A.R.T.E.S.' other motivation, however, is to temper the ills of possible gentrification. For, as Boyle Heights has begun to pop up on the hipster map, especially with the increasing popularity of local wine bar Eastside Luv, the rising rents and transformative capital of outsiders may not be far behind. Annie Lapin, an artist and alumna of UCLA's graduate arts school, has a studio just north in Lincoln Heights. She says she already knows ex-classmates pushing into Boyle Heights in search of cheap rent.

The members of A.R.T.E.S. are well aware of these dynamics and their role in them. As Guevara acknowledges, "It's a fine line between development and cultural integrity."
Article here.

Razorcake Podcast on East LA Punk
Jimmy Alvarado has released part two of his awesome podcast featuring East LA punk.
"…think of it as an introduction to a section of the Los Angeles punk scene that few outside of East L.A. have actually experienced, let alone knew existed. Contrary to what scholars and historians may say, East L.A. has been home to a consistently active scene for three decades now."
Listen here: part one, part two
East LA Radio
Once you're done with the podcast, tune your ears into a new project called East LA Radio. From their website:
East L.A. Radio is brought to you by Minimal L.A.
It is currently an online radio show being aired through D.I.Y. online station Radio-Core.
We are on every Monday from 8pm to 12am playing a great mix of music.
Everything from Post-Punk, Indie, Minimal Wave, to Rock N' Roll, Folk, Jazz, and lot's more.
We feature live performances, interviews, local, and international bands.
Sounds good!
East LA Radio website.
LAE on Twitter
Bandwagon, jumping. Ooops, tripping, falling…ah, whatever. We're on Twitter now so we can be as ubiquitous as the next blog.
http://twitter.com/LAEastside
Bikes are business on the Eastside
Los Angeles Times features (sometimes cranky) commentor Ubrayj and his new import bicycle shop.
Ubrayj's take on the little block between Ave 39 and Marmion Way:
"If we can make this block a cool place to hang out, if you can come here and see your friends and get a drink or something to eat, if there are things going on this block like our bike rides, then our business will do fine," Josef Bray-Ali said. "They've built that over there, and it all started with the Bike Kitchen."
*sigh* I'm wistful about my days at 3706 N. Figueroa…

Lincoln Heights burns and no one cares
LA Eastside contributor and photographer extraordinaire, Vidalia captured the vista of flames that greeted drivers on Mission Rd and North Broadway yesterday. The fire looks pretty gnarly in her pics but I guess this fire was nothing compared to the glowing mountains around us.
——————————
The following events are not on the Eastside but are recommended by various LA Eastside readers and contributors.

Slanguage
For the first event of their three-month Engagement Party residency, Slanguage brings Psychicinema Multiplex, their ongoing series of film screenings, to MOCA. For this iteration, Slanguage will present films in order to respond, in part, to the museum's landmark 1992 exhibition Helter Skelter: LA Art in the 1990s. In assembling these works and creating a carnival-like environment for viewing them, Slanguage seeks to reexamine the dissonance and dark side of the psyche, Los Angeles, and the art world, pushing those ideas further by addressing Los Angeles's polarization and presenting visions for its future.
THURSDAY, SEPT 3, 7–10pm
MOCA Grand Avenue
250 South Grand Avenue
Los Angeles, CA 90012
FREE, Cash Bar
More info on the event here.
Straight outta Wilmington, Slanguage website.
FYF Fest at Los Angeles Historic State Park
Warning: Swarms of Hipsters and non-hipster look-a-likes expected at the Los Angeles River State Park this Saturday for an indie music festival. Awesome bands like No Age and Telepathe will be playing and I'll be there. If you want to meet up, just look for the lady who looks like she collects cans from the trash.

FYF Fest
Saturday, September 5
1245 N. Spring Street Los Angeles, CA 90012
2-12pm
a bunch of bands

Fake Iraq and Flying Machines
No one ever needs a "good" excuse to visit San Pedro but here's two – opening for Flying Machines and Fake Iraq at Angel's GAte Cultural Center.
FLYING MACHINE features two artists, Darren Hostetter and S. Ian Song. Both artists will be featuring selections from their bodies of air and spacecraft-themed work, which although vastly different in media and style, features common elements of repetition, pattern and a general fascination with the aesthetics of flying machines.
WELCOME TO FAKE IRAQ features the work of eight artists who have role-played journalists at the Army's National Training Center in the Mojave desert.
Sunday, September 6, 2009 at 2:00pm
Downstairs Gallery & Gallery A – Angels Gate Cultural Center
3601 S. Gaffey St.
San Pedro, CA
More info here.
———————————————-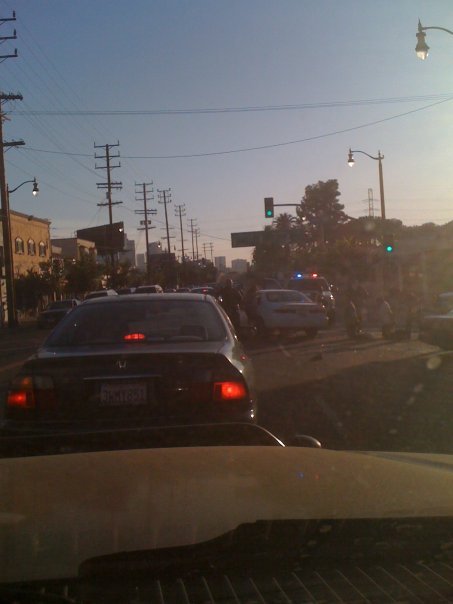 Culprits get the "hands behind your back while in the middle of the street" treatment
photo by Mecatli Acatl