Zoning out at Mariachi Plaza, I look around the newly built Eastside Gold Line Extension while waiting patiently for Tejano turned Angelino, Vincent Valdez, who last year exhibited in LACMA's "Chicano Visions", a collection of Cheech Marin's amassed Chicano artwork. Behind me, the sun collides with downtown skyline, and in front me, appears the modest Valdez, in plaid with portfolio walking up First Street. We meet at the venue for his latest solo show "An Evening with Vincent Valdez", hosted by Boyle Height's own Eastside Luv. Shaking hands for the first time, two things strike me: the artist is incredibly friendly, having a warm and welcoming disposition (I had always heard myths of San Antonian hospitality, now I know them to be true), and that he vaguely resembles a Chicano Edward Norton.

Pre-show Valdez
We step into the space; the red of overhead lights bleed onto the bar, stage, and cinémex posters. Valdez moved to Los Angeles in 2005 and has since been integrating LA themes and lifestyles into his artwork. He sits ready to talk about developing projects, and his new city muse. "Right now, I am really excited about making this LA series," Valdez explains enthusiastically. He is currently working on a new show entitled Burn, where the artist sets city landmarks a blaze, from Dodger Stadium to Santa Monica Pier.
G: You have been in LA for quite sometime, would you consider yourself an Angelino?

V: You know, I think that I sort of claim myself as both a San Antonio native always and as an Angelino. I think I have put in a major amount of time and work here in Los Angeles, and most importantly, than anything else, I really sort of seen a significant influence in my work as far as the city and the neighborhoods have in my work. I have seen it start to enrich a lot of the imagery I have been working with in my most recent work while being here.
G: And you have your studio in Boyle Heights?
V: I was almost, literally, across the street when I first moved here in Chavez studios off Chavez and Enchandia. I really loved it. The first neighborhood in Los Angeles was Boyle Heights, and I felt right at home. It really reminded of home in San Antonio with these tight communities, family communities…with mom and popshops. With the hustle and bustle of LA, I really thought it was a fascinating place. Now, I live in Lincoln Heights right across from Lincoln High School up on the hill, and my studio is in Highland Park. So it's nice 'cause I am kind of going deeper and deeper into East LA, and then next month, I moving into El Serrano so it's like even further into East LA. It's kind of funny leaving this trail behind.

Art aficionados at Eastside Luv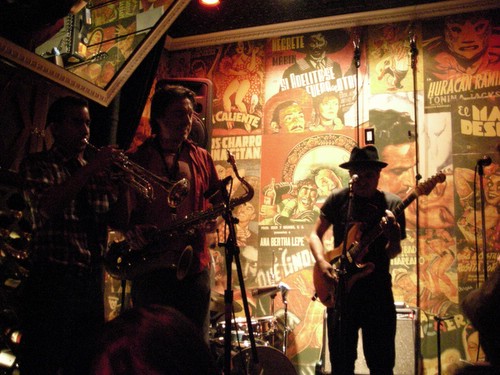 Eastsiders Ollin, with Valdez on trumpet, treat attendees with songs from
their new album "San Patricios"
G: You've described your work as hyper-realistic. Do you feel that exaggerated depictions reveal more of what reality is?
V: I think for me, that the hyperrealism is my technique. I'm so completely obsessive about these details, every little pore, and I do not in any way consider myself a photo realist and I'm not at all interested in being a photo realistic painter. But to me, there is this sort of twist to it; there is this exaggerated twist to the figure, and these characters, and their emotions they're bringing and these narratives I am talking about. To me, I am most influenced by video games, comic books, and some of the old master paintings. I majored in illustration in school so there is that sort of illustrated graphic quality. As far as metaphorically speaking, I think that the hyperrealism for me really is sort of humor that I inject into the pieces.
I deal with these very heavy and sometimes dark subject matter that have a serious nature to them, but when you look at each one these characters, many of them do appear twisted with the big ears, the big nose, or the long fingers.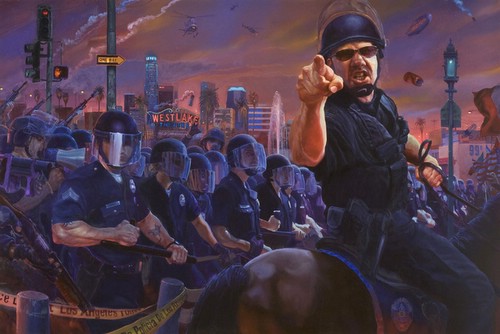 Nuthin' to See Here, Keep on Movin! (2008)
Kill the Pachuco Bastard! (2000)
For me, it's that humor, that everyday physical appearances and qualities that I find in each one of the characters that I pass amongst the city or in my daily routines. There is that sort of comic book narrative to it, and there is sarcasm to it, but there is also serious social commentary to all of them.
G: Do you have any work or pieces that have incorporated your LA experiences?

V: I definitely have, and what I am really excited about is I'm currently working on a series entitled Burn Baby Burn and it's going to be a series consisting of about a dozen gigantic paintings and drawings. I've only done the first three and what I've done, is, I've sort of made each one of these pieces mimic postcards as far as their formats. So the first piece titled Burn Baby Burn, is a night scene of the view from my window up on top of that hill in Lincoln Heights looking down onto Broadway Street with all the twinkling lights of the city, and I am igniting each one of these locations on fire so there is this giant fireball, which would be Dodger Stadium from my window lit into a fireball. The next scene is going to be of Santa Monica Pier burning, on fire. I go all the way into Hollywood; I'm probably going to burn Mariachi Plaza. To me there is that sort of graphic quality to it and then there is that almost, like lewdness to it. People are going to see it and there going to say "Oh my God, why is he burning LA", but for me it really is that symbolism, that metaphor of two main reasons why I am doing this. To me it sort of explains the sign of the times, the city, the state. It's in a lot of turbulence right now, economically and socially. But on a universal scale I think it sort of represents the state of the nation, the state of society as whole. And on a personal level for me it really is sort of looking out onto the city everyday and feeling that fire and that buzz the city gives me as far as inspiration.
Valdez takes a minute to grab examples of some of his recent work from his portfolio.

G: This is the one from the site?
V: In actuality, it's a triptych, so this one piece comes up along here as a long skinny sky and there is another part on this side; that is Boyle Heights, but I cut it out. So this is about…you probably stand next to it and it is this tall and you can walk all the way down this thing. So this is number one in the series, Burn Baby Burn.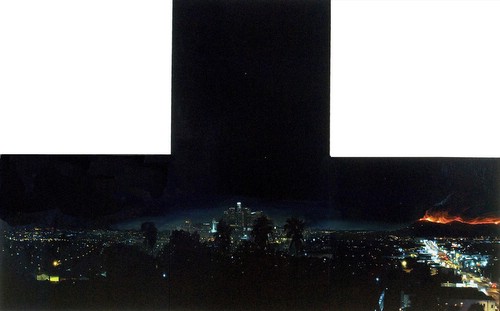 Valdez's view from his Boyle Heights apartment
And they have these bitter sweet, romantic titles, but are sort of tragic. So, the next postcard piece will be of Santa Monica Pier with the Ferris wheel as a giant fireball with sparks flying into the water and that'll read like a postcard, "Wish You Were Here", and then the next one will say "Missing You". Then the other one is going to be again, more like a bitter postcard, saying "You Burn Me Once Again". They all sort of have this humor at the same time.
G: Is there symbolism that fire has aside from being a destructive force?
V: Fire, like you said, is definitely a very destructive, powerful, unstoppable force, but at the same time, fire after fire comes rebirth, and there is this sort of regeneration when these hillside fires take place and occur in the city, its always new life that comes about the next few years. For me, I was drawn in when the San Diego fires happened two years ago. Waking up that morning you know…growing up in Texas, we don't have anything like that. You don't have earthquakes, you don't have these fires that are just these natural occurrences here, it really freaked me out. When I went through my first earthquake about a year ago and then my first fire, it really amazed me how locals here just say, "Eh, it was an earthquake" and life goes on, but, I was like, for days, shaken up by it and it was an eight second earthquake. For me, when I woke up one morning and the entire house smelt like barbecue, I had no idea what was going on. I went outside about nine in the morning on a Sunday, and you could not see the sun. It was this haze, this golden haze, and it really freaked me out. I had never experienced anything like that. So it stuck with me, and then last July fourth, I live up in these fireworks where these fireworks were going off like crazy and I saw a firework land on the hill, and within seconds, that whole entire hill was engulfed in flames. I saw the helicopters coming in dropping the water, those airplanes…I was really fascinated by it. So then, I didn't forget that. Almost immediately, I was struck by this metaphor of what the fire was, what it meant to me as far as being here, being present, being apart of this city right now, being a working an artist here, creating my work here. I think it is a real important time for me and other working artists here. So I think once this series is completed, it will give off that feel. It will carry out that symbolic statement, capturing what we all are experiencing right now as part of this world.
The Burn series will open this weekend at the Federal Art Project, a downtown gallery that carries the spirit of its historical moniker through supporting today's artists and exhibition of their period defining work. "It seems like there is the sense of desperation in the city, in the state, and in the country. On a personal level, for the one of the first times in my career, thing have just stopped. Looking back ten years from now, I'll see this fire, the whole world, and all of my dreams going up in flames in an instant and it will remind me of that sense of desperation", shares Valdez.
Valdez with Federal Art Project members Galindo and Guizar record images of LA natives that will be featured in Burn Baby Burn
The artist has managed to squeeze out the saturated colors and emotions of subjects, surroundings, and himself onto canvas, gifting the city of Los Angeles with a collage of portraits consistently beautiful, poignant, sometimes harsh, but always honest. In a climate of dried up budgets, rising tensions, and hillside fires, Valdez illuminates LA with one word…burn.
VINCENT VALDEZ: BURN
September 5 – September 26, 2009
Opening Reception: Sat, Sept. 5, 6pm-10pm
Federal Art Project
316 W. 2nd St. Los Angeles, CA 90012
www.federalartproject.net
www.vincentvaldez.net
Vincent Valdez Burns LA
By Gansito