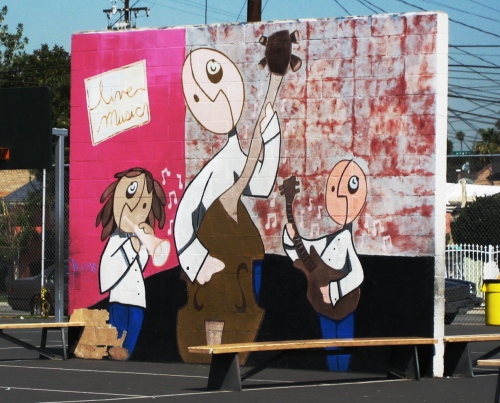 East LA school playground
Botanitas is an ongoing feature bringing you stories and news from various sources, upcoming events and other bits of ephemera that might be of interest to LA Eastside readers. Suggestions welcome!
Click below for Eastside punk podcasts, online river representation, sea monster slides, mixtapes and fun music events!
East Los Punk Podcast
Jimmy Alvarado has put together an awesome audio piece on East Los Punk Rock.
Punk was very regional when I first got into it and I had it drummed in my noggin early on that you put your best effort into supporting your home scene first. While it's been a while since I've even attended, played or put on a backyard gig, I do try my best to keep up with what's going on in the neighborhoods, so let this two-part podcast serve as part of my continuing support for the home teams.
Check it out at the Razorcake website!
———-

LA River
LA Eastside contributors and readers are quite familiar with the Los Angeles River, it is often our reference point and a demarcation on the map defining the Eastside of the city from the other side. Interestingly, and despite the concrete the suffocates it, it continues to be one of the last wild spaces in the city. KCET has created a new site featuring photographs, audio portraits and other information on the Los Angeles River. For instance, did you know the river was called Paime Pahite by the Tongva? I didn't and I thought I knew a lot about Los Angeles history. Imagine all things you will discover?
KCET (PBS Los Angeles) recently launched an online documentary of the Los
Angeles River. The documentary maps the fifty-two mile river and is
narrated by river advocates, residents, and political figures. To view and
interact with the documentary, visit www.kcet.org/lariver
Visit the site here.
———-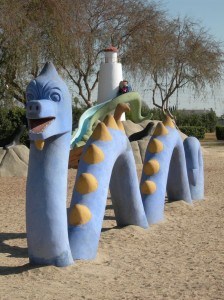 Photo courtesy of The Friends of La Laguna website
La Laguna playground designated a historic landmark!

The sea monsters are safe! Like many other folks who read this blog, I spent a good many Saturdays playing on the wondrous concrete sea monsters at Vincent Lugo Park in San Gabriel. These beautiful sculptures were created by Mexican artist Benjamin Dominguez in 1965. Recently, there was some controversy when the city of San Gabriel discussed tearing down the fantastic sea creatures in order to build more "safe" play structures. Uh huh, like the thousands of kids like myself that played on them since the 1960s left the playground all mangled up. Geesh, we left with big old smiles on our faces! (If only we could have saved the Aztec playground Dominguez built at Lincoln Park. The destruction of that playground still kills me inside.) Read more on the historic designation here.
———-
A mixtape, composed of songs that are conceptually linked by the compiler, allow the listener to enter a highly personal narrative. By meticulously selecting the theme, songs, order, and duration, a multilayered story is woven. The usage of such a popular form, music, thus creates a highly subjective experience for each individual listener. Each artist in this exhibition uses a song, a lyric, or musical subculture as the conceptual model or point of departure.
Artists:
Juan Capistran, Irina Contreras, Marco Dimas Sanchez, Sandra De La Loza, Hazel Mandujano, Jacob Rhodes, Shizu Saldamando, Rich Shelton
Address:
316 W. 2nd St. Los Angeles, CA 90012
Phone:
(213) 680-2787‎
I heard you get a free mixtape at the opening. I'm there! (I loved Shizu Saldamando's IPOD playlist for the Phantom Sightings show).
———-
En Tu Ciudad Tour @ La Cita-Tonite, July 1st!
We are psyched to continue our concert series co-presented by MySpace Latino right here in LA at the famous La Cita Bar.

Headlining the show will be none other than those vallenato-crazy party boys Very Be Careful, along with the lovelies (and just as raucous) La Santa Cecilia. Opening up, pretty pop buzz band Wait.Think.Fast.
If you go to the website, you can get in free with a secret password.
———-
Ashgrove Summer Intra-National Event

Conjunto Los Pochos will play the Ash Grove Summer Intra-National Event,
Sunday, July 12th on the beautiful grounds of a private home at 939 San
Vicente Boulevard (at Larkin Place) in Santa Monica, 1:30 – 5:30. The
event is an Ash Grove Foundation fundraiser for its Summer Festival in
August (date/location TBD). Performances start at 1:30 p.m. and include
Michelle Shocked, blues guitarist Bernie Pearl, pianist/songwriter Sheila
Nicholls, musical humorist Roy Zimmerman, poet/writer S. Pearl Sharp,
S.H.I.N.E Mawusi women's drum alliance, Get Lit players – teenage
wizards with poetry from the sonnets of Shakespeare to hip-hop, Conjunto
Los Pochos and Richard Montoya of Culture Clash. Tickets are $40 per
person. For information: (310) 391-5794 or AshGroveMusic.com.
The fundraiser is one of a series of community events that has been held at
various cultural centers around Los Angeles since the November election and
billed as "Beyond November – Party with a Purpose" – bringing
together an assortment of artists, advocacy and social action
organizations, to entertain, to inform and to enthuse by tapping into the
vast energy for positive change sparked by the Obama campaign. The
culmination this year will be a large free Summer Festival in August 2009
that will feature musical guests, community artists and speakers, in
addition to an area where health, housing and other service organizations
will provide direct counseling, referrals and aid to people in need.
Visitors can learn about and join groups and/or actions around these
critical issues.
———-

Together-Tierra
You might've missed Tierra this past weekend in Lincoln Park so I'll leave you all with some homegrown Eastside sounds. The founders of Tierra, the Salas brothers are from right here in Lincoln Heights and this song, Together is definitely a contender for the Eastside Chicano anthem. There's a certain charm in this lo-fi Youtube clip, thank you Unsold Chicano wherever you are for posting it…