It sometimes is good to have friends.  A couple of years back I was doing some paperwork in my ranfla down by one of my favorite places to access the LA river (EC has to know this one) when something caught my eye:
Little neatly carved steps cut out of the clay earth that would easily be skipped by most.  Actually I skipped it for years, as I had been coming down here for decades and never noticed one of the places that makes LA so great.  So I got out of my carucha to investigate, because as many an Eastsider will tell ya: the river makes for good stories, even the most boring river moments are never dull.  As I walked over to the stairs I noticed a peculiar sign:
This is the edited sign that is more public-friendly.  The original one I first saw read "don't piss, shit in bamboo fucken crackhead assholes, no rocks here," or something to that effect.  By this time I was enamored, the socio-barrio-urbanophile meter in me was registering off the charts, which has never let me down.
So I walked down this little path that begun at the handmade steps; which was a bit nerve racking as the bamboo the path was surrounded by makes for a good place for a wacko to jump out and attack you, and the path curved a bit making the outcome more elusive and exciting.  Here's some more stair action before the gate: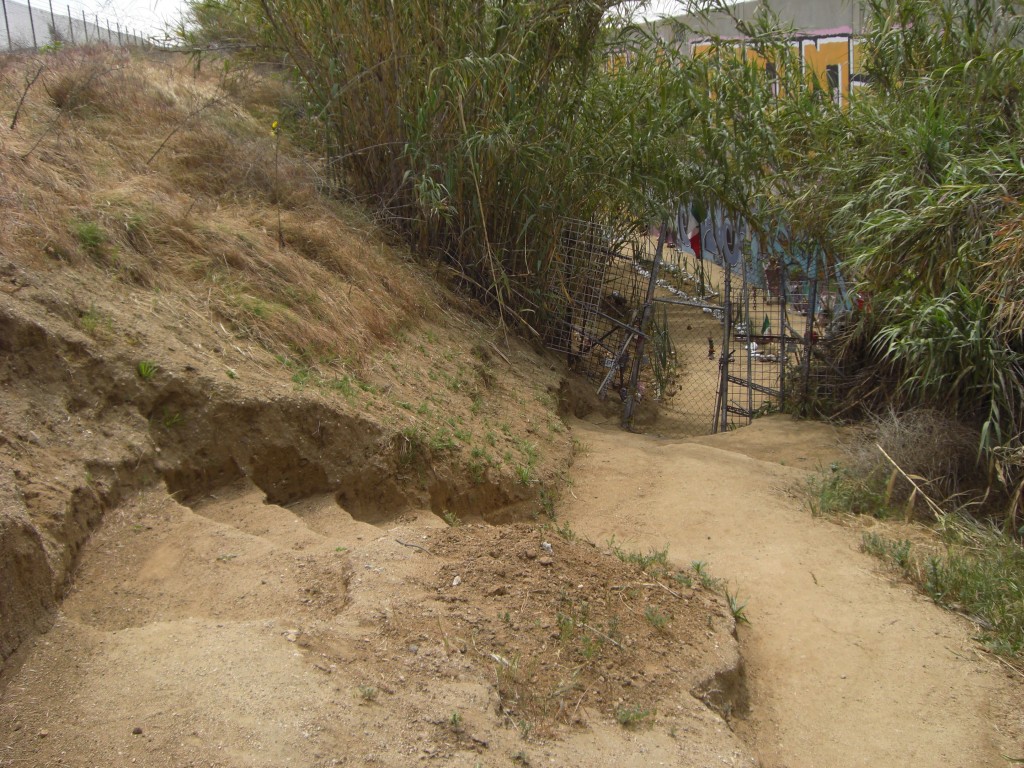 And then you get to a gate, one of the best gates I have found in the city, a gate that would make the most gifted beercan-windchime-making-viejito envious:
When I initially got here I was waiting for some toothless locote to come out swinging a machete at me, as is often custom by many river folks when an outsider comes around (which I found out as a teenager down in the hobo islands up past fletcher).  I was awestruck by the gate, landscape design, hand-carved steps and overall aura of this magical place that I had to see more.  I'm not stupid, so rather than just barge in I called out and waited for the usual "get the fuck out of here" greeting one often gets when trespassing.  But rather than a scowl I got a nice calm "hey how's it goin' " from someone I now consider a good friend and a person I care about immensely.  You see, that's the cool part of urban exploring and blogging from an Eastsider perspective (not that others from elsewhere don't, but the style is how we do all day and grew up doing out of need or lack of resources), you don't just see shit and meet people and check it off your list of things that make you cool/ real and give you validity; instead you meet people, make connections and relationships and learn about who you are and what the world is. You don't just experience things, you are things and the things are you, blah blah blah….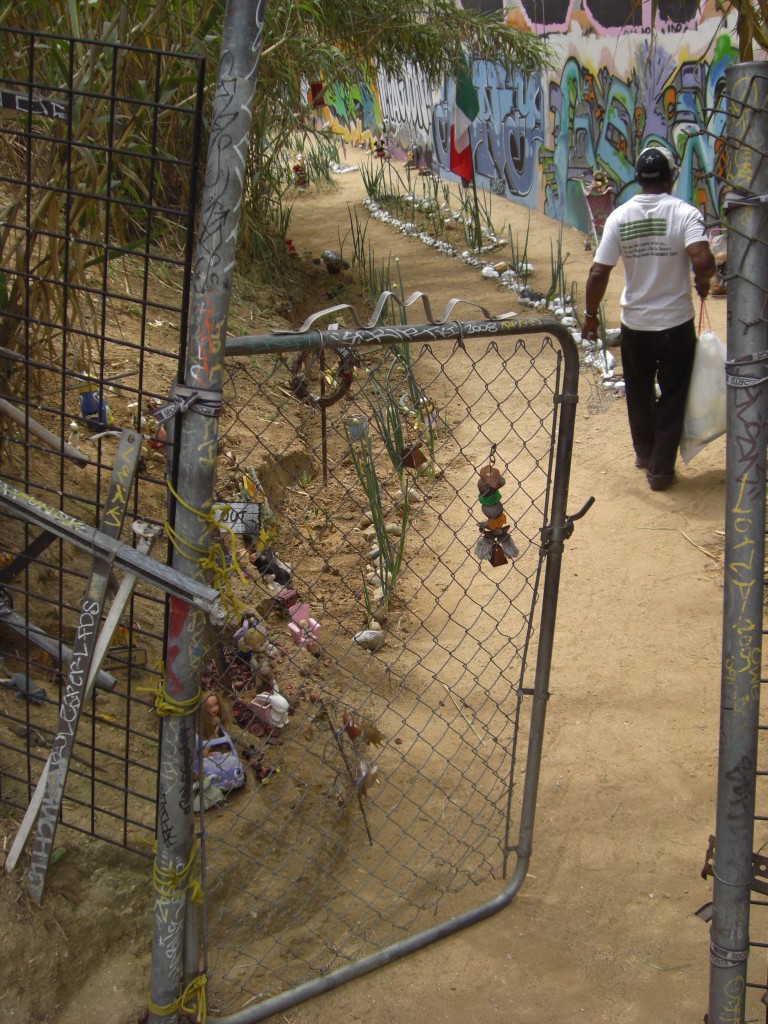 There's my man, Charlie.  The first time I showed up at Charlie's doorstep I was having a shitty day. He smiled at me, shook my hand and invited me in.  All I told him was hello and I dug his place, he opened the gate and asked me if I wanted to check it out.  Boy was I grateful, his place is the shiznit!!!  My crappy day disappeared, and from then on I go and shoot the shite with Charlos when I'm having a off one.  His casa is out of this world, but Charlie himself is extremely nice and a pretty cool dude to know, you cant go wrong with such an awesome combo. Let me take you on a visual tour of the Charlie compound: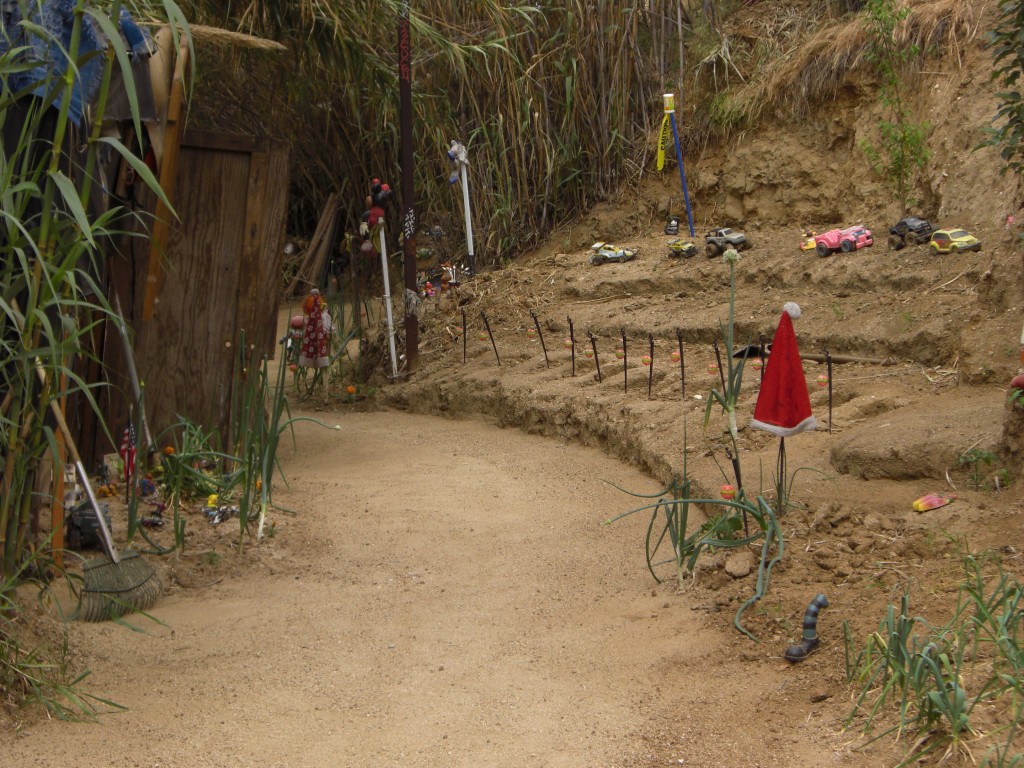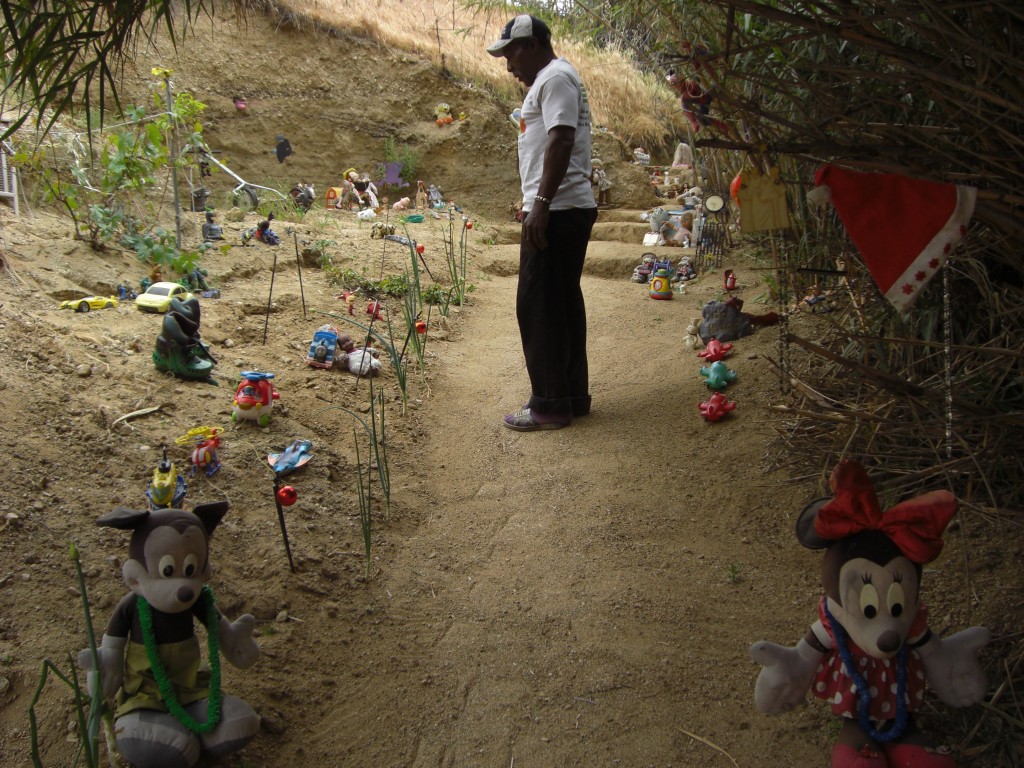 The compound is basically a half-mile stretch of riverbed hillside between two warehouses and a parking lot.  Charlie carved the whole chingadera by hand, first forging an encampment space and then working his way through the bamboo forest to create an elaborate path filled with his amazing landscape architecture, gardens and artwork he lets local kids paint on the walls.  The building owners love him, and so do many locals, mostly river rats and graffiti writers as well as a few local movie people who are the reason he spruced up his front door signage.  Charlie uses the hillside areas for his gardens where he grows tons of various fruits and veggies, he gives the surplus to local churches and homeless.  The ground level pathway meanders through bamboo clumps and is decorated from head to toe with various odds and ends Charlie has found which give it a Disneyland cum swapmeet magical feel.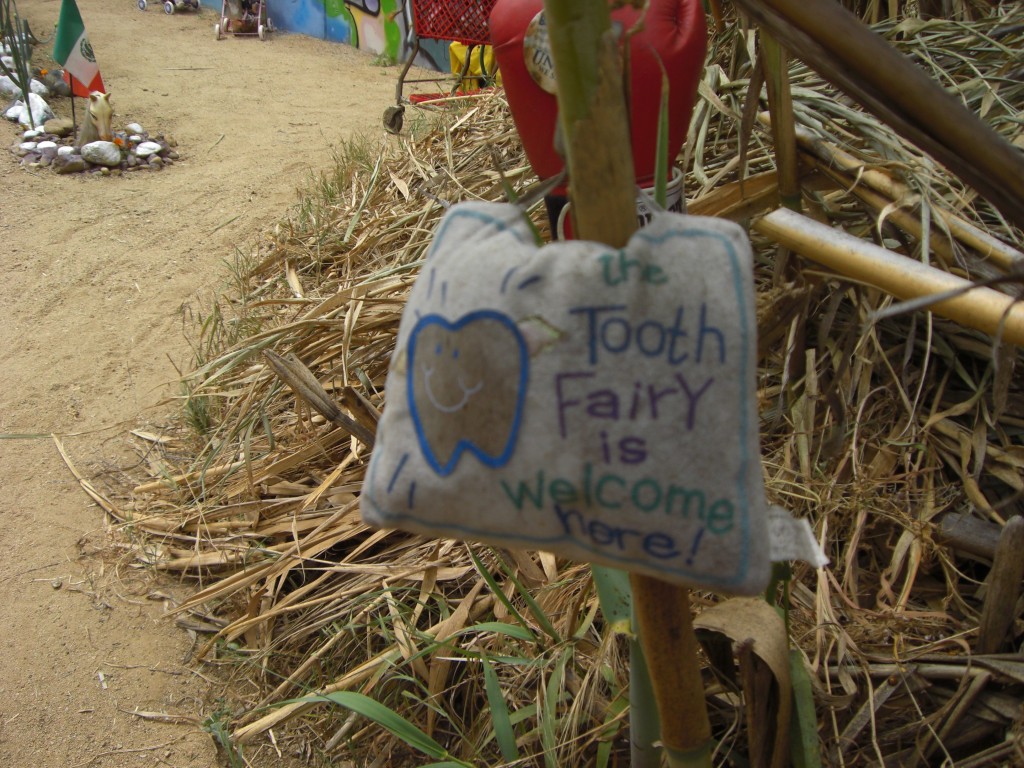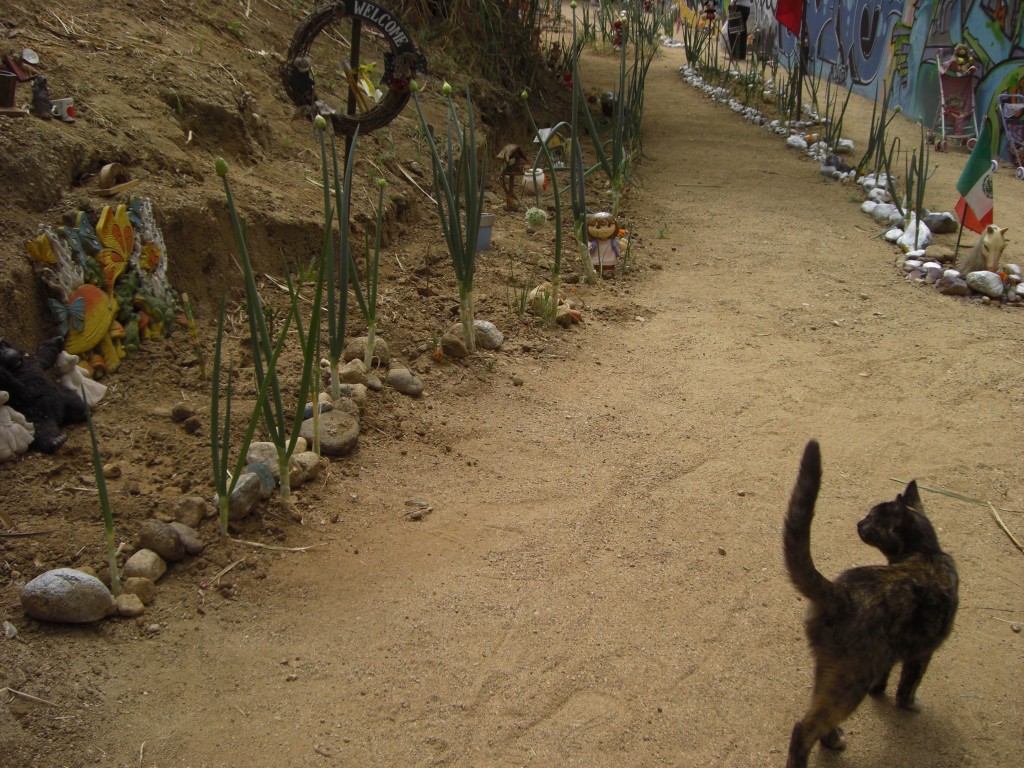 Here's one of Charlie's kitties. He had 2 doggies but they ran off, they both had cool names like Basehead and Ruff. If you notice the edges of the walkway are adorned with the largest green onions I've ever seen.  Charlie's a landscaper by trade, having grown up near Houston in the rural Texas Gulf Coast area. He picked up the green thumb through his grandparents and folks, whom used tricks from their slave parents (Charlie's grandpappies) in the "industry" at one time.  He has tons of amazing stories, as well as tips for your milpa. He also used his skills to make this patch of urbanity a little sanctuary.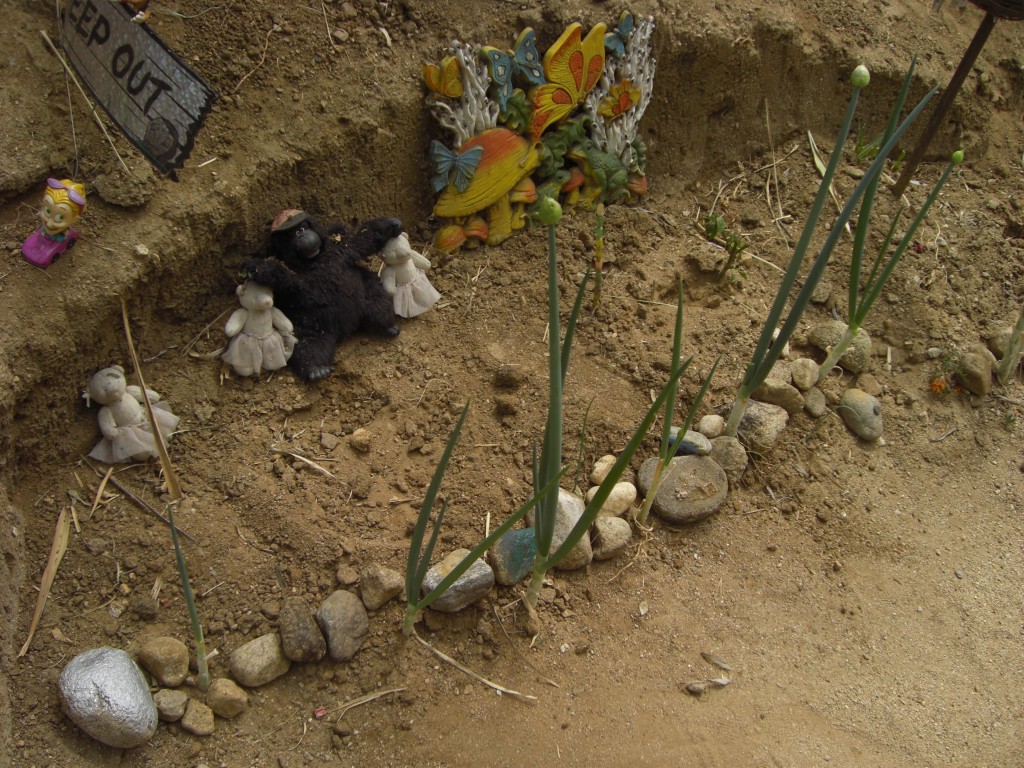 He says the Hollenbeck PD officers get a kick out of the next guy:Â  they send kids fuckin' up down to Charlie's pad as part of their rehab after getting locked up. I spent over 10 months in Eastlake and a half year at Nelles as a teen and I sure could've used some inspiration from Charlie's hacienda. Hopefully it soaks into some mocoso's brain and keeps him on the right path.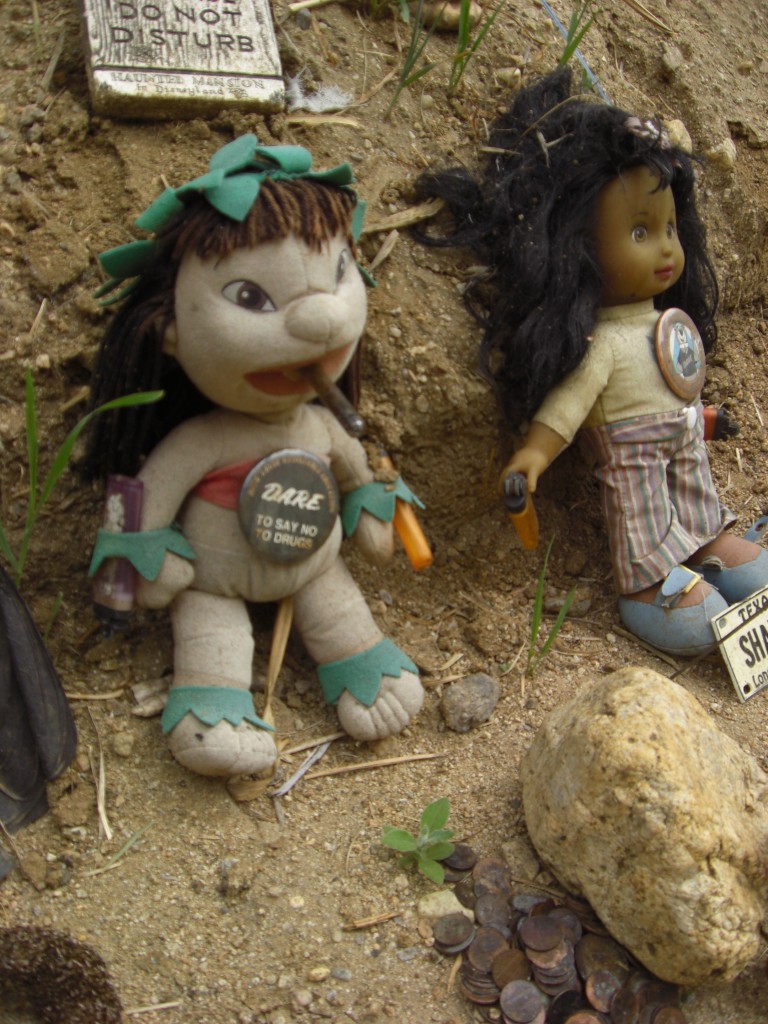 It's a doll with a crack pipe in its mouth in case you can't make it out.  There's also a 3 foot high mountain of brillo from crack pipes Charlie made a grave from as well nearby. A lot of Charlie's landscaping has a bit of humor in it…..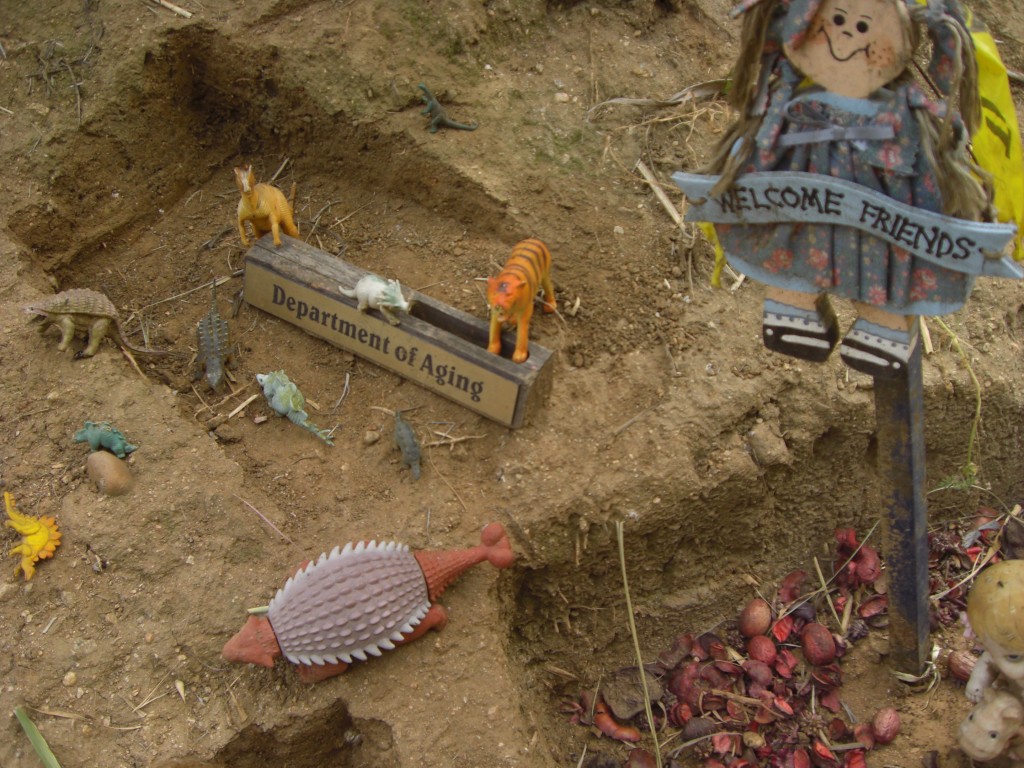 I think the thing that makes me love Charlie the most is how much he is like my abuelito, a working-class renaissance man. Someone whose talents could've changed the world but for his lot in life (and I am not starting the violins, real life has none, it just is what it is), so instead they became fantastic dynamos in their own right, in their own box.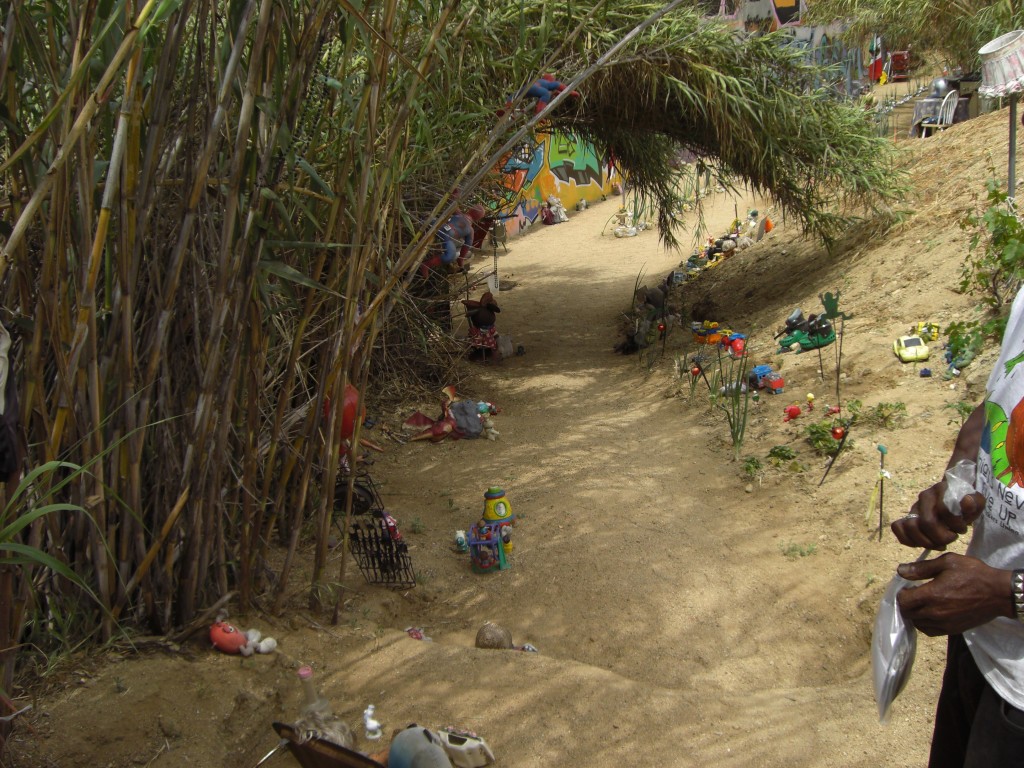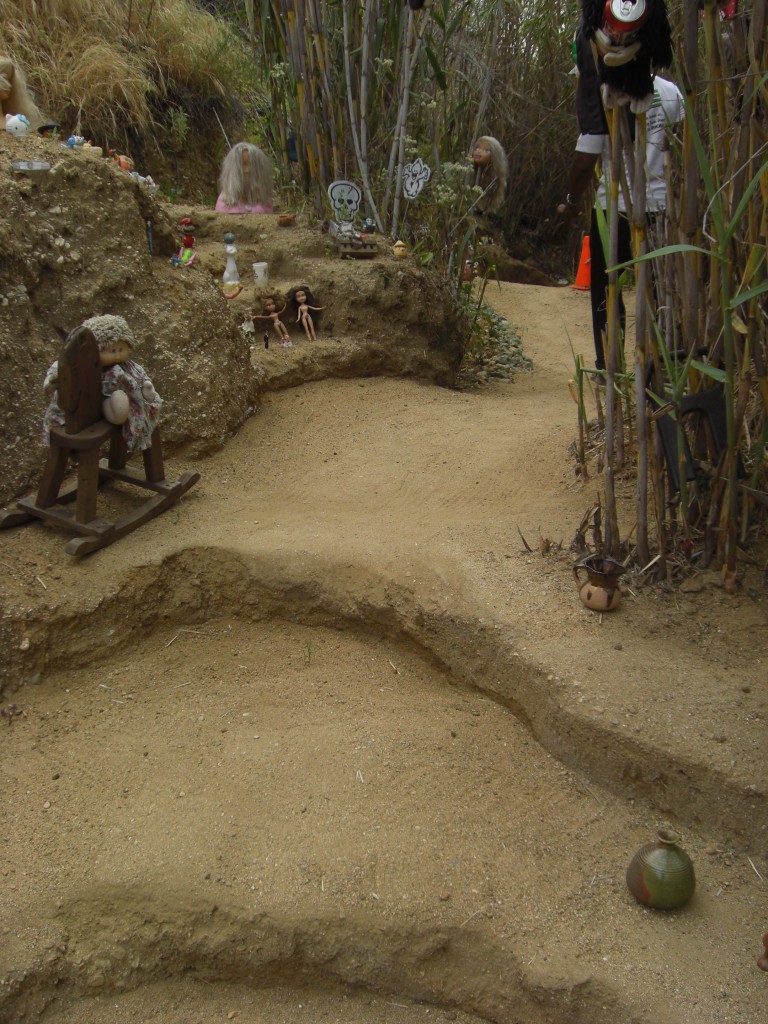 I have a lot more flics and stories/insight about Charlie, he's an amazing fellow. But I wont mess with the gods, I had documented his place a few times but somehow each time my pics were destroyed, and my computer is acting funny so I'm leaving it at this now. Charlie is one of the points of light that make this city magic, the Tongva were the first to know it and everyone followed suit.  Enjoy!