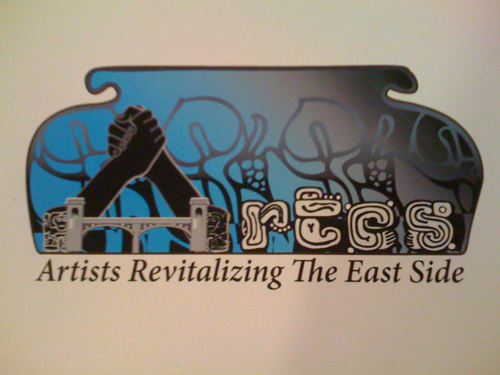 The planning and development for an Art's District in Boyle Heights is underway. Artist are uniting and getting the ball rolling on making sure this opportunity doesn't get shelved and tossed to the side. The projects origins can be traced back to local council member Jose Huizar approaching a teacher at UCLA.  From there, 12 urban planning students surveyed Boyle Heights and presented their findings to Huizar a while back. Alfredo Huante and Carolina Martinez are two of the students and were at tonight's meeting explaining what the current situation is and who their meeting with Huizar went. The students finished their commitment and got their credit. They explained that they no longer have a stake in the survey and said that projects like this usually go ignored because there is no one to pick up where they left off. That's where A.R.T.E.S. comes in. With so much ground work already started, the students are passing everything on to them as they are getting organized and creating an infrastructure to make sure that the district meets the needs of the community and artist.
Here are some of the key points discussed and prioritized during the forum and will be developed further:
having stores that cater to the communities needs and there by eliminating the need to shop in other areas.
artist incentives for living in the immediate area (Rent control)
services catering to artist and residents needs
programs to help kids in the neighborhood get involved with the arts
more murals and setting up programs to help youth learn about the importance of murals as well as educating them
securing funds from the city and grants to help fund future projects.
securing abandoned and unused buildings and converting them into community art spaces
defining the boundaries of the Eastside and establishing cultural integrity/identity as a way to bring in tourist
preserving the neighborhoods culture and heritage
knowing how the system works to take advantage of it and maximize it to its full potential
getting more artist involved and like minded people involved in the planning who can contribute
A.R.T.E.S. main priority right now is so get everything ready ASAP for a second meeting with Huizar. If anyone is interested in helping stay tuned as I will post contact information and the day and time of the next meeting as soon as I get the heads up. Other wise contact me through the blogs email or leave a comment saying what skills you have and what you can contribute and I'll plug you in to the right people. Change is coming one way or another and if residents are on the front lines saying what we want then there's no limit as to the possibilities in revitalizing our community.