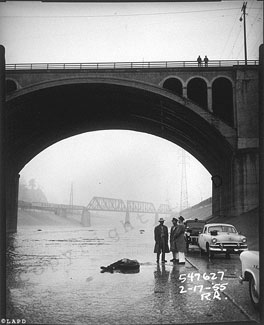 Bridge over LA River Date: 02-17-55
Photographer: R. Rittenhouse
A dead body from the book "The Scene Of A Crime" LAPD photo archives.
Under the North Broadway Bridge in Lincoln Hts, the old "Black Railroad Bridge" in the background and Elysian Park. Around this same time, 1955, as a 10 year old playing at the Downey Playground one night, I witnessed some guy get stabbed and thrown over this same bridge onto the railroad tracks (not as far a fall as the body in the picture took) by gangsters from East Side Clover.
Also this picture reminds me that as kids we used to climb under the bridges of the LA River to catch young pigeons for our coops. The LA River was our playground as kids, catching pigeons, toads, sliding down the mossy sides of the riverbank, talking to the hobo's waiting on the tracks for the train to Seattle or San Francisco.
Around 1955 or 1956 the early horror film "Them" about giant ants colonizing in the storm drains of the LA was shot right where this body is lying.
This area definitely isn't the East Side claimed by denizens of Silver Lake or Los Feliz.