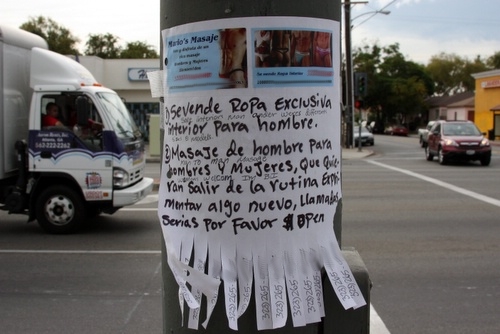 Okay, it can't be that bad. Let me tell you what it reads:
1. Sevende ropa exclusiva interior para hombre.

2. Masaje de hombre para hombres y mujeres, que quieran salir de la rutina experimentar algo nuevo, llamadas serias por favor $ open
And if you read between the lines (literally) in english it reads:
Sale interior man ander weres different sizes & models.

Man to man masage women's welcom IM BI
And if you read between the lines figuratively, it's an ad for sex, complete with phone number and address. Sex for pay is nothing new but I thought it was a bit desparate to see it at a crosswalk, with so much information on where to get these services. And I thought knock-on-my-door-pupusas were brazen! Salir de la rutina indeed.
Sas!
PS. info blurred to protect the job seeker.