Un viejito walking around boyle Heights with his clean up cart, one of many…
This whole gentrification issue got me thinking.  Commentor ubrayj noted his efforts to keep his Lincoln Heights neighborhood clean, and that should be commended.  That got me thinking about the million "mexicans leave diapers in the streets" comments I have heard and read from various folks (not that Ub-homeboy was saying that, but the convo got me thinking on the subject), led me to analyze the roots of so much litter and other Quality of Life (QoL) problems in our Latino urban neighborhoods and how they got to be what they are today.
I think the lack of public infrastructure such as Browne was talking about is THE big issue, even more than socially dysfunctional behaviors like litterbugs because it IS the catalyst.  Almost every social oriented planning class and/or policy maker meeting I have been in notes that social dysfunction always follows instituional.  It seems like if the people who study and analyze this problem recognize this aspect of urban QoL (quality of life) regression, that it would eventually make it out into normal convo on the issue, but it hasnt.  People still bitch about mexican and black communities "allowing gangs to exist", yet when crime drops in those places the community is forgotten and only the police are commended.
In a simplified way, when the city stops doing its job locals get angry and eventually resentful and begin exemplifying the neglect and dysfunction manifested by the city's (in)action. People begin to say "if the city (who should) dont give a shit, then i wont either" and act on it, because petty negativity is the easiest to act on instantly.  Then it becomes a vicious cycle that leads to trash and gangs.  To top it off this reality plays out in already oppressed and marginalized communities of color that are concentrations of poverty.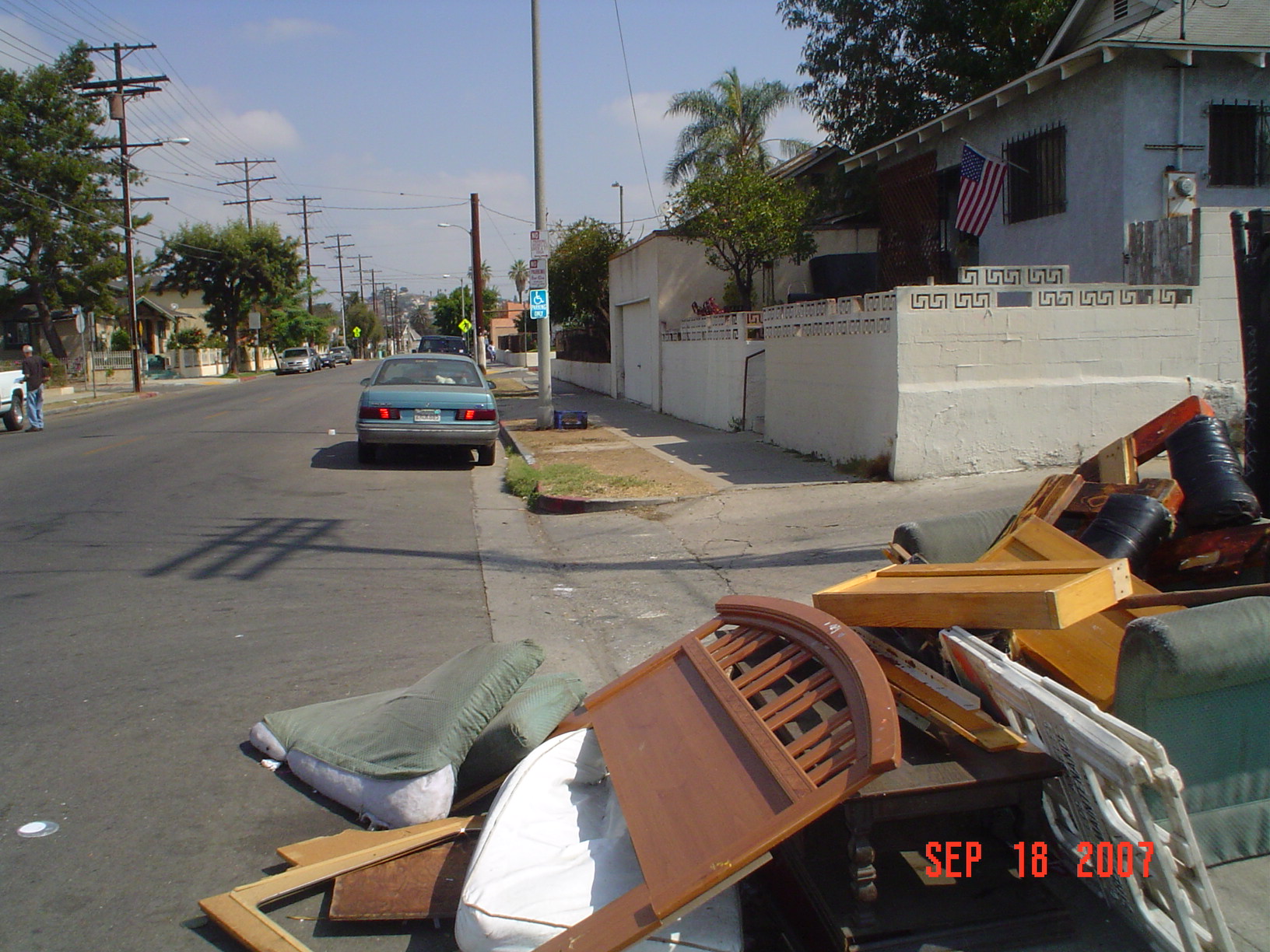 Now I dont say this in a "dont hold people accountable for their actions" manner, because it is what it is.  When folks discuss problems with urban areas or minority communities, they always personalize the issue to the point of absurdity and then place those personalized character traits on an entire demographic, it always happens.  Now the personal issue of people being lazy, unmotivated or just jerkoffs is valid and a huge part of these quality of life issues.  Because of the organic history of these communities and social trends in America, ES hoods lost the bulk of their middle class residents as well as a lot of the folks who tended to care about their community (not to say they all left) and the dysfunctional population snowballed.  I hate to say it like this, but you get a higher ratio of "bottom of the barrel" folks who dont give an F about themselves or their surroundings. It's just the way it is, and if you think Eastlos is bad hang out in Watts or Compton, lots of "bottom of the barrel" activity.
Anyways back to my point, folks personalize this issue to an absurd level, which takes out the socio-historical element of the equation.  Almost EVERY viejito Ive discussed Eastlos history with has told me that once the hueros moved totally out in the late 60s and 70s that city services and responses either dropped dramatically or disappeared completely. If you walk around East LA or DTLA one can easily see that these areas have not been properly maintained for more than half a century, how coincidental that this matches up with the flight of one coddled demographic.  We still dont have adequate benches/trees/trashcans on Broadway, yet the sidewalk vendors are now all gone. Ever notice how clean and maintained the sidewalks on Spring in gallery row are, yet not along Broadway? I think I mentioned this before, but I did a study at Cal Poly Pomona that pinpointed gentrification in DTLA solely by staring at the floor to see where the sidewalk has been cleaned.
That is the kind of shit that breeds social resentment of public instituions (and eventually all laws and rules, as gangsters, taggers and the whole "thug life" reverse revolution has shown us) in communities of color.  When you see cops litter, harass young girls, beat up people and run lights how the hell are you going to respect the law?  When you see the city stop maintaing your street or clean your sidewalks for over half a century in one of the most pedestrian heavy neighborhoods in the city, why the hell should you do it?  The end of that last sentence is the crux of the narcissisitc conservative moevment's "no tax" mantra, yet they somehow think that poor folks dont get to play by the same rules.  Ive hung around Broadway, Whittier Blvd, Calle Brooklyn and Primera since I was a little boy and I have NEVER seen much serious public investment (beyond limiting the actions of Latinos thru ordinances) that each of these places deserve.
And you'd think it wouldnt be that hard to clean things up. When I lived in the bay area I'd see all the community service people cleaning up trash and graffiti in activity centers such as Downtown Berkeley, I have even seen that in Santa Monica. Considering the abundance of vatos working off community service hours in Eastlos and DTLA, you'd think someone wouldve capitalized on this free labor to improve our communities of color.  But that's not the way LA works, in LA the city waits for rich (often white) people to move into an area before they invest heavilly into community infrastructure, and twhen they do they pay some private company huge sums to hire black and brown people to do the job for low wages.
My point is that people follow institutional policies much more than they are given credit for.  When a neighborhood is neglected to shit for long periods of time you can expect some very bad things to manifest as a response.  Cops would allow whites to attack minorities with impugnity, so they formed gangs to protect themselves. Anglo society enacted strict segregation, ostracizing minorites from being able to move up the social ladder, so they made their own social ladder which was car clubs and many of the original social clubs that became gangs. When police began harassing and demeaning these clubs and demonizing them they morphed into violent gangs. The city doesnt clean up a neighborhood consistently for decades and people are going to embody that messiness that they live around, and then it becomes a race to the bottom for social productivity.
This is not some victimization tyrade, because I persoanlly hold folks accountable for their actions every day.  I paint with kids weekly and always have to remind them to stop blaiming the man for their problems after I explain the problems of their environment and how they developed. I work around watershed in NELA and one of my big tasks is to create a "watershed stewardship/dont litter" campaign that will be effective in the Latino community.  When it seems like it will be productive and worht my energy, I call people out about their littering, but more importantly I stress self respect and appreciation/action in ones community. Oftentimes I do it by example, because confronting people in minority communities does not work well.  Plus, who the fuck am I to tell them something? Beyond picking up trash on broadway with my abuelo as a kid I was a serious culprit for a lot of the quality of life issues in my barrio until I became socially conscious.  I did not have the self esteem to care about myself and embodied the "I dont give a fuck" mentality we see amongst many urban youth. I was a horrible litterbug, preferred to piss outdoors, was a prolific graffiti writer, used to rob people, sold drugs, did drugs in public, carried and used a gun, fought, cussed loudly wherever I went, and treated people around me very bad.  There are a lot of young people out there living this life, and now a few older cats who came from this lifestyle and somehow survived.
Like I said, no overvictimization or blaming the man here, but to fic these problems or even address them we have to look at them honestly.  To look at them honestly means including social factors along with personal responsibility.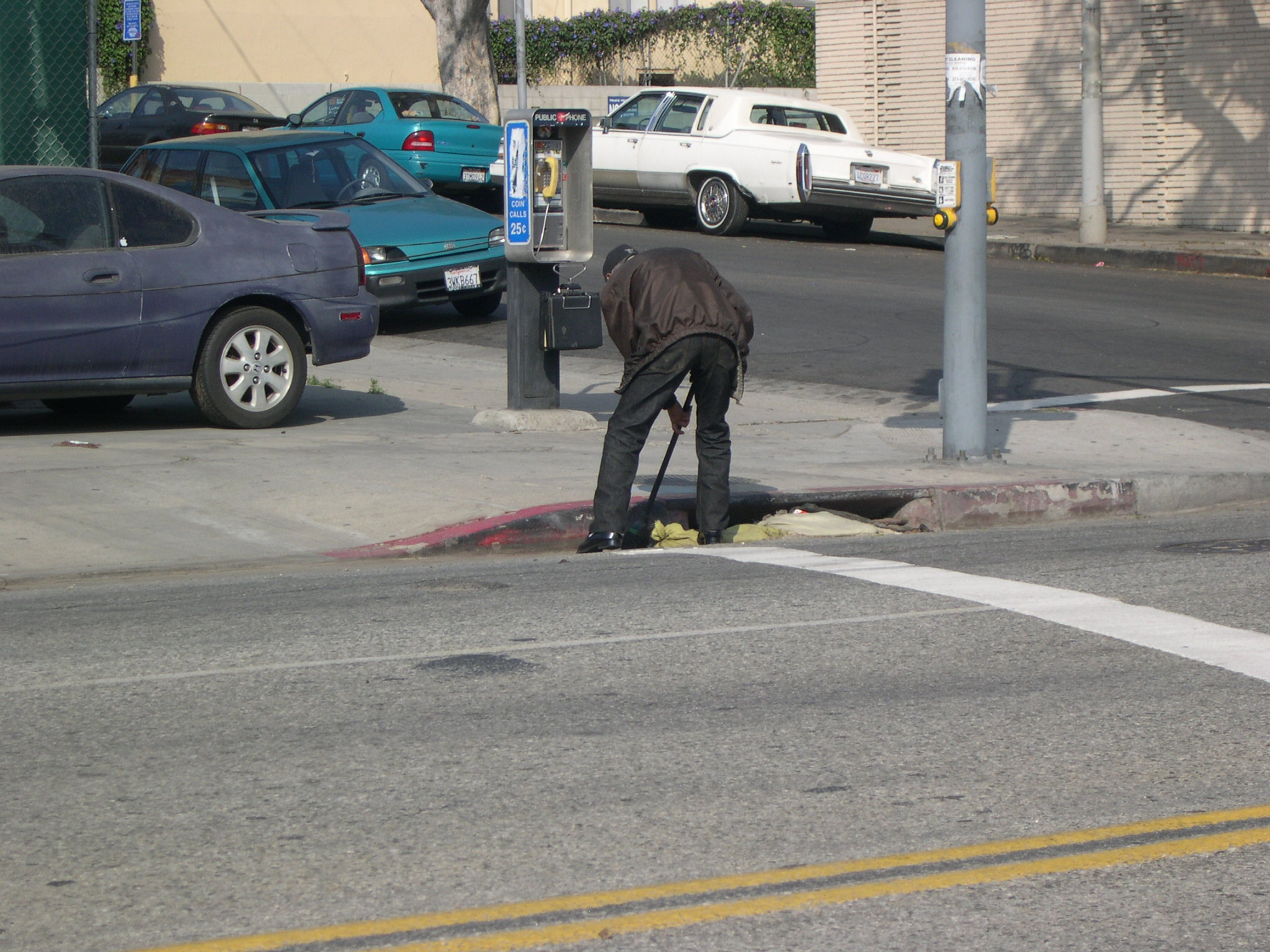 Another Viejito cleanup up the barrio, much like both my abuelos used to.