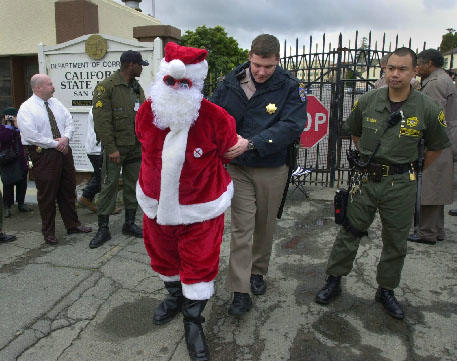 Ajua! Someone has correctly answered all of the questions on the
ARE YOU SMARTER THAN AN EASTSIDER? Quiz!
One very Eastside Culture savvy contestant has demonstrated a profound
knowledge of all things Eastside, and has proven to be  truly deserving of the Grand Prize! A certificate good for Dinner for Two from:
EL CONQUISTADOR RESTAURANT in Silver Lake!
(I wanted the prize to be a trip far away from THE EASTSIDE so I picked the very self-proclaimed hip Westside town of Silver Lake!) Que Gácho! Anyway, here are the answers to the quiz:

(1) Identify this East Los Personality
Some WRONG answers that were submitted:
•    Ed Roybal
•    El Matador Carabello
•    El Chavo
The Correct Answer is: DICK HUGG (HUGGY BOY)
(1)    What Eastside Park did Charlie Chaplin use for his film "His Trysting Place"?
The Correct Answer is: HOLLENBECK PARK
(2)Â Â Â  Name 5 Eastside Car Clubs (past or present) Some answers given: LIFESTYLE, IMPERIALS, BROWN STYLE, KLIQUE, MANIACOS, Good Times, Viejitos, The Dukes, Chicano Style Car Club, The Lady Bugs, Old Memories, Saints (El Sereno 50's), ELA Auto Butchers. Phantoms (Lincoln Hts 1950's)
(3)Â Â Â  Name 3 Movies that have to do with East L.A. and Cholos
Some answers given: American Me, Bound by Honor, Boulevard Nights, Crash, Up in Smoke, Blood in Blood out, Zoot Suit, Boulevard Nights,
Mi Vida Loca? (OH NO YOU DIDN'T!!! I SAID EAST L.A.! -Al) Mi Familia, Colors, Born In East L.A.
(4)Â Â Â  Decipher This: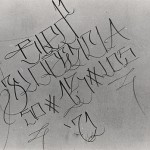 Answer: Bird from Florencia 13 (aka F 13, Florence 13), #1, So Los aka South Central LA
(5)Â Â Â  What Street is this photo taken on?
Correct Answer: BROOKLYN AVENUE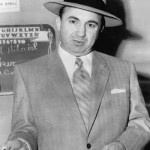 (6)Â Â Â  This nice Jewish boy from Brooklyn, N.Y. came to Boyle Heights with his family around 1916 where his family opened a grocery & drug store on Brooklyn Avenue. He soon moved on to bigger & better things. He was investigated by the U.S. Senate in 1950. Correct Answer: MICKEY COHEN

(7)    Name That Pan Dulce: (Sorry, the answer: "All I know is Cuernos and Conchas"..is not correct) THE CORRECT ANSWER IS: Concha, Cuernito, Rol de Canela, Rol de Fresa, Cochinito, birote or bolillo. (Nobody named the Jelly Roll as: Niño Envuelto!)
(9) What Eastside Youth Recreational Center are these men dedicating? Correct Answer: Lou Costello Recreational Center on Olympic & Grande Vista near the Estrada Courts PJs. (That's Abbott & Costello!)
(10) Name That Tune! Correct Answer: LA RASPA BY PEREZ PRADO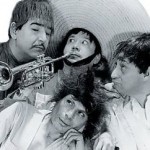 Bonus Question: Answer: LOS XOCHIMILCAS! Performing LA BANDA BORRACHA and QUE SE MUERAN LOS FEOS. (Wrong Answers: Los Polivoces or Cannibal & The Headhunters-Sorry!)
And the Big Winner is……………………………..
DON QUIXOTE!!!!!!!!!!!!!!! Who answered all 10 Questions correctly! A true Master of Eastside Trivia! Mr. Quixote , please accept your prize and submit a comment here to tell us how you became such a great scholar of Eastsideology!