It makes me feel kind of Nostalgic to see stores like Sears, WalMart & Kmart starting to offer their customers the choice of LAY AWAY plans again. Can't say I blame them, with all the credit related uncertainties these days. Back when I was a kid….
In the old days, I remember my mom getting a lot of her furniture, appliances and other expensive housewares on the LAY AWAY plan. Every month, at her appointed day, she'd show up with the couple of dollars she managed to shave off of our limited income to make a payment at big stores like "LA POPULAR" and "CARABELLO" on Whittier Boulevard. She'd eagerly tell how she'd have that lovely lamp she wanted with just a few more payments. Of course, if she happened to come across a sudden windfall of cash such as when a few bills fell out of my Dad's pocket during his Friday Night Borracheras, then she'd have that lamp so much the sooner.
Once I became old enough to make some money and make my own foolish decisions with my purchasing power, I soon learned that I could get that fírme Shirt from Robert's or Victor's if I just put it on LAY A WAY.
I enjoyed that feeling of responsibilty and accomplishment.
I remember once being in a state of stupid over a girl, (in typical teen fashion) and walking by Don Roberto's jewelry store when a sharp dressed salesguy came out and said to me: "Hey, how about getting something for your Girlfriend? You can put it on Lay Away"….Those guys knew just how to get you good.
A couple of other stores on Whittier Boulevard offered this plan as well. So there was really no excuse for not dreaming for anything your little heart desired. I never defaulted on any of Law Aways by the way, but my cousin did, she couldn't continue the payments and she came home crying one day saying that they wouldn't give her her deposit back. Needless to say, my Aunt went over and raised a real Borlóte Escandaloso over there and my cousin got her money back. (But she and her mom were henceforth 86'd from the store).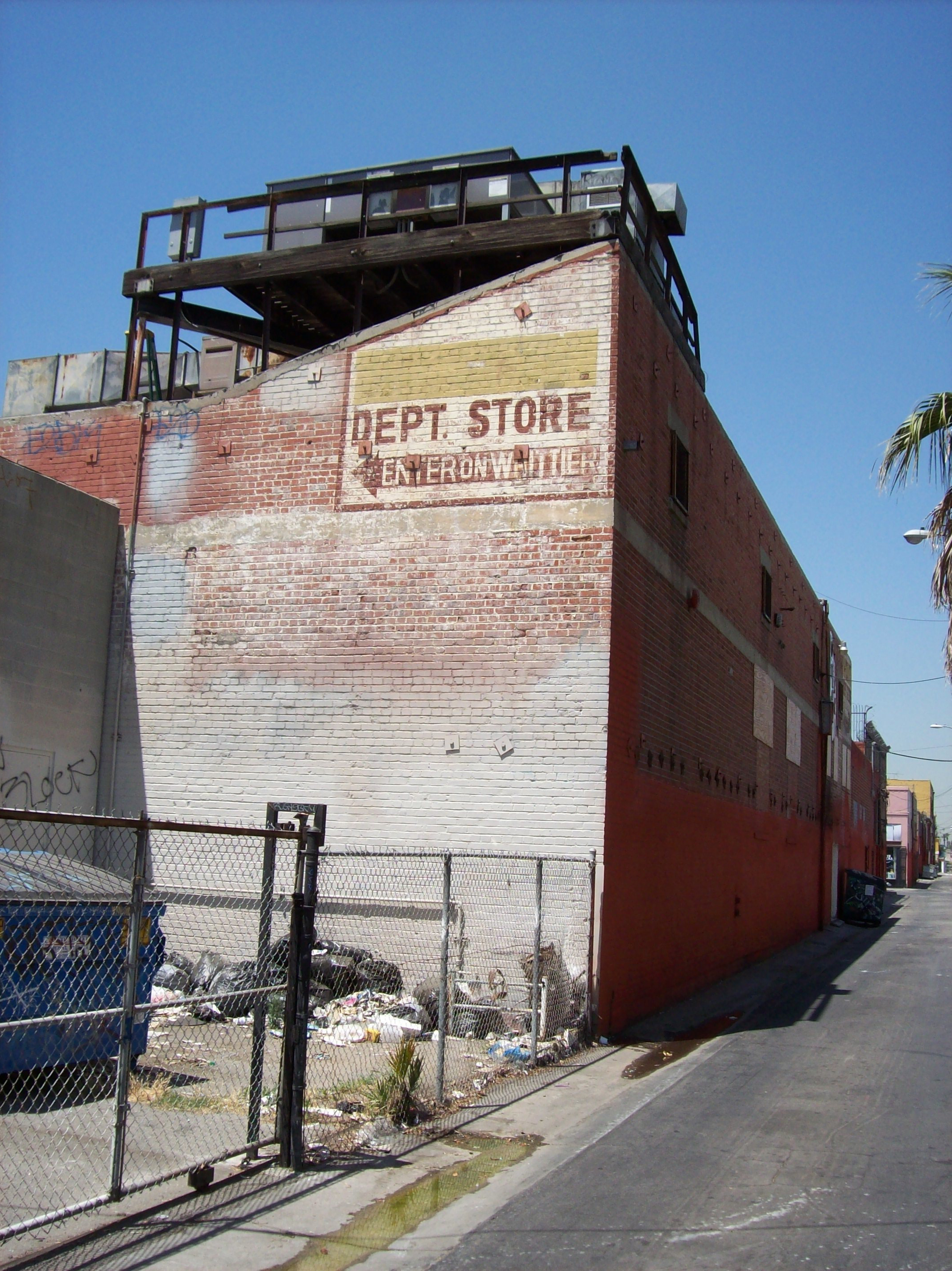 One of the Department Stores on Whittier Boulevard that also offered Lay Aways on a lot of neat stuff was GRANT'S Department Store. My family and I would shop there often when I was a kid. I'd often run over there to check out the Toy Dept. while my Mom shopped for Ladie's Unmentionables at LERNER'S. Unfortunately, GRANT'S no longer exists on the boulevard, but thanks to my prowling detective work, I found these semi-legible painted wall signs visible from the back alley side of the building.
If you look really closely, you can make out the faint outlines of G-R-A-N-T-S behind and below the block letters that spell out DEPT. STORE.
Memories of a Lost Boulevard Indeed!
While writing this, another old finance memory comes to mind. My Mom used to keep her savings account at Security Pacific Bank and later at PanAmerican Bank on Whittier & Vancouver. She would do this savings plan they had called the "CHRISTMAS CLUB" where you had to voluntarily contribute a certain amount of cash every month to this separate little Xmas Account, and in December you'd get to cash out this nice little sum for all your holiday shopping & expenses. I remember my Mom encouraging me to try it once and I would WHINE every month I had to fork over my Féria. But in the end, I got this little nice payout that I spent mostly on myself of course!