Founder and co-director of Tropico de Nopal Gallery-Art Space, Reyes Rodriguez said that he was first inspired to have a Dia de los Muertos inspired fashion show after seeing people in the Evergreen Cemetery in Boyle Heights celebrating Dia de los Muertos and dressing up in home made outfits.
"I would always see people getting decked out [for Dia de los Muertos.]
"It was never an attempt to recreate a calavera (skull) or specific image, it was always very contemporary, it was always very East L.A. and Chicano and I would say, 'that stuff belongs on a run way."
However, when Rodriguez first came up with the concept for the show, he knew that there were certain boundaries and issues he had to address in planning the fashion because of the traditions that are involved with Dia de los Muertos.
He knew that even though he never wanted to limit artist in terms of their creativity in designing outfits, he knew he still had to set some guide lines to make sure no one ventured to far from the main idea and concept of the show.
Rodriguez said that altars don't always have to be on ancestry, they can also be about current events.

He wanted artist to focus their ideas on what the traditions for Dia de los Muertos are and to make their designs an offering to a specific person, an idea or even cause. Everything from the fabrics used to the music chosen for the model must be incorporated and have a meaning and that is what Rodriguez says is an integral part of the show. He knows that if he had people involved in the fashion industry participate in the show; they wouldn't get the ideas or traditions behind Dia de los Muertos and create an outfit that would look great, but have nothing to do with the event or holiday.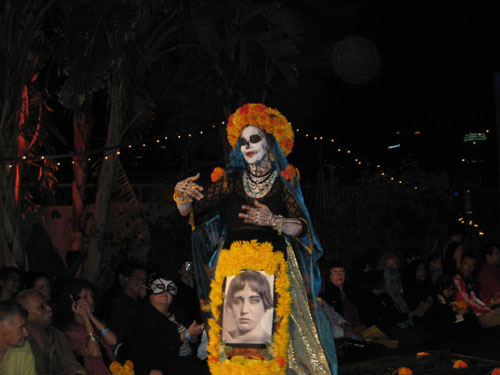 "It's not about creating couture or something that looks sharp or anything like that. "I know that if I put a fashion person in the context of the fashion show, they're no necessarily going to get it because they might not under stand [the traditions]."Artist get an opportunity to create a different piece of art in a different medium that they're not use to using and I thinks that's part of the challenge," said Rodriguez.