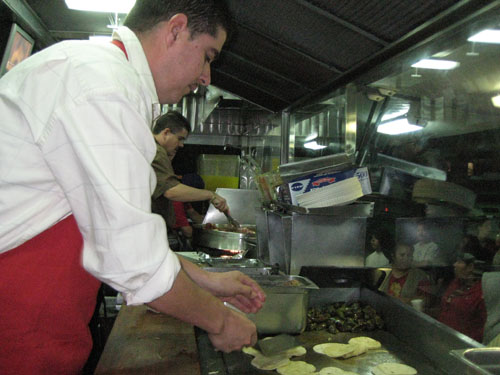 With the inception of the newly formed Asociación de Loncheros L.A. Familia Unida de CA.taco truck owners and workers banned together to fight for their rights to sell tacos. The community forum hosted by the union was held at the Casa del Mexicano and everyone and there mother showed up to support the trucks, the union and to bask with fellow taco lovers under a full moon and a full plate. During the meeting, the union reassured everyone in attendance that the union is organizing and working with both city and state officials to find a solution to the harassment the trucks face. The one of the biggest priorities mentioned during the forum was that taco truck owners and workers have rights that cannot be ignored and have to be respected. The trucks all operate with city and health permits that require rigorous regulations that require trucks to be within 100 feet of a public restroom and to house their at a commissary.
During the meeting, some members of the union and their children gave testimonials about the importance of value of the trucks. Seeing their eyes water up and hearing the passion in their voices instilled the importance that a lot of these trucks have been around for years and for some families it's their only means of support. Taco truck owners are putting their kids through college and giving them the opportunities they never had themselves. The laws barring the tuck owners greatly impacts the livelihood of the families and the loyal customers, like myself, who frequent these mobile eateries.
Another huge issue that was discussed during the meeting was La Crisis and how it's affecting the trucks and it's customers. I for one have never felt prouder to be a proud taco truck patron. Like other's there tonight, I grew up eating at taco trucks on any given weekend and my parents at one time were taco truck owners themselves. I know what it's like to live the taco truck life style, the hard work that goes into it and the laws and regulations governing the trucks. 
In total, there were six trucks in the parking lot dishing out everything from tacos, to ceviche and tortas hogadas. Families and local residents all came to support because they understand and relate to the truck owners. They understand and sympathize with them because they know that all the truck owners want to to do is work and serve delicious food at reasonable prices. Many of the people I talked to while waiting in line agreed that the laws are unjust and should be revoked. Off the top of my head I can't figure out how many tacos were given away tonight, but I know it was a lot. Â 
Being one to never pass up good food, IÂ indulged in a torta hogada de carnitas. I thought it would be a great way to kick off the night, but man was I in for it. When I was handed my torta, I was asked if I wanted hot sauce. I replied by saying that I wouldn't have it any other way. I was even warned again that this was no ordinary hot sauce, this was some REAL SALSA. I paid no attention to his warnings and told him to make that torta swim. Half way into the torta I start crying not because it was that good, but because it really was that freaking hot. I manned up, finished it off and scrambled to find a truck with water. Damn that torta was hot. I think I just shortened my life by a few days after eating that salsa.