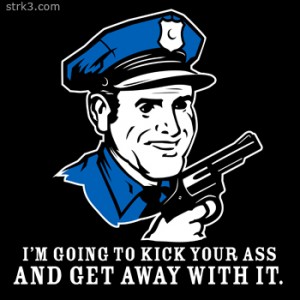 "Congress shall make no law respecting an establishment of religion, or prohibiting the free exercise thereof; or abridging the freedom of speech, or of the press; or the right of the people peaceably to assemble, and to petition the Government for a redress of grievances." First Amendment, US Constitution.
Last Thursday on November 6, my boyfriend's (BusTard) first amendment rights were violated in the name allegedly of Homeland Security. He was taking pictures of Sheriffs that do nothing at the rail stations, but harass people not polluting the environment with their cars. For doing this he was rewarded with being arrested and taken to LA Country Jail where he got to spend the remainder of his day.

We found this interesting. Apparently in the opinion of the Sheriff terrorists only work the first shift, since before and after the traditional morning rush hour and evening rush hour they are nowhere to be found.
BusTard's protest that he was being unlawfully detained were met with the response: "Go tell it to the judge."
He was also initially not told why he was being detained.
He was then later told by one of the arresting officers: "You want to play hardball."
Apparently in L.A. wanting to play games in the opinion of the Los Angeles Sheriff Department is against the law, but possibly they knew that isn't a law in the official books.
That was when the terrorist angle came into play:
"Officer Ware made all manner of allegations, from my being being possibly responsible for a mercury spill at Pershing Square, to filming sheriffs at Hollywood and Western (which he later stated, while talking to a motor deputy sheriff, was at Hollywood and Highland), to my being a terrorist," BusTard aka Randall Fleming.
When BusTard told them that he wrote for a transportation blog and that he was simply documenting their incompetence. The cops implied they would go online and arrest other bloggers too. No they did not imply they actually said to paraphrase we'll go online and arrest other bloggers documenting what we do (or rather don't do.)
I guess this is what happens when you report on what happens outside of the safe world of press releases and bars.
Do you think this is crap? Think this is great? The Sheriff's contract is expiring with Metro. They want an extension. Let the LACMTA Board know how you feel.
Thursday, November 21. One Gate Way Plaza Third Floor. 9 am.
by
Browne Molyneux
PS I forgive you Randall for not seeing my modeling debut at Tropico de Nopal. I guess you may have been stressed about the jail thing. I sort of forgot about that. I know how you are a sensitve little dove. I could do jail time and still show up at your events, but I'm a little more hardcore than you. Kisses sweetie.