November 1, 2008-I'm surviving a Halloween Hangover this morning following one of the best October 31st celebrations I've enjoyed in a long time….
Halloween Day
I began my fun day by going to my annual volunteer gig at the local elementary school. They hold a Halloween costume parade and carnival at the school every year and my job is to set up and run the midway style carnival games for the kids. The kids and I get a big kick from all this and I get to design the games and prizes and paint nifty backdrops like this one screaming skull banner.
This Kid "Jose" was assigned to assist me with the games
When the school festival was over, there was no time to rest. I got home in time to put the finishing touches on all of my "Spook House" decorations in anticipation of the Trick-Or-Treaters who'd soon arrive……
Later, after welcoming and tossing candy at multiple crowds of costumed revelers on my front lawn, I decided to join in the spirit and throw on a costume my own darn self! I put something together quickly that turned out remarkably creepy. I took great delight in standing among the bushes and styrofoam gravestones and jumping out at people as they crossed my front gate. Their screams were music to my ears.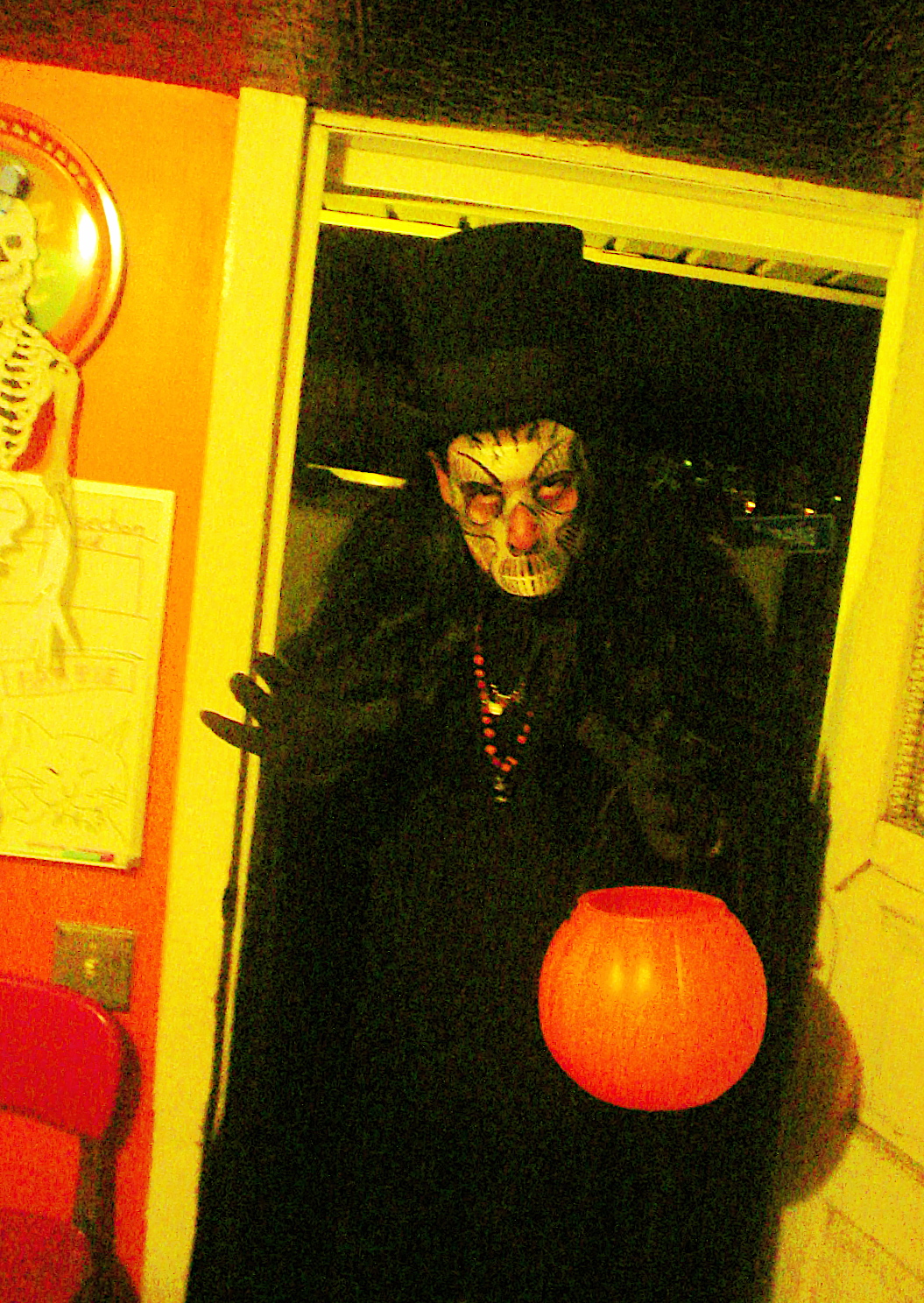 Fright 101
I'd like to point out that I prefer to show some mercy and not try to upset or scare the really young children. But I must confess, I love scaring the shit out of a lot of the older people. The whole trick to being scary is in not only putting on a scary costume, but in personifying and becoming a character. And you have to remain in this character consistently throughout the night, and this is what truly creeps people out. You must be careful though, because this also tends to piss off a few individuals ( a reaction I've discovered from years of "haunting"). But you can have fun "picking your victims" and singling out a particular victim to terrify can be very effective. While in Monster character, I've been known to focus on that one special person and followed/chased them for blocks as they screamed and ran in terror yelling "MAMA!" and spilling all their candy. Good Times!
It was after one of these Terror Runs last night that I decided to try something that I hadn't done in about 20 years. What the Hell, I would go out Trick or Treating.
Trick or Treating Sunset Junction With Al Desmadre
I grabbed my vintage orange plastic  Jack O'Lantern pail and rushed out to join the costumed crowds already cruising for treats up & down Sunset Boulevard. I got many stares and delighted in silently staring back at them until they broke into nervous giggles or pretended that they didn't see me. I decided to hit some retail establishments on the boulevard first. While waiting at the light I encountered this fowl bike rider.
Minutes later I strode slowly and silently into the neighborhood EL POLLO LOCO. They were busy and my presence seemed to unnerve some diners. I stood near the counter hoping to get the staff's attention and perhaps a tasty treat. (last year they gave drumsticks and breath mints, yum!) It was then I noticed a drunk woman attempting to pour a latel full of house salsa from the Salsa Bar into my plastic pumpkin. I decided to leave.
I crossed the street and entered the infamous CIRCUS OF BOOKS. Here I had some luck. The blase' employee hastily tossed a Peanut Butter Cup at me and went back to sorting the Midget Porn DVDs. I walked out into the cool air, exhilarated at my first score. I wanted more….
Going east on Sunset I now entered a store called ROUGH TRADE that advertised "Sex, Leather & Gear". I walked to the counter, stood beneath the shadow of a giant paper-mache phallus and growled 'Trick or Treat" in my most masculine voice. I was politely given a Blow-Pop by the friendly staff.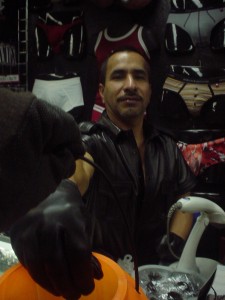 I thanked them and as I was leaving I was greeted by this gentleman who was posing by the front door.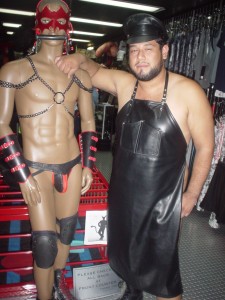 He was clad in some sort of leather apron and apparently, in his haste that night, had neglected to put on any other garments. "A mi me gustan Las Viejas" but I coexist just fine with the Gay culture in my neighborhood. I wished him a great evening and proceeded next door to the BLACK KAT BARCITO bar where the friendly bartender tossed a candy my way and offered me a Tequila shot.
The Laundromat on Halloween. Ni Las Moscas!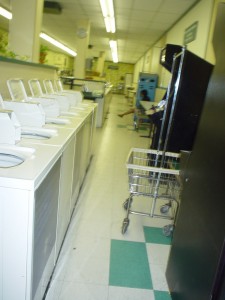 Next, I made a stop at one of my favorite places, SECRET HEADQUARTERS Comic Book Store where I was given a free comic/activity book. Sweet!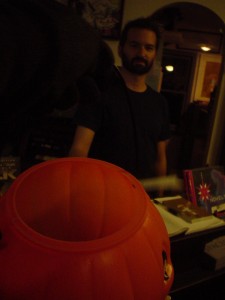 Now it was time to hit a few houses….
This place looked promising. I love it when people go all out in true Halloween Spirit!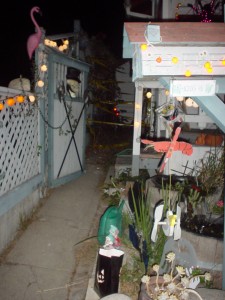 Thank You!
Oh Yes!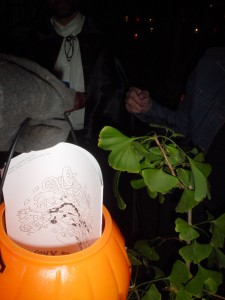 Orale!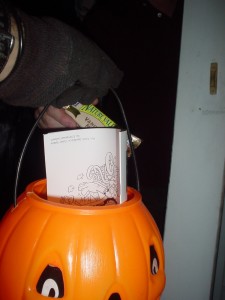 Nature Valley Granola Bar? Pinche Hippies!
Now I want to show you all my Booty! Can't wait until next Year!