I suppose it shouldn't be unexpected that there might be a traffic jam at an LA cemetery, but it was still kinda surprising to run into this long line of cars trying to make their way to some loved ones grave. Crazy.
Click ahead for some more pics of Resurrection and a human traffic jam at SHG.
After not moving for awhile, we just parked and walked the rest of the way. It took some time before the traffic died down since it wrapped around most of the lanes of the park.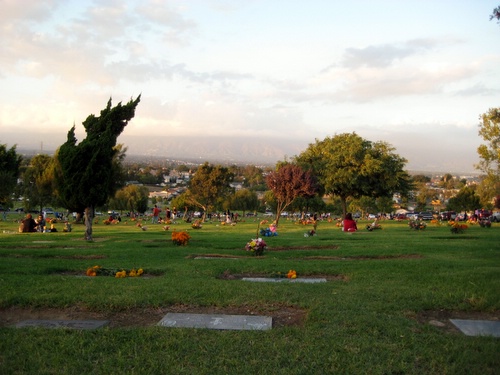 Even though it was almost closing time, there were still quite a few people paying their respects. Off to one side a Mariachi played some festive songs and over down the hill a conjunto was working their magic with the accordion.
Maria had lots of treats delivered to her site, I guess she still has some people that care!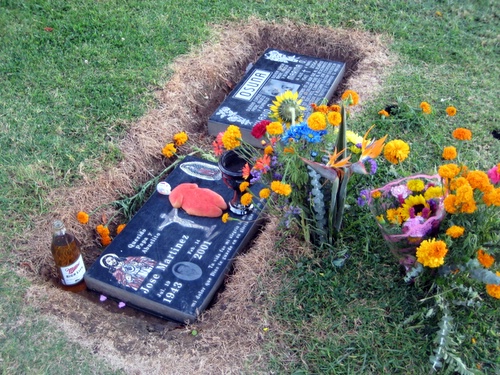 Pan de Muerto, a sugar skull, flor de cempasuchil, and a 40 of Miller!
Over at Self Help Graphics the ever popular Dia de Muertos celebrations were, as expected, very popular! Don't even bother driving down Gage in hopes of finding parking, just head for the streets a few blocks away.
But I didn't expect this crazy line to get into the Art Gallery! The door was way over there, under that arrow to the left, and it wrapped around the parking lot to the right. I'd already used up my sitting-in-traffic quota for the day so I skipped the gallery. The rest of the event was just as crowded but no lines, only the usual trying to maneuver around others.
Upstairs there was a large altar, more booths, and calavera face painting, $4 for half-face or $6 for full-face. Maybe la crisis is really starting to filter down cuz I mostly noticed people sporting the half-face design!
Here's someone that didn't skimp on the face painting!
Skeleton Puppeteer in action.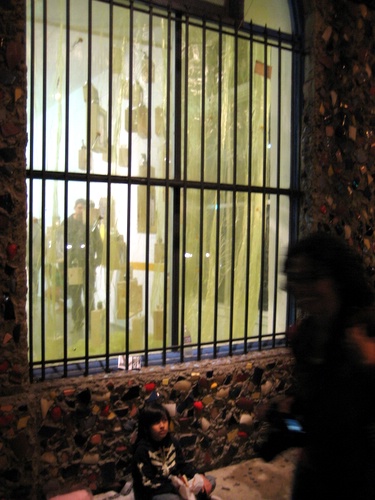 Inside the window is the art gallery with the long line, I'll go visit soon enough. Outside SHG lots of independent vendors were hawking their wares, including this kid selling t-shirts. It goes on until Midnight so there's still time to check it out! Laterz!