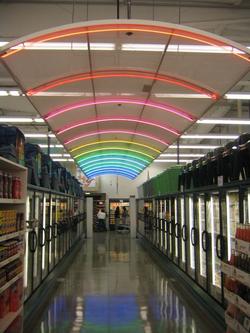 The Superior market in Boyle Heights has good recycled music playing on their PA system. Recently, it's been 60s oldies, and in the past, it's been 80s KROQ music (or what we think of as KROQ music, but stuff they didn't play much of back then). This music reminds me that life can be cyclical and linear at the same time. I've had my shopping experiences "imprinted" by their sly use of music, and my eroding sense of "hip" upended by having these songs played while I'm buying food. With these blatant efforts by this corporation to appeal to aesthetic snobs, can (d|r)e/gentrification by an intellectual record collector vanguard be far behind? Shopping/music highlights:
Produce section, "Buzz Buzz Buzz", The Hollywood Flames.
Produce section, "Love Will Tear Us Apart", Joy Division.
Meat section, "She's Not There", The Zombies.
One song I hoped to hear, but didn't, was 96 Tears by ? and the Mysterians. That would have been so ethnic. 😐
(I was hoping to publish something more substantial for my first post, but this will have to do. Image swiped from Curbed LA.)