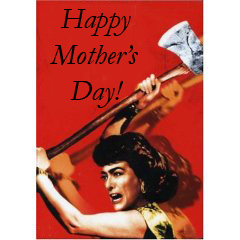 On this Mother's Day, I want to honor and thank my "Ma" for raising me as she did.
Yes, my Dad also had a hand in our upbringing, but Mom was the strongest overall influence on my life. Whether the job she did was good or bad is irrelevant as far as I'm concerned. What matters most is that I am who I am today, because of her, and I'm OK with it.
Even though my brothers and I may now possibly carry untold amounts of dysfunctional baggage from growing up in our House of Horrors, I am nevertheless grateful that it was never so bad that we couldn't survive it and still make somewhat decent lives for ourselves. We all managed, for the most part, to stay clear of jails, skid row, asylums and deportations, so as they say, that can't be all bad.
So Mom, as your oldest son, these are my thanks to you, for all the special things you do. Happy Mother's Day.
Your Son,
Al Desmadre
THANK YOU, MOM, FOR ALL THESE SPECIAL MOMENTS, FROM MY CHILDHOOD THROUGH MY TEEN YEARS:
Never sparing "The Chancla"
For the daily ritual of slathering my face with Pond's Cream and my hair with "Tres Flores".
For becoming completely unreachable whenever your "Novelas" were on.
Going to my school Parent/Teacher Conferences and nodding your head affirmatively to everything my teachers said to you even though you didn't understand a damned thing they were saying in English. And even though they had said I was a good student, once we got home, you still gave me my Nalgadas, Chanclazos, & Whoopings –just in case.
Telling all of your relatives and acquaintances, and even strangers on the streets, about all my personal problems. I'm sure that Lady you met at JonSon's Market was very sympathetic when you informed her that you had so much trouble buying me pants that I could fit into.
Throwing away my entire toy collection, which has now cost me thousands of dollars to replace from Ebay.
Pounding on my bedroom door at night during my teenage make-outs sessions, and loudly informing that "Little Puta" I had in there, that this house was not a "Pinchi Motel!"
Hiding my car keys, for the Hell of it.
Answering the phone with: "NO ESTA!" whenever any chicks called for me.
Knowing precisely at what time I got home last night, and every night. "Llegaste a las 3:54:32 am, Pacific Standard Time, Cabron!"
Spying out the back window for the entire duration of any backyard house parties I threw, then giving me a complete play-by-play the next morning. You always claimed that you couldn't get any sleep at all. Of course not, because you were SPYING OUT THE WINDOW ALL NIGHT! My Dad would then add the obligatory, "The authorities will come take our house away because of all the DROGADICTOS you had here last night!"
Insisting that no phone call should have to last anymore than 30 seconds.
Filling my teen life with every miserable restriction possible, then letting my younger brothers completely get away with murder when they became teenagers.